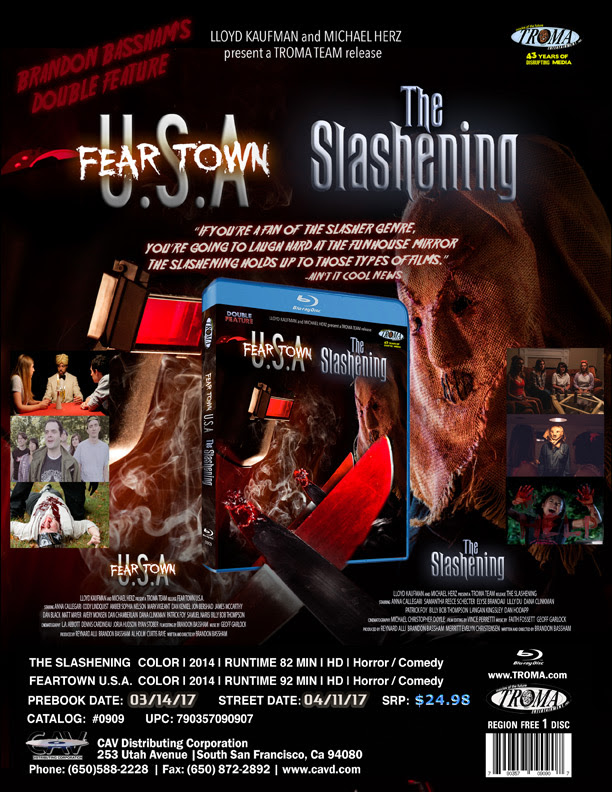 Troma Entertainment, Inc April 2017 New Release
Fear Town, USA & The Slashening (Double Feature)
Blu-ray
Label: Troma Entertainment, Inc
Prebook: 03/14/2017 Street:
04/11/2017
SRP: $24.98 UPC:790357090907 Cat: 909
Widescreen 1.78:1 Dolby Digital 2.0 Stereo In English
Production years: 2014/2015 Horror Not Rated 174 Minutes Region 1
Director: Brandon Bassham
Cast: Fear Town, USA: Anna Callegari, Cody Lindquist, Amber Sophia Nelson, Mark Vigeant, Dan Kenkel The Slashening: Anna Callegari, Samantha Reece Schecter, Elyse Brandau, Lily Du, Dana Clinkman
Fear Town, USA: On St. Blevins Day (the most debauched of regional holidays), four boys looking to lose their virginity, a girl haunted by a dark secret, a lonely teenager, and an escaped mental patient all meet at a party in the woods. They were looking for fun but what they found... was TERROR!
The Slashening: Best friends Lucy, Eva, Ashley, Beth and Margot throw a slumber party... BUT MURDER NEVER SLUMBERS!!!!! It's a timeless tale of friendship, betrayal, madness, and the search for some decent guys.
Special Features:
Fear Town USA Director's Commentary
Radiation March
Return to Return to Nuke 'Em High AKA Volume 2 Fantasia Teaser
Cannibal! The Musical Trailer
Trailer links:
TERROR NOTES: Feartown USA and The Slashening are hitting Blu-ray from Troma this April. Give the trailers a watch and remember who is distro-ing these two features. There's going to be plenty of the juicy bits in store for the lucky audience. I personally am most excited for Return to Camp Nuke Em High Vol 2 coming from Troma as a brand new effort from the label that Kaufman built.