And now for something different. Budget tier motherboards can look a bit same-same, with black on black or black with highlights being dominant. The ASRock B760M Sonic WiFi definitely bucks this trend. It's still a motherboard, but it's a Sonic the Hedgehog motherboard! And I love it.
As a young lad, my earliest gaming experiences included sitting in front of the TV playing games on the Sega Mega Drive, or Genesis to our North American readers. The graphics and gameplay of the very first Sonic the Hedgehog game back in 1991 amazed me, and Sonic nostalgia holds a special place in my heart.
In recent times, ASRock hasn't been afraid to step outside of the box when it comes to its motherboard designs. The Z790 Live Mixer being a good example of this. But as we all know, looks are only a small part of what makes a good motherboard. It can be plated in 24 carat gold but if it's got a junk BIOS it'll be a gold-plated paperweight.
The B760M PG Sonic WiFi belongs to ASRock's Phantom Gaming sub brand. It's an affordable B760 motherboard at $189 / £166 / AU$349. That puts it up against some strong competition, including well-regarded and popular options including the MSI B760 Tomahawk and B760M Aorus Elite. Notably, the B760M Sonic is priced below entry level Z790 boards, unless you can find one on special.
If you're unsure about the B760 chipset, why should you consider a B760 board over an entry level Z790? Apart from Intel's lock on CPU overclocking, the major difference between the two is the CPU to chipset DMI link speed. In the case of Z790, this link is an x8 link, whereas B760 has an x4 link.
This means B760 will generally have a lesser I/O with fewer SATA and USB ports or fewer M.2 slots. B760 allows you to run fast memory, which removes one of the historically major Z series selling points. If you run a single GPU and an SSD or two, and don't need a dozen or more USB ports, the chances are a good quality B760 board will suit you just fine.
ASRock B760M PG Sonic WiFi overview and specs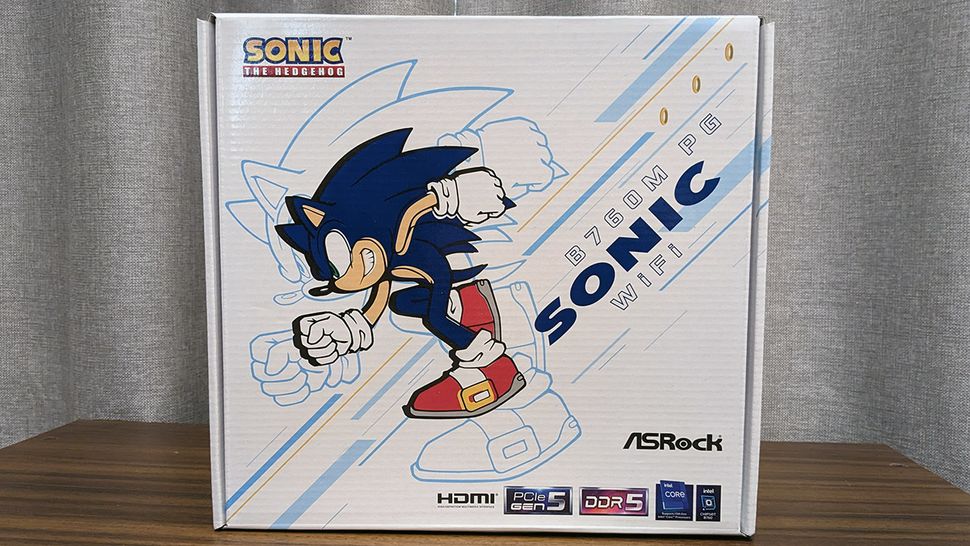 The Sonic branding is everywhere. There's a large blue Sonic stencil on the rear of the board and even the BIOS has a Sonic blue theme. The heatsinks have a brushed metal look and you get a line of RGBs underneath the bottom M.2 heatsink. Overall, I really like it. There's a definitely retro vibe to it. Credit to ASRock's design team.
B760M PG Sonic WiFi specs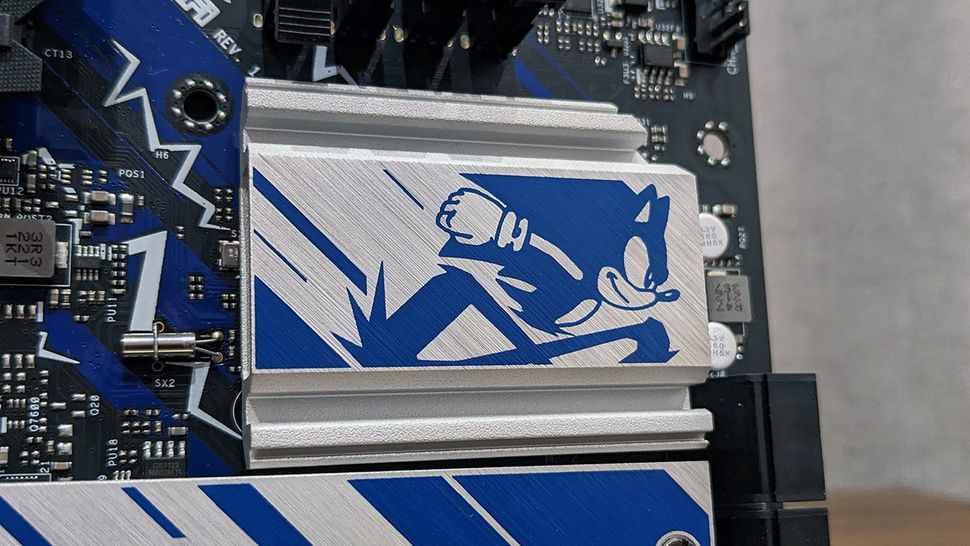 Socket: Intel LGA 1700
CPU compatibility: Intel 12th & 13th Gen desktop processors
Form factor: Micro ATX
Memory support: DDR5-7200+(OC), Up to 192GB
Storage: 3x M.2, 4x SATA
USB: Up to 3x USB 3.2 Gen 2, 6x USB 3.1 Gen 1, 6x USB 2.0
Display: 1x HDMI 2.1, 1x DP 1.4
Networking: Realtek 2.5G LAN, Wi-Fi 6E
Audio: Realtek ALC897
Price: $189 / £166 / AU$349
The board has a good selection of onboard ports and headers. There are four RGB headers, three of which are addressable, six fan/pump headers and a USB 3.2 Gen 2 Type-C header. The onboard WiFi is provided by an M.2 WiFi module. It looks a bit out of place but in almost all cases it will be covered by a graphics card, so it's not an issue really.
On the back there's an eDP connector that you'd use to connect to a suitable screen. I'd like to know the percentage of people that use such a connector. I would assume it to be very low. eDP is more relevant to embedded or signage systems, not gaming systems.
Being a Micro-ATX board, you can't expect it to feature as many PCIe or M.2 slots as a full-sized board. You get a primary PCIe 5.0 x16 slot and a PCIe 4.0 x1 slot. There are three PCIe 4.0 M.2 slots, all of which are cooled by simple heatsinks. They're joined by four SATA ports. That's a good storage complement for an mATX B760 board.
Now that 24GB and 48GB DDR5 modules are hitting the market, ASRock says the B760M Sonic supports 4x48GB modules for up to 192GB of memory.
The VRM is a decent 12+1+1 phase design. ASRock doesn't specify an amperage rating but given we're dealing with a B760 board that doesn't have to drive overclocked K-series processors, I would assume something in the lower end. My Core i9 13900K performed perfectly, and if it can handle that, it'll handle anything.
Dual 8-pin power connectors provide more than enough juice. The heatsinks are a clear step up from those of cheaper boards and are merely warm to the touch when the CPU is loaded.
I am generally impressed with the I/O of the board. There are four USB 2.0 ports and four 10GB/s Gen 2 ports, one of which is Type-C. I would like to see a 20GB/s port but we can't have everything that boards at twice the price have.
Intel WiFi 6E and Realtek 2.5G LAN controllers take care of networking duties, while Realtek ALC897 provides audio. It will do a job, but you wouldn't use it to deliver a flawless signal to a $10,000 pre/power amp combo.
I also like to see HDMI 2.1 and DP 1.4a ports. These add a bit of flexibility for non-gaming purposes.
ASRock B760M PG Sonic WiFi performance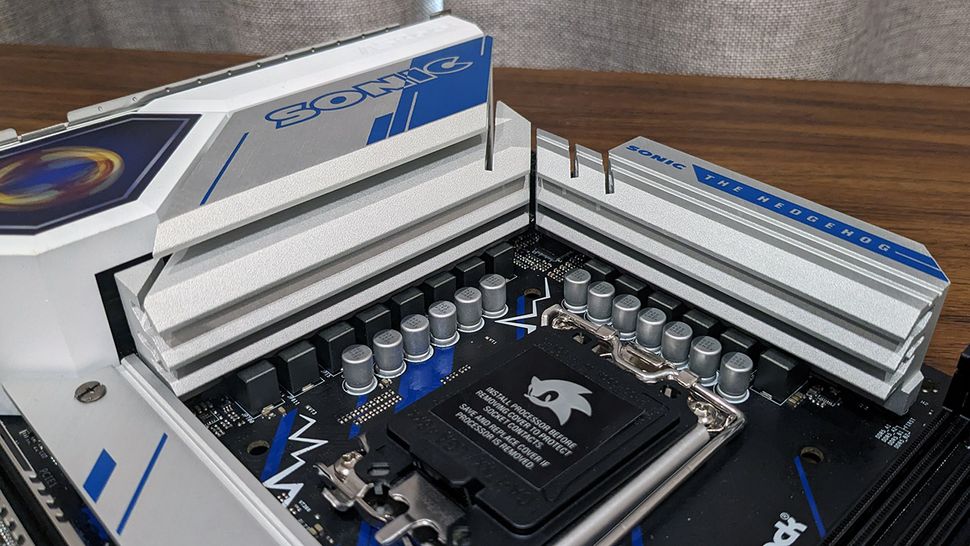 System Performance
Gaming Performance
ASRock B760M PG Sonic WiFi analysis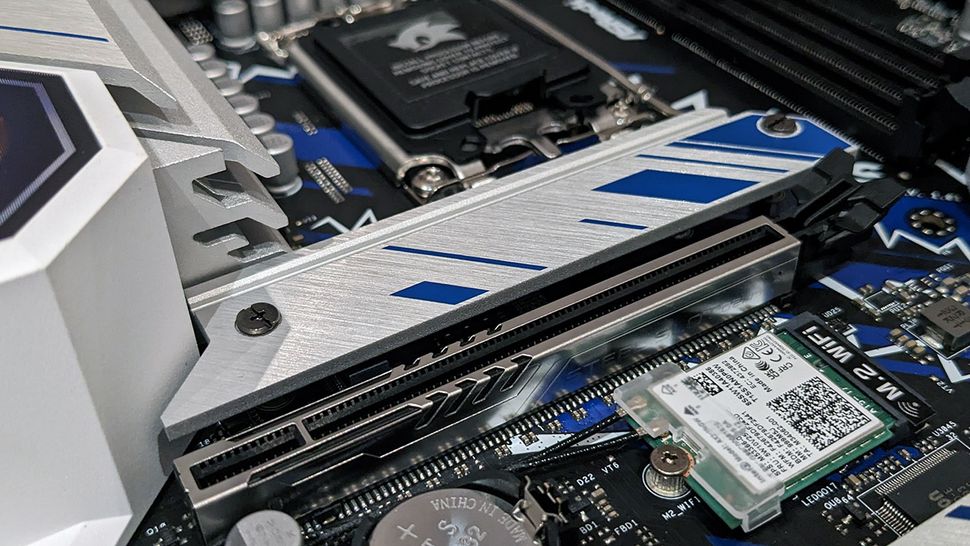 Intel's 13th Gen CPUs and 700-series chipsets have been on the market for some time, and as the underlying architecture and microcode shares much in common with their 12th Gen and 600-series predecessors, it's unlikely there will be any show stopper bugs or significant performance issues to complain about, and that's again the case with the ASRock B760M PG Sonic.
Test rig
CPU: Intel Core i9 13900K
Graphics: Nvidia GeForce RTX 4090 Founders Edition
RAM: 2x 16GB G.Skill Trident Z5 DDR5-6000 C30
Storage: 2TB Seagate FireCuda 530
Cooling: Cooler Master PL360 Flux 360mm AIO
PSU: Corsair AX1000
At Intel's default Core i9 13900K power settings, the Sonic performed within a margin of error of the other tested boards. And although you cannot overclock with a B series board, you are free to unlock your chip's power limits. The heatsinks of the Sonic, its capable VRM, and dual 8-pin power connectors mean you won't have an issue running a K SKU at high power, even if most who play with these kinds of settings will probably gravitate towards an overclockable Z790 board.
The B760M PG Sonic's BIOS will be familiar to ASRock users, even if its funky blue Sonic the Hedgehog color scheme isn't! I've always liked the layout of ASRock's BIOS screens; grouping the CPU, DRAM and voltage settings into sub menus makes things easy to find.
You won't find the sheer number of esoteric settings of an overclocking focused Z790 board, but everything you could reasonably want is here. I particularly like Asrock's no nonsense monitoring and fan control settings.
ASRock B760M PG Sonic WiFi verdict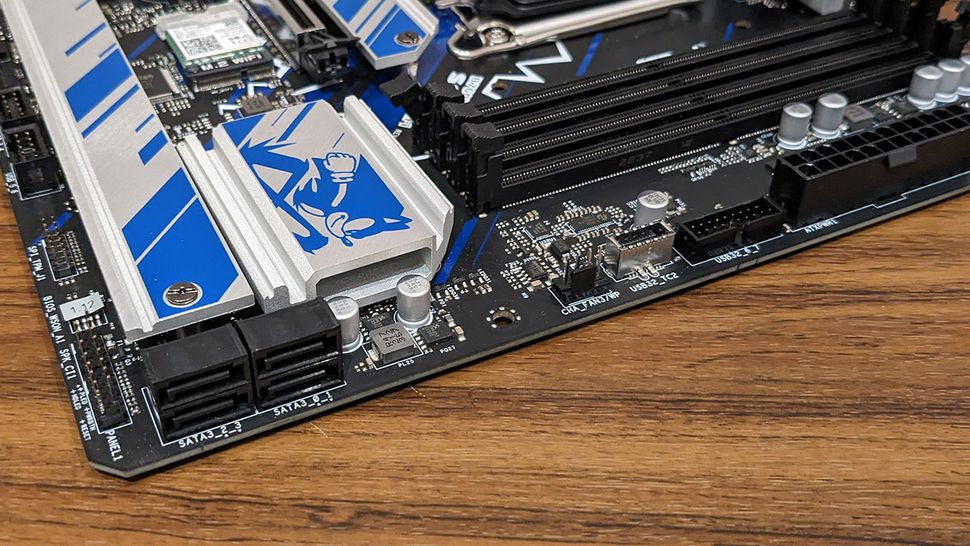 If we go back to B460 motherboards, they were typically bland, lacked memory overclocking capabilities and had weak VRMs. Though there will always be cheap B series boards, a typical mid-range B760 board like the ASRock B760M PG Sonic is a dramatic improvement over what you would get in years past (though admittedly it is more expensive).
It's got a decent, though not extreme VRM, dual 8-pin power connectors, triple M.2 slots with heatsinks, 2.5G LAN and WiFi 6E with a good selection of USB ports. It's pretty much what the doctor ordered for most gamers looking for an affordable motherboard. I would like to see a 20GB/s USB port and an updated audio codec, but I might be expecting too much at this price point.
Although looks should not rate too highly when analyzing a motherboard, I'm a big fan of the overall design. If your case has a clear side panel, the metal heatsinks and Sonic logos give it a really cool nostalgic look.
Perhaps the biggest problem the B760M Sonic faces is its tough competition. All the major vendors offer boards in this price range and though several are DDR4 offerings, the Gigabyte B760M Aorus Elite is a particularly competitive offering in terms of features... though it's no Sonic.
Looking at the big picture, if you're a Sonic the Hedgehog fan and you love the look of the board, you won't have any buyer's remorse. It's got a good feature set, it can run any 13th Gen CPU you want to throw in it and it's well priced for mainstream gamers.