The best AMD motherboard market has fundamentally changed in the past few months. Where it was once all about the long-lived AM4 platform, the red team has moved onto a new CPU socket for its future Ryzen processors: AM5. But the old chipsets aren't dead and the price drops for AMD's Ryzen 5000-series CPUs and the compatible motherboards mean you can still make an outstanding gaming PC from an affordable last-gen base.
That's especially important given the extra expense of AMD's new AM5 platform. The Ryzen 7000-series CPUs are still relatively expensive, as are the X670/E and B650/E motherboards, but they also require pricey new DDR5 RAM to function, too.
Picking the right AMD motherboard is all about figuring out which CPU you want, how much you can spend on a board, and then picking the chipset for you. We've tested all the current- and last-gen options, to give you the best chance of finding the right AMD mobo for you.
Size is important too, so we've also tested different ATX, micro-ATX, and mini-ITX motherboards, too.
Best AMD X670/E motherboard
If you're in the market for a good quality X670E motherboard, the chances are that you've recoiled at the prices of many of them. High-end motherboards are more likely to be X670E models, but the Gigabyte X670 Aorus Elite AX comes in with just enough great features at such a reasonable pricepoint, that I've been tempted away from the -E model boards.
Part of the reason X670E boards cost a lot is because of the high-quality signalling required for both PCIe 5.0 expansion and M.2 slots. But since PCIe 5.0 x16 for graphics cards means nothing right now, an X670 board is a perfectly viable option. And at $289 / £349 / AU$599, the Gigabyte X670 Aorus Elite AX is a heck of a lot better value than X670E boards. But does the Elite AX have to sacrifice a little or a lot to come in at that price?
No it does not.
Here you get effective heatsinks, particularly the VRM one, though sadly Gigabyte opted not to include its excellent finned heatsink design on this model.
In total there are four M.2 slots made up of the aforementioned primary PCIe 5.0 x4 one, plus a further three PCIe 4.0 x4 slots that are cooled by a single large heatsink. There are four SATA ports to round out the storage complement.
Other highlights include a USB 3.2 Gen 2x2 type-C header, power, reset, and CMOS clear buttons, and a Thunderbolt 4 header.
The board comes with a 16+2+2 phase VRM with 70A power stages. More than enough for the average user. Throw a Ryzen 9 7950X (opens in new tab) with PBO enabled into the Elite AX and you won't have a problem. Your cooling will hit that 95°C operating temperature of a 7950X long before the VRM gets stressed.
Even if Zen 5 or Zen 6 CPUs take a step up in TDP, it's hard to imagine the Aorus Elite AX struggling to power them.
The cooling, storage, and VRM is more than enough to suit most users. Is the I/O lacking then? Hardly. The Aorus Elite AX includes AMD's RZ616 Wi-Fi 6E and Realtek 2.5G LAN. You'd expect to miss out on USB 4 at this price, but the rest of the USB count is stellar. You get a 3.2 Gen 2x2 type-C port, two Gen 2 ports, six Gen 1 ports, and four 2.0 ports. That's 13 rear USB ports! There's a HDMI 2.1 port for use with Ryzen 7000's newly included integrated graphics along with a BIOS flashback button.
The audio is nothing special, with an aging Realtek ALC897 codec taking care of things. An S/PDIF output would be nice too, but apart from that, there's not much to complain about with regards to connectivity.
If nothing else, the Elite AX shows that manufacturers are getting a bit greedy at the high-end of the market. If you absolutely must have USB4, 10G LAN or Thunderbolt, you'll have to pay a LOT more for it. For the mainstream market, a board like the Aorus Elite AX is where it's at.
Read our full Gigabyte X670 Aorus Elite AX review (opens in new tab).
Not all AM5 boards are exorbitantly priced. One such example is the ASRock X670E Pro RS I've got on hand for review. It's designed to be a cost-effective motherboard that offers the important X670E feature set, including PCIe 5.0 GPU and SSD support, the ability to run a Ryzen 9 7950X (opens in new tab) without issue, and provide the essentials like Wi-Fi 6E and ample storage support.
At $279 / £320 / AU$569 it's one of the cheaper X670E motherboards. In fact, it's one of the cheaper X670 boards full stop. You'll need to choose a B650 or B650E board if you want to save more money. At half the price of high-end boards like ASRock's own Taichi, the Asus Crosshair X670E Hero (opens in new tab) or Aorus Extreme, does the X670E Pro RS have to cut too much for such a saving?
The ASRock X670E Pro RS isn't what you'd call a beautiful board, but I like the silver and black combination, along with the fonts atop the M.2 heatsinks. There's a little bit of RGB lighting flair underneath the chipset heatsink, however. And, if you love your RGB lighting, there are three ARGB headers plus an additional non-addressable one.
ASRock includes a graphics card support device that mounts to two of the motherboard screw holes. That's handy if you plan to buy a monster sized graphics card. Yes, I'm looking at you, chonky RTX 4090 (opens in new tab).
The board includes five M.2 slots, one of which is a PCIe 5.0 slot cooled by a chunky heatsink. You'll still want to have decent case airflow though as M.2 heatsinks adjacent to a graphics card can actually absorb heat if neglected. I would not recommend using the middle two slots if you're using a gaming GPU. Use the two at the bottom of the board before those middle two.
The I/O at the rear is excellent for a board at this price point. You get Wi-Fi 6E and Realtek 2.5G LAN which matches some much more expensive boards. Then you get DP 1.4 and HDMI 2.1 ports for use with the new integrated GPU capabilities of Ryzen 7000 CPUs. The USB complement is good, with a total of ten rear ports. There are two 3.2 Gen 2 ports (one of which is Type-C) plus four 3.2 Gen 1 and four 2.0 ports. Internal headers can provide another eight ports plus the all-important USB 3.2 Gen 2x2 type-C.
The audio is an area that's less impressive. Realtek ALC892 is cheap, but an expensive controller and things like DACs are how board makers justify adding the big bucks for high end boards. As one of the cheaper boards offering a full X670E feature set, I understand ASRock having to make a few compromises.
The ASRock is perhaps a touch under the average of the boards I have tested so far, though when it comes to gaming, the differences are always within a margin of error. Perhaps ASRock still has that last 1% of BIOS optimizing to do. I know for a fact some engineering teams are stretched thin with both AMD and Intel launching new platforms at the same time. If you buy an ASRock X670E Pro RS, it's definitely worth grabbing a new BIOS off the ASRock website before you do anything else with it.
But don't forget B650 and B650E, too. The B650E chipset in particular offers many of the same features at an even lower price point.
Throw in a 7600X with a RTX 40 or Radeon RX 7000 card, and 32GB of DDR5 and you've got a capable gaming system on your hands, but even better, you'll be able to upgrade your components for years to come. When you look at it in those terms the ASRock X670E Pro RS offers excellent value, and that's something that can't be said for too many AM5 motherboards.
Read our full ASRock X670E Pro RS review (opens in new tab).
Best AMD B650/E motherboard
The primary M.2 slot supports up to PCIe 5.0, while the other two support PCIe 4.0. The primary slot's cooling is relatively small compared to some of the chunky M.2 heatsinks I've seen, including those shipping with the Asrock X670E Pro RS (opens in new tab)and Gigabyte Z790 Aorus Master (opens in new tab).
The board supports a single 5Gbps Type-C front connector and up to two Type-A and four USB 2.0 ports. Not bad, but a 10Gbps Type-C port would have been nice.
The VRM is decent, if not spectacular, but it's all relative. Expecting a gazillion 105A stages is something that's restricted to boards at well over double the price. The 12+2 phase design with 60A stages was enough to power my Ryzen 9 7950X (opens in new tab) without issue. The board includes 4+8-pin CPU power connectors.
Asus has done a wonderful job with the TUF B650 Plus' cooling design. The big and chunky heatsinks provide lots of surface area while allowing lots of air to circulate freely. Some mid-tier boards can skimp a little on VRM cooling. Here, Asus did not.
The TUF B650 Plus comes with a good set of rear I/O ports which are perfectly adequate for things like keyboards, mice and printers, which don't need high speed (and expense adding) ports. You also get 2.5G LAN and WiFi 6, though notably, not 6E. That might be a problem in the future, especially if you live in a crowded household or apartment building with lots of Wi-Fi signals.
The Asus BIOS is a little more difficult to navigate for a novice user compared to those of some other manufacturers, but once in the PBO modes are particularly worth looking at if you're planning to drop a non X Ryzen 9 7900 (opens in new tab) or Ryzen 7 7700 (opens in new tab) in.
The big VRM heatsinks are a highlight. My test 7950X ran without a hitch, and at no time did the heatsink get uncomfortably warm to the touch. As long as you have at least some case airflow, the VRM will be fine, even with PBO enabled. Take care to stick to reasonable expectations, and don't go shoving 1.5V+ through a high core count CPU under a full load for hour after hour.
The typical Asus BIOS refinement is here. I was able to run my test DDR5-6000 C30 kit by simply enabling the EXPO profile. That's something I have encountered issues with recently due to improperly applied memory controller voltage.
The Asus TUF Gaming B650-Plus WiFi is primarily a motherboard for a budget-conscious gamer. While you can't expect all the bells and whistles at this price point, as long as you don't expect too much of it, it's a fine motherboard. You'll need to ask yourself if you value PCIe 5.0 GPU support. If so, do consider a B650E option if you're going to stick with AM5 for a while (as most of us are).
Either way, the TUF B650 Plus is a solid entry into the market. It feels refined, it's got a good core feature set with excellent cooling, subtle good looks, and apart from the missing out on a PCIe 5.0 slot, it's destined to have a long life ahead of it. It may not tick every feature check box, but as a board for a 2023 system, it's got most of what you need, happily delivering up to 7950X and RTX 4090 (opens in new tab) class performance. Do remember the competition is very tough, but if you're an Asus fan, you won't be disappointed.
Read our full Asus TUF Gaming B650 Plus Wi-Fi review (opens in new tab).
While ITX boards are produced by all of the major manufacturers, ITX AM5 motherboards are, so far, uncommon. X670/E in particular is very difficult to shrink down to ITX size due to its dual chip architecture. There just isn't the PCB real estate to squeeze everything in—at least not without overcoming some serious challenges. To my knowledge, Asus is the only manufacturer to produce an X670E ITX board to date.
B650/E ITX boards aren't much more common. ASRock is a long-time supporter of the Mini-ITX form factor and the ASRock B650E PG ITX WiFi (opens in new tab) is a small board that manages to pack all of the key features of the AM5 platform into a package that builders can incorporate into the smallest cases.
ITX inevitably means some compromising though, so if you require many M.2 slots or you need extra PCIe slots for things like sound cards, then you'll need to stick with mATX or ATX. But the ASRock B650E PG ITX WiFi is first and foremost a board for a compact system.
The ASRock B650E PG ITX—as the name suggests—includes the B650E chipset including a PCIe 5.0 x16 slot and a PCIe 5.0 x4 M.2 slot. That means the board is as future-proofed as it's reasonably possible to make a motherboard right now. Assuming AMD keeps to its promise to support AM5 for the next few years, there's little reason to doubt you could run a Zen 5 or Zen 6 CPU, plus a future generation PCIe 5.0 graphics card with just a simple BIOS update. You'll absolutely need to update the BIOS before upgrading though, as the board lacks CPU-less BIOS flashback capability.
In addition to the primary M.2 slot, there's another PCIe 4.0 supporting slot on the back of the board. But it's very important to note that motherboards seldom receive much, if any airflow on the back, so this slot would be best populated by a slower or cool running drive for bulk storage. Otherwise it'll get toasty back there.
The VRM is usually an area where ITX boards are forced to compromise. Yet the B650E PG ITX comes with an impressive 10+2+1 phase VRM with 105a stages. That's easily enough to power my Ryzen 9 7950X (opens in new tab)(opens in new tab) CPU, even when fully loaded. But doing so does stress the cooling of the little board which is never going to have the surface area of the VRM heatsinks of larger boards.
The rear I/O obviously isn't as packed as those you'll see on ATX boards. The USB count is adequate, with four USB 3.2 Gen 2 ports (one of which is a Type-C) plus four USB 2.0 ports. ASRock refers to two of the 3.2 ports as 'Lightning Gaming ports'. They use a dedicated controller that supposedly minimizes jitter and lowers latency. I'll take ASRock's word for it.
This is the kind of board that's tailor made for the advanced PBO modes and Curve Optimizer. A non-X CPU would be a great choice to use with the PG ITX, but if you do use an X model, then applying Tjmax limits of 75°C or 85°C will deliver most of the performance of a default chip, while being easy on your cooling and the VRM of the board.
We're talking about SFF systems here. I for one love the idea of a tweaked 7000 series processor sipping power with a simple and quiet air cooler. Many of you think the same, even if it is a little counter-intuitive when thinking of high-end CPUs and gaming rigs. Sometimes less really is more.
I found the B650E ITX board to deliver a well-rounded and mature experience. I tend to like the simplicity of ASRock's BIOS though the PG ITX's fan settings were aggressive. That's something that you'll no doubt notice when you first fire it up. That little fan gets loud! But one BIOS change and you'll forget it's there.
Read our full ASRock B650E PG-ITX WiFi review (opens in new tab).
Best AMD X570 motherboard
Asus' ROG Crosshair VIII Dark Hero wants to be the last AM4 motherboard you'll ever need. It incorporates all of the 4+ years of BIOS updates, PCB, and electrical layout tweaks into what should be a mature and refined package. Importantly, unlike early X570 boards, the Dark Hero was designed with Zen 3 processors actually on hand during the design phase.
The Dark Hero features a rather subtle design. Some might even say it's a little bland. Perhaps we have reached 'Peak RGB' with recent motherboards being a little more discrete with their RGB implementations. It's also unusual that there's not a Crosshair VIII Apex or Extreme, especially when Gigabyte and MSI have boards priced well above the Dark Hero.
A $400 USD motherboard can never be described as cheap, but compared to the exorbitant prices of the MSI Godlike and Gigabyte Aorus Extreme, it certainly feels more affordable.
The layout of modern ATX boards tends not to vary too much these days. The primary M.2 slot is sensibly located above the PCIe slot. The second slot at the bottom also features a heatsink. The sockets are easy to access without having to remove the entire heatsink assembly. Also notable: No chipset cooling fan! Hooray!
The rear IO is packed out. If you need extra USB ports for that head massager or plasma ball, there are few better equipped boards. There are no less than eight USB 3.2 Gen 2 ports, one of which is Type-C. These are joined by four USB 3.2 Gen 1 ports. There are also BIOS clear and flashback buttons, the LAN and WiFi antenna ports, and the usual set of audio ports including S/PDIF. The IO shield is preinstalled, which is blessedly now becoming standard practice on decent motherboards.
The VRM has been upgraded over that of the regular Hero. The power stages are now rated for 90a, up from 60a which bring it in line with some of the other premium X570 boards. Even if you're into smashing out benchmarks on LN2 (and this board will see plenty of that in the hands of overclockers), it will handle the punishment with ease. The heatsinks are big and chunky affairs.
Motherboard testing is often one of the most painful things a tech journalist has to do. With some boards, you have to fight it to get it to do what you want, or expect it to, or have to or crank up some voltage setting to a level you don't want to, but the Dark Hero boots the first time, even as we played with the memory clocks and timings and the Infinity Fabric.
The performance differences between boards with otherwise identical partnering components is usually very small. That's particularly true as we're now several generations in and any BIOS niggles in the X570 chipset have been well and truly tuned out. A lot of the time variability can simply come down to a margin of error.
That said, we were able to reach an Infinity Fabric clock of 2,066MHz, which combined with a 1:1 memory clock results in DDR4-4133 with tight timings. That's not something we've been able to achieve with other Ryzen 5000 silicon or other boards so far. The Dark Hero was bootable with extra SoC and CCD voltage even higher than this.
The Crosshair VIII Dark Hero might not be the best AM4 motherboard ever made, we'd have to review a few hundred others to make that claim, but it's an easy claim to make that the Dark Hero is undoubtedly one of the best AM4 motherboards we've ever used. Time and months of user feedback will determine if the Dark Hero assumes a position as one of the truly legendary ROG motherboards, but we wouldn't bet against that happening.
Read our full Asus ROG Crosshair VIII Dark Hero review (opens in new tab).
If you're looking for a sub $200 AMD motherboard (opens in new tab), the typical advice would be to look at one of the many quality B550 offerings. It's important not to overlook the new X570 versions, though. The basic chipset is a few years old, but with the newly released X570S models, maybe it's time to take a more serious look at AMD's top boards.
Notably, the 'S' in the new X570S nomenclature denotes silence. Early generation X570 boards, with only a few exceptions, all came with pesky, whiny chipset fans. As well as passive chipset cooling, the new X570S boards enable upgraded connectivity options, including faster than Gigabit LAN or WiFi 6E. Sadly the ASRock X570S Riptide doesn't have WiFi 6E, but it does have an excellent price for a top chipset board.
The X570S Riptide may not be what you would call a feature-packed board, but it does have most of the important features you'll need to run a top spec gaming rig. Only one of the two M.2 slots is covered by a heatsink, though in fairness, an increasing number of high-performance SSD models are being shipped with optional heatsinks these days anyways.
The rear I/O is reasonable for a board in this price range. There's an empty bracket reserved for Wi-Fi antennas, plus a PS/2 combo port, CMOS clear button, and a welcome HDMI 2.1 port for use with one of AMD upcoming 5000-series APUs.
There's also a standard set of audio ports including S/PDIF, but sadly, its driven by the ageing ALC897 codec. It's outdated in 2021 and doesn't belong on anything other than budget city boards. Network duties are handled by a Killer E3100 2.5G controller. Pure Gigabit is disappearing fast, and not a moment too soon. There are eight USB ports, made up of Type-A and C USB 3.2 Gen 2 ports, four Gen 1 ports and two 2.0 ports. All in all, it's a good selection of ports.
The ASRock Riptide tended to be a little slower in productivity-based tasks during our benchmarking, but proved itself to be good under gaming loads. Our recent experiences with ASRock boards typically show them to offer very good memory bandwidth, so perhaps that final 0.1% of BIOS polish is yet to come. Overall, there is little to complain about and, if you're a gamer, you'll be very happy. As ever, our X570-based motherboards perform within one or two percent of each other, or within a margin of error.
The X570S Riptide is a solid budget offering that will happily occur at the heart of a top-spec PCIe 4.0 system. It won't win the feature showdown battle with more expensive boards, however. Ultimately, there are two schools of though when evaluating the X570S Riptide. And it all depends on what components you are running. As mentioned above, if you have two PCIe 4.0 drives and want to use them to their full ability, with or without other PCIe 4.0 expansion cards, then the X570 chipset is for you.
On the other hand, if you've got just one drive and a single PCIe 4.0 GPU, then a B550 board is worth a look, particularly models like ASRock's own B550 PG Velocita or the MSI MAG B550M Mortar listed below, both of which offer a worthwhile alternative.
Read our full ASRock X570S PG Riptide review (opens in new tab).
This motherboard is small and mighty. Just look at it, there's so much stuffed onto the ASRock X570 Phantom Gaming ITX/TB3's tiny PCB—I dread to think how the PCB design and routing process went. That effort hasn't been wasted, though. This is an excellent motherboard that fans of small form factor PC builds are going to love.
ASRock has made some great AMD Ryzen motherboards over the years, and this one packs in the latest high-end X570 chipset, forward-looking features, and serious performance. The $200+ price point might be a bit tough to swallow, but that's often the price you pay for cleverly compact machines. It also must be said that plenty of X570 motherboards sit at around that sort of price, even full-size ATX ones.
The fact there's almost no Mini-ITX premium attached makes the Phantom Gaming-ITX/TB3 even more tempting. It also means you can potentially create a 16-core AMD Ryzen 9 3950X (opens in new tab) or AMD Ryzen 9 5950X (opens in new tab) machine that looks about the same sort of size as an Xbox Series X.
The PCIe 4.0 support isn't the only advanced connection on offer with this wee ASRock AMD motherboard either; there's also Thunderbolt 3 connectivity from the integrated I/O shield of the back panel. That's an impressive little added extra from what is an already special board.
It is worth noting that it will require an Intel-based CPU cooling bracket. To fit all the features into the mini-ITX form factor, ASRock didn't have space for the bulky AMD fitting. That's only an issue if you want to use the stock AMD coolers, but otherwise, any third-party cooler will come with Intel brackets anyways.
While you will have to sacrifice a few ports and slots for the compact design of the Phantom Gaming, that's to be expected at its size. All the key stuff is present and accounted for: Wi-Fi, Thunderbolt, Gigabit LAN, PCIe 4.0, and support for the latest and greatest AMD chips. Everything you need for a seriously powerful yet compact mini PC.
Best gaming motherboards (opens in new tab) | Best SSD for gaming (opens in new tab) | Best gaming laptop (opens in new tab)
Best PC cases (opens in new tab) | Best gaming PC (opens in new tab) | Best gaming mouse (opens in new tab)
Best AMD B550 motherboard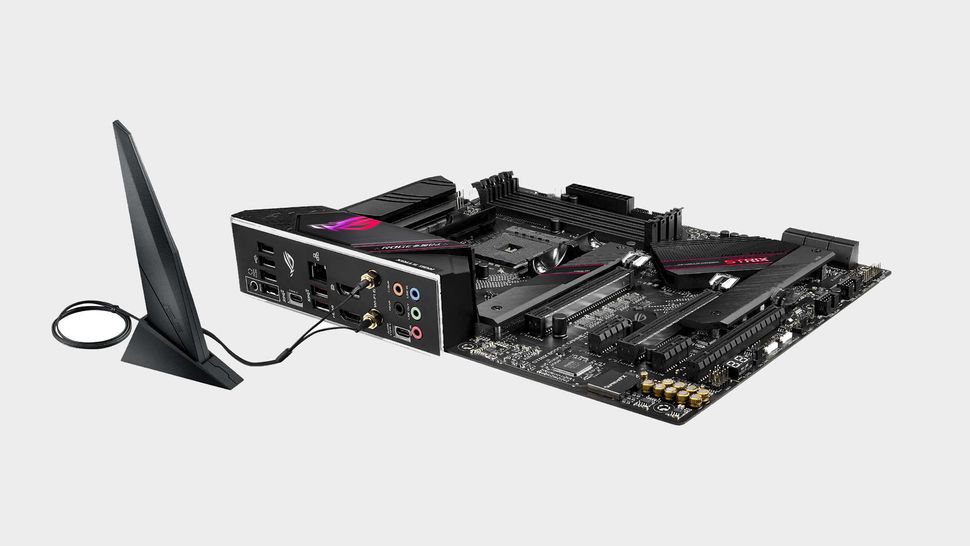 Sure, the Asus ROG Strix B550-E is the same price as plenty of X570 motherboards, but it's a premium motherboard, with all the trappings you'd expect from Asus' Republic of Gamers stables. I'm talking 14+2 power stage, M.2 heatsinks, and pre-installed backplates. You also get Wi-Fi 6 wireless networking as well as Intel 2.5Gb ethernet too. And RGB LEDs, of course.
What you'll no doubt be wondering about is performance: Is it actually all that much better than a more prosaic—and cheaper—B550 alternative? At stock clocks and default board settings, the inevitable answer is... no. In fact, the Asus ROG Strix B550-E Gaming is a solid 50% pricier than the likes of the MSI MAG B550M Mortar (opens in new tab) and tangibly slower in most of our benchmarks, including games.
Where the Strix looks stronger, inevitably, involves overclocking. AMD's laissez-faire approach to clocking the twangers off pretty much any CPU that comes its way, by enabling access to super-simple core ratio tweaks, means you'd almost be mad not to give it a go.
The Strix B550-E gets Asus' slick and familiar BIOS interface that allows access to not only the core ratio but pretty much every setting a keen overclocker could wish for. So you have the choice of bumping the core ratios up and letting the board work out the details, or getting down and dirty with voltages and timings.
Allowing the board to do the detailed brain work results in an overclock of our AMD Ryzen 3 3100 (opens in new tab) quad-core test chip of 4.2GHz on all cores. The Ryzen 3100 is good for a 3.9GHz boost clock as standard, so that's a 300MHz overclock. Which is significant, if not exactly stellar.
That said, of the B550 boards we've tested, it's the far more affordable MSI board that actually comes out top in our straight performance testing. But the Asus can overclock far better, even if it does chew up more raw power from the plug on the whole.
The Asus ROG Strix B550-E Gaming is the whole package then, and right now is our all-around pick for the best B550 motherboard. Though that still feels like a tough recommendation when X570 boards are the same price…
Read our full Asus ROG Strix B550-E Gaming review (opens in new tab).
When it comes to gaming performance above all else, MSI's micro-ATX MAG B550M Mortar is your best bet for an affordable next-gen Ryzen machine. It comes in around the $160 mark, making it cheaper than a great many X570 and other B550 motherboards on the market right now.
At this price point something has to give, of course, and the MAG B550M Mortar is conspicuously short on luxuries. There's no debug display, no physical power or reset buttons, no RGB lighting. Of course, none of those things make any difference in-game and it's easy to argue the £100 / $100 saving over a premium B550 board like the Asus ROG Strix B550-E Gaming can therefore be invested where it really counts: in a better graphics card.
Other economics include details like just one heat spreader supplied for the two M.2 slots and arguably the general air of old fashionedness. That includes memory DIMM slots with clips at both ends and a user manual that feels a little dated and clunky compared to the relative polish of Asus. You can't say that, however, of the MAG B550M Mortar BIOS menu, which is slick, friendly and full-featured.
The gaming frame rates of the MSI B550 Mortar put it above the rest of the B550 crew we've tested so far, however. So all that penny-pinching doesn't hit where it counts. Indeed its straight CPU performance puts it up there with some of the best X570s. That bodes well if you're looking for an affordable home for your AMD Zen 3 CPU; this B550 has a great chance to ensure it performs to its fullest stock-clocked potential without breaking the bank.
Predictably there's a catch. The MSI MAG B550M Mortar's Achilles' heel is overclocking. The 8+2+1 power phase design results in a board that isn't going to spark any overclocking joy in your heart. Where the two Asus boards easily achieved 4.2GHz on all cores with our AMD Ryzen 3100 quad-core test chip, the B550M Mortar only manages 4GHz, a paltry 100MHz above the 3.9GHz all-core Turbo rating of the 3100.
If you don't care about overclocking facility, then just be aware that you will be missing out on extra PCIe 4.0 M.2 and x16 graphics slots if those extras mean a lot to you. You can also opt to ditch wireless networking, depending on whether you pick the straight Mortar or the more expensive Mortar Wi-Fi 6 version.
But, as an affordable gaming board without OC pretensions, it's a great shout.
Read our full MSI MAG B550M Mortar review (opens in new tab).
Best AMD A520 motherboard
Look at it, it's so little! The ITX form factor has a dedicated following, and the ASRock A520M ITC/ac definitely seems to thinks so. With the ever increasing integration of functionality into the chipset, there really isn't a need for multiple PCIe slots like there has been in years past. Does a typical gamer need more than one slot for a graphics card? If the board has WiFi, LAN, USB 3.0 and decent audio, most of the core bases are covered.
AMD's budget Ryzen motherboard chipset, the A520, has largely slipped under the radar. While B350 and B450 motherboards were mainly regarded as entry-level, A320 was strictly seen as resolutely low-end. The introduction of B550 motherboards (opens in new tab), and their associated move upward in price, left a big hole in the sub-$100 market. Enter the A520. If you're on a tighter budget and don't care about PCIe 4.0 or the overclocking support offered by B550, then the A520 motherboards might be exactly what you need.
There's cheap, and there's cheap, but a decent A520 board can more or less do everything a board at double the price can.
Then there's the cherry on top, support for AMD Ryzen 5000 (opens in new tab) series CPUs and Ryzen 4000 and 5000 APUs. Combine a Zen 3 CPU with a motherboard such as this ASRock A520M ITX/ac, and you'll be able to build an affordable and compact system that can beat a comparable Intel in any workload.
The ASRock A520M ITX/ac is one of the most expensive A520 boards at $105. In fact in many markets it might be the most expensive. That would be a little unusual for ASRock which is normally known for its highly competitive bang for buck offerings. It's one of few A520 boards to include Wi-Fi though, so that alone adds a great deal of usefulness. It supports a speed of 433Mbps, not exactly the Usain Bolt of Wi-Fi speeds when Wi-Fi 6 is the norm, but it's enough for high speed internet.
The rear I/O is fairly standard, with six USB ports consisting of two 2.0 ports and four 3.1 Gen 1 ports. We'd like to see eight on all but the very cheapest boards but the little ASRock is hardly alone there. We are pleased to see both HDMI 2.1 and Display Port 1.4 meaning that proper 4K/60Hz with a Renoir APU will be doable.
The ASRock A520M's audio is a bit of a let-down, but that's something that budget boards often compromise on. A gamer listening to compressed audio assets in-game probably won't be any less immersed, but you can opt for an external DAC if you desire one later in life, anyways.
As we often say, the performance of modern motherboards usually falls within a standard margin of error. If we see an outlier, it can often be attributed an aggressive multi core turbo mode or even ambient temperatures affecting GPU boost clocks. The ASRock performed as expected. We did note that its storage performance with a Samsung 970 Pro was strong.
The little ASRock A520M ITX/ac has it where it counts and will serve you well at the heart of a budget gaming system. It benefits from the strengths of the Ryzen platform and adds some future-proofing into the mix. ITX fans looking for a capable budget AMD Ryzen option should have this one on their shortlist.
Read our full ASRock A520M ITX/ac review (opens in new tab).
AMD's A520 motherboard chipset might not make for the sexiest of PC components, that's for sure. You probably wouldn't buy one to take place at the heart of your water-cooled build or Nvidia RTX 3090 (opens in new tab) gaming system. When you look at the chipset itself, it doesn't really miss out in terms of real-world essential features. There's no PCIe 4.0, but no Intel systems have it either, not until Rocket Lake next year (opens in new tab).
The Gigabyte A520 Aorus Elite is a high-end A520 board, which might seem oxymoronic, but if you didn't know what it was, you'd be forgiven for assuming it was more of a mid-range board and not a $90 bargain. It's even got two RGB headers and a further two ARGB headers. About the only thing it really lacks is Wi-Fi, but then do you really expect to have Wi-Fi at this price?
It doesn't have a VRM that you'd use to run a Ryzen 9 3950X (opens in new tab) at full power for extended periods but it will do the job with a suitable CPU. Something like a Ryzen 3 3300X (opens in new tab) would be right at home. Our eight core 65W Ryzen 7 3700X (opens in new tab) purred along without an issue. The heatsinks do a decent job, having no issue keeping things cool when presented with a sustained all-core load. A recorded peak of 73°C VRM temperature is perfectly acceptable.
There's a single M.2 slot and four SATA ports. Standard fare, though perfectly adequate for most users. How about memory support? Unlike the ridiculous memory limitations present on Intel B460 motherboards, the Gigabyte A520 supports up to 128GB at DDR4-4733. Realistically no one will run a setup like that but at least you're given the choice.
Gigabyte deserves credit for including audio built around the ALC1200 codec. Usually, this is reserved for use with more expensive motherboards. It doesn't feature the premium circuitry you'll find on higher-end boards, but for an entry-level board, having the choice of a headset, S/PDIF or HDMI audio is superior to the implementations you'll find on ancient ALC882 or 892 equipped boards. Don't forget we're dealing with a board that costs just $90.
Performance is about where we expect it to be. The underlying BIOS code is well and truly mature with Ryzen 3 CPUs having been in the marketplace for well over a year. The differences between boards are small. The Gigabyte was perhaps marginally behind under lightly threaded loads but was towards the front in the gaming tests. Overall, nothing to complain about with regards to how the Aorus Elite performed.
If you're on a budget, this Gigabyte A520 Aorus Elite is well worth a look. It leaves Intel's budget B460 boards looking weak in comparison, plus you get the benefit of next-generation Ryzen compatibility. Is it for everyone? No, but the Gigabyte A520 Aorus Elite, unlike almost all preceding A320 boards, definitely does not mean cheap and nasty.
Read our full Gigabyte A520 Aorus Elite review (opens in new tab).
Best AMD motherboard FAQ
Why you can trust PC Gamer Our expert reviewers spend hours testing and comparing products and services so you can choose the best for you. Find out more about how we test.
What should I consider when buying a motherboard?
Aside from the type of chip you're getting—be that Intel or AMD—figure out how many M.2 slots (opens in new tab) and PCIe slots (opens in new tab) you need, as well as the number of USB ports that are acceptable to you.
Of course, keep in mind the scale of your build. Is space no object? Then go with an ATX board. But if you're looking to create a mini PC, you'll need a good mini-ITX motherboard. Thankfully there are some great options, and not only at the high end.
Here are some other options for the best gaming motherboards (opens in new tab) to check over.
What is the best motherboard brand for AMD?
Gigabyte has created some of our absolute favorite AMD motherboards over the past couple of generations, offering a compelling mix of high-end features, solid performance, and good pricing, too. But we've also found ASRock to offer some excellent boards, particularly its small form factor, mini-ITX options.
What is the best AMD motherboard chipset?
The AMD X670E is the top chipset for the latest Ryzen 7000-series CPUs, including the latest X3D gaming chips. That will offer the most future-proofed board possible, with its PCIe 5.0 graphics and M.2 SSD ports. The standard X670 (without the E) will generally only offer PCIe 5.0 SSD support, and not graphics.
It's the same with the B650 and B650E chipsets, too, in terms of the next-gen support for PCIe 5.0 graphics and storage.
The AMD X570S is latest motherboard chipset for Ryzen 5000-series processors and has the most up-to-date features. It offers PCIe 4.0 support, dual-GPU configurations, and a wealth of tweaking and compatibility options. This newer version of the AMD chipset removes the need for active fan cooling on the chipset itself, but is otherwise pretty much identical to the older X570 design.
Which socket is compatible with AMD Ryzen CPUs?
For the latest Ryzen 7000-series CPUs you will need to make sure you have a motherboard that uses the AM5 socket. That's available with the X670/E and B650/E motherboard chipsets.
For older Ryzen 5000-series and below, you will need to use a motherboard with an AM4 socket. This socket does not necessarily mean broad compatibility backwards for older Ryzen CPUs regardless of chipset, so it is best to check a motherboard's specs list to be certain of compatibility for specific generations of Ryzen chip.
Which motherboard chipset do I need for my AMD Ryzen CPU?
Today's most relevant motherboards for a new CPU buyer are those equipped with the following chipsets: X670/E, B650/E, X570S, B550, and A520. The 'X' prefix denotes the high-end motherboards, while the 'B' indicates the close-run mid-range models. The 'A' prefix is for the entry-level, but these come usually strapped for features and are not always much cheaper than entry-level B450 boards—plenty of options.