Gaming PC deals
$500 – $1,000: Entry-level machines
$1,000 – $2,000: The sweet spot
$2,000+: The luxury end
UK Deals: PC penny savers
GPU hierarchy: How the graphics cards match up
The best cheap gaming PC is all about finding the PC deal that suits your wallet and gaming needs. Whether you're after an entry-level rig that can deal with a 1080p load or a high-spec machine capable of 4K gaming and beyond, you want to get as much tech for your cash as possible.
And that's where we come in, trawling through the systems on offer this week to give you the best idea of where you should spend your money. It's not easy because PC gaming has become a costly hobby in recent years. Unless you know where to look...
We're splitting our rigs into three categories: Entry-level, Sweet spot, and Luxury. In the middle, the $1,000 – $2,000 mark is where you'll find the broadest range of possible systems and arguably is where today's best gaming PC deals are likely to exist. But at both ends of the price spectrum, knowing you're getting the best gaming hardware for your money is important.
We use all our combined decades of technological PC gaming expertise to determine whether something is a good deal, and you can rest assured that we'll only recommend the best gaming PC deals right here. If something's super cheap doesn't automatically make it worth the money, and likewise, just because a system is $2,500 doesn't mean it can't be a great value.
Where are the best gaming PC deals?
Amazon - Save hundreds of dollars on selected prebuilt PCs
iBuypower - Fast shipping machines with up to $400 off
Best Buy - RTX 3080 gaming desktops for under $3K
Lenovo - Lenovo Legion gaming machines with up to $300 savings
Newegg - Stellar savings on RTX 30-series gaming PCs
Dell - Up to $750 saved on Alienware Aurora gaming PCs
HP - Save over $500 on all-in-one PCs
Corsair - Some ridiculous savings on compact gaming PCs
NZXT - streaming-focussed gaming PCs with $100 off

Nvidia GeForce-powered gaming PCs
Yeyian Katana X10 | RTX 3060 Ti | $1,399 $949
Skytech Chronos Gaming PC | RTX 4070 Ti | $1,999.99 $1,799.99
Alienware Aurora R15 | RTX 4080 16GB | $2,899.99 $2,499.99

AMD Radeon-powered gaming PCs
Alienware Aurora R14 | AMD Radeon RX 6600 XT| $1,759.99 $999.99
CyberpowerPC Gamer Master | RX 7900 XT | $2,089.99

In the UK
Scan - Gaming PCs with great discounts at every price range
Overclockers UK - Prebuilts and bundles with up to £400 off
Cyberpower PC - £200 off last-gen prebuilt gaming PCs
Ebuyer - Up to £150 off RTX 3060 Ti gaming PCs
Box - Save £400 on last-gen prebuilts
CCL - genuine gaming PCs for less than £1,000
$500–$1,000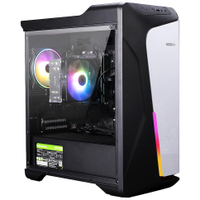 Ipason gaming desktop | AMD Ryzen 5 5600G | 16GB DDR4-3200 | 500GB NVMe SSD | $849.99 $499 at Newegg (save $350.99) plus a $25 gift card
You can game on this machine to a certain extent—the integrated Vega GPU on the Ryzen chip will certainly support 720p gaming at lower settings. But we're listing it here as a good base from which to add your own graphics card for a quick, powerful new gaming PC. The AMD CPU is a good six-core, 12-thread job, and the 16GB RAM will run everything you need. The 500GB SSD could be bigger, but that's an easy, cheap upgrade.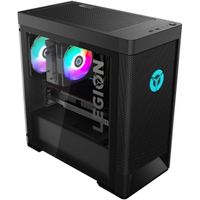 Lenovo Legion Tower 5 | Ryzen 5 5600G | Radeon RX 6500XT | 16GB RAM | 512GB NVMe | $989.99 $639.99 at Best Buy (save $350)
You're getting yourself a lot of PC for less than $700. This Legion Tower should give some solid 1080p gameplay performance on most of your games. It's also a better deal than that of some last-gen AMD RX 5500-powered systems at this price we've been seeing.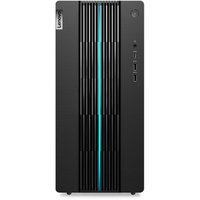 Lenovo IdeaCentre Gaming 5i | Intel Core i5 12400| RTX 3050 | 8GB RAM | 512GB SSD | $949.99 $759.99 at Amazon (save $190)
If you're looking for a budget system for around $700, you could do worse than this IdeaCentre desktop. It's not super powerful, but with the RTX 3050 inside and Nvidia's DLSS tech, you could eke out some decent framerates at 1080p on medium settings.