Quick menu
⚙️ The list in brief
1. Best overall
2. Best budget
3. Best at 2TB or above
4. Most powerful
5. Best for Steam Deck
6. Best for PS5
7. How to spot the best deal
8. How we test
9. FAQ
Experience lightning-fast loading screens with the best NVMe SSD for gaming. This reliable upgrade enhances your day-to-day PC usage. Not only does an NVMe SSD provide a smoother experience, but it's also one of the most affordable upgrades you can make for your PC.
The best NVMe SSD for gaming on the market is the WD Black SN850X. It's that great blend of performance and affordability that's great for PC gaming. That said, there are cheaper options available, and we're big fans of the supremely cheap WD Black SN770 on a tighter budget.
Every week we're surprised by the frequent fantastic deals on these high-speed drives. That's particularly true for 1TB NVMe SSDs, which can be obtained for under $50 nowadays. As long as your motherboard supports an M.2 slot, investing in an NVMe SSD should be a no-brainer.
We're constantly conducting extensive testing to identify the top NVMe SSDs for PC gaming. While a 512GB drive may seem tempting due to cost considerations, it may not be worth it, given the size of modern PC games. Also remember that larger drives deliver superior performance due to the increased utilization of controller channels at higher capacities.
Black Friday SSD deals
Curated by
Jeremy likes CPUs. And GPUs. And SSDs. A lot. Which is just as well, since he's been writing about them since the early Mesozoic period. Or at least since Intel released those early stuttering SSDs. Remember them? Good times.
The quick list
Recent updates
This page was updated on November 21st to improve navigation and add in a selection of Black Friday SSD deals. Our picks for the best drives remains the same, however.
The best NVMe SSD
Our favorite WD Black SN850X config: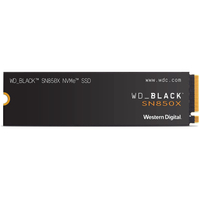 PCIe Gen 5 is now a thing on both AMD and Intel platforms. But let's be real. Your current PC almost certainly doesn't have a PCIe 5.0 M.2 slot. Enter, therefore, the WD Black SN850X, something of a last hurrah for Gen 4 SSDs. And it's the best one out there right now.
SK Hynix's Platinum P41 might just have the edge on performance, but the lead is so negligible that the less expensive SN850X is our pick of the current SSD crop.
Our review configuration is clad head-to-toe in WD's signature armour-style cooling, but it needn't have bothered. This SSD runs quite a bit cooler than even its forebear, the WD Black SN850.
In many other regards, this X model is a dead ringer for the SN850. We're talking four lanes of PCIe Gen 4 connectivity in the now ubiquitous M.2 2280 form factor. But the 1TB model reviewed here is now the entry-level option. There's no longer a 512GB model. What's more, WD's in-house controller chip, provided by compatriot SanDisk, has been revised, though detailed specifics aren't provided.
Rather more specific to this WD drive is the latest 2.0 version of the company's Game Mode drive management software. WD claims it improves game loading times courtesy of a so-called "read look-ahead" algorithm, which predictively caches game data. It now runs automatically, detecting when games are loaded. How much that kind of feature actually makes a difference in the real world is notoriously difficult to pin down. But it's unlikely to be revolutionary.
Reduced operating temps are another clear benefit of this new drive. The old SN850 hit a toasty 77°C. The new drive hits just 58°C under sustained load. That's a very worthwhile improvement. Elsewhere, the gains are less obvious, albeit the SN850 was already a great drive. The 4K random access results are a little disappointing, showing little to no improvement. Likewise, don't expect big gains in system-wide measures of performance like PCMark 10.
This means that the new WD Black SN850X isn't a revolutionary leap forward. Indeed, in the real world, you'll struggle to notice the difference compared to the existing SN850 drive. But then that's because the SN850 is a very good SSD. The one exception to that is operating temperatures. Happily, this new X model runs unambiguously cooler.
For most PC applications, that probably doesn't matter. But for small form factor rigs and perhaps a gaming laptop, every little can undoubtedly help. On that note, for most applications, we'd probably go for the cheaper bare drive rather than this more expensive model with its heat spreader. The revised SN850X is inherently a cooler-running thing, after all.
Read our full WD Black SN850X SSD review.
The best budget NVMe SSD
Our favorite WD Black SN770 config: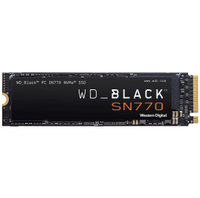 We've seen some incredible NVMe SSD releases recently, but they've tended to focus on top-end performance and come with prices to match. The WD_Black SN770 bucks this trend and, like its predecessor, the SN750, is aimed at offering better value for money than outright performance.
The main way it achieves this is by being a DRAM-less SSD drive. This saves a big chunk of the manufacturer's bill of materials, and thanks to advances in the latest controllers, it can be surprising how little impact this has on performance. Such drives are slower, don't get me wrong, but this new SN770 still quotes read and writes of 5,150MB/s and 4,900MB/s, respectively. Not bad.
The drive is a low-profile affair, with this 1TB model boasting a single NAND flash module at the back (a rebranded Kioxia BiCS5 112-Layer TLC chip) and the SanDisk controller towards the connector. Western Digital rarely reveals much about its controllers, which is the case here.
The SN770 is available in four sizes—250GB, 500GB, 1TB, and 2TB, although there's no 4TB option, which is a bit of a shame. If you want a seriously capacious drive, you'll want to track down the Sabrent Rocket offerings, which go all the way up to 8TB.
The synthetic performance shows the SN770 trails more expensive drives in terms of reads, although the writes are much closer. The 4K performance is relatively impressive and shows that the SN770 has something to offer in this crowded marketplace. It's not too surprising that this drive outperforms Samsung's DRAM-less offering, as that is a PCIe 3.0 drive, after all, but the extent to which it does is impressive.
It's worth noting that this drive can get hot when pushed, just like the SN850. It hit 76°C after a long day of testing, but without direct cooling on it, not even a heatsink. It should be fine in most systems, especially if your motherboard does come with some cooling solution.
It's in the real-world tests where the SN770 really struts its stuff. You'd be hard-pushed to tell the difference between this drive and much faster offerings in most day-to-day operations. Given this is the cheaper drive right now, that counts for a lot. The SN850 is the better drive if you need better performance, but you will pay considerably more.
The only problem for this drive is that we don't know how fast a drive needs to be for Microsoft's DirectStorage. We know some developers have been targeting 5,000MB/s, which is where the SN770 sits in our testing. So it should be good, and it's very tempting for the money. If you're a serious gamer, though, we'd recommend going a little bit higher up the product stack, and grabbing that WD_Black SN850.
Read our full WD Black SN770 1TB review.
The best high capacity NVMe SSD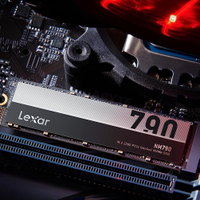 Lexar NM790 | 4TB | 7,400MB/s read | 6,500MB/s write
The 4TB version of Lexar's excellent NM790 offers huge amounts of storage capacity and high speeds, courtesy of a large pseudo-SLC write cache. I'd love to say you would never need to upgrade your SSD again, but judging by some of these game install sizes, you probably still will. At least this massive drive delays the inevitable further than most.
In need of a lot more storage capacity? Look no further than the Lexar NM790. Available with up to four terabytes of storage, there's really no need to worry about your burgeoning Steam library any longer with one of these installed in your PC.
You can pick up the 2TB version of this drive for little over the price some 1TB drives were a year ago. Even in its largest capacity, this drive offers really excellent value for money. The 4TB version is often under $200/£185. That's, what, $0.05 per gigabyte or less?
This isn't a slow SSD, either. It's right up there with the very best PCIe Gen4 drives today at 7,400MB/s read and 6,500MB/s write. In our own testing, we measured it at 7,106MB/s seq. read and 6,504MB/s seq. Write—very nearly bang on what's advertised, which is really great.
It's also pretty speedy in random workloads, which will make for a snappier system. It comes in at 75MB/s read and 291MB/s, which is in the mix with some of the faster Gen4 and first-wave Gen5 drives we've tested.
The Lexar does differ from many others we've looked at. We've come to expect higher-end Gen4 drives to rely on Phison's very popular E18 controller, but the Lexar doesn't. It uses a MaxioTech MAP1602A controller, a less known quantity in the US and EU markets. This makes for overtly different behaviour in testing to more common controllers, but not in a bad way.
For one, this drive is cool under load. When transferring over 200GB of data in one steady stream, which you may not do all that often in real-world use, we measured the temperature at 72°C. That's an admirable temperature from a drive with no active cooling solution and high speeds.
The point is, there's not much this Lexar drive can't do, and for a good price. If you have a spare Gen4 slot in your machine, and you are desperate for more game storage space, I highly recommend you look to the Lexar NM790 to fill that slot.
Read our full Lexar NM790 review.
The most powerful NVMe SSD
Our favorite SK Hynix Platinum P41 config: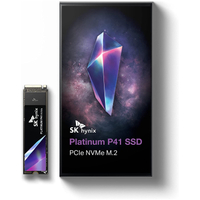 SK Hynix Platinum P41 | 1TB | 7,000MB/s read | 6,500MB/s write
The great thing about the SK Hynix drive is that its 1TB drive is just as quick as the 2TB version, which means you get the highest performance write SSD at 1TB. The WD SN850X will generally be cheaper, but if you need the raw SSD performance the 1TB P41 nails it.
Give it up for the new SK Hynix Platinum P41 2TB. If that doesn't exactly roll off the tongue, it also doesn't help that SK Hynix isn't the most familiar brand regarding the sort of consumer-focused clobber that's aimed at gamers, including SSDs.
Of course, SK Hynix isn't new to this space, but the new P41 is arguably the brand's first tilt at a truly high-end M.2 drive. The old SK Hynix Gold P31 was a bit of a clunky old thing, limited as it was to the PCIe 3.0 interface and a controller chip with a mere four memory channels. The new Platinum P41? It's got it all.
Well, it's got it all if the context is PCIe 4.0 drives. There is a new generation of PCIe 5.0 drives but they're a bit over the top for most gamers right now. PCIe Gen 4 is not only where it's at, it's probably also the limit of your PC or laptop's capabilities.
The P41 has SK Hynix's brand new Gen 4 controller, known as Aries. While these things tend to be relatively mysterious black boxes, we do at least know that Aries has a claimed doubling of IOPS performance versus SK Hynix's old Cepheues chip, along with one-third faster IO speeds.
Not only that, but it's also a quad-core design that sports eight memory controllers and allocates 2GB of DDR4 cache memory for this 2TB model. All of which makes it on par with top-end controllers like the Phison E18, as seen in various drives, including the Seagate FireCuda 530, the SanDisk-powered WD Black SN850X, and the new Pascal chip in the Samsung 990 Pro.
As for the actual flash memory used, it's SK Hynix's latest and very greatest 176-layer 3D TLC NAND. It's about as advanced as TLC memory currently gets, and SK Hynix claims a 40% performance boost over its old 128-layer chips. The net result is sequential read and write specs for this 2TB model of 7,000MB/s and 6,500MB/s respectively.
Finally, on the speeds and feeds, this 2TB drive is rated at 1,200TB for write endurance. As it happens, that's precisely the same as the new Samsung 990 Pro 2TB. But it's also far from some other competing M.2 SSDs.
All of this leaves the minor matter of how this drive actually performs. When it comes to peak sequential throughput, the Platinum P41 is basically as fast as anything else out there, bar a few rounding errors. OK, the Samsung 990 Pro is a bit faster at 7,462MB/s for reads to the P41's 7,375MB/s. But, honestly, it's inconsequential. The same goes for writes, where almost all the top drives will do just under 6.9GB/s.
Slightly less edifying are the P41's operating temps. At a 71°C peak, it's a little toastier than we'd ideally like. Not that we saw any signs of any thermal throttling. But temps that high is a teensy bit of a long-term reliability concern.
So, this is a damn good drive. It's at least as good as anything else: trading blows with WD's Black SN850X, Samsung's upgraded 990 Pro, and the usual Phison E18-powered suspects. If you want a top-end PCIe 4.0 drive, there's certainly plenty of choices. And the SK Hynix Platinum P41 2TB should certainly be on your shortlist.
Read our full SK Hynix Platinum P41 review.
The best NVMe SSD for Steam Deck
Our favorite Sabrent Rocket 2230 config: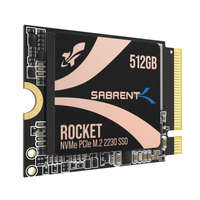 There are a few good NVMe drives in the Steam Deck's puny 2230 form factor to choose from. Now is the time for tinkering, and the voiding of warranties. And if you're sitting there asking yourself "Is a Steam Deck SSD upgrade worth it?" I'm going to lay it out for you.
I've been through and tested each of Sabrent's new collection of Rocket NVMe 2230 SSDs, pitting each one against the Steam Deck's own, internal NVMe drive to see if upgrading the Steam Deck SSD will make a tangible improvement to your handheld experience. The good news is, yes, they absolutely do.
Coming in 256GB, 512GB, and 1TB capacities, Sabrent's diddy Gen 4x4 drives retail at $50, $90, and $170 respectively, though prices for SSDs are constantly dropping. That's still substantially more than you'd expect to pay for a similar capacity 2280 form-factor drive but sure, I'll bite. Not like there's much tiny, high speed competition out there at the moment.
The 256GB is rated to 4,640MB/s reads and 1,900MB/s writes, whereas the 512GB is meant to be closer to 5,000MB/s reads, and 3,700MB/s writes. The 1TB drops down a little at 4,750MB/s reads, but 4,300MB/s write speeds. And with each featuring 177-layer 3D NAND flash tech, we should see some real tangible improvements over the Steam Decks internal SSD, however many lanes Valve has seen fit to grace your Steam Deck with.
When it comes to real-world random performance, the 512GB Sabrent rocks a good 78MB/s read speed over the Phison, with 252MB/s writes to boot. That means my 7GB file transfer time has decreased pretty substantially, from 36 seconds down to 14.
For those currently packing the lower capacity Steam Decks bagging the 512GB Sabrent drive is a no-brainer. Particularly when you consider their combined price is $160 less than the 512GB Deck. Even the 256GB option is a stellar choice if you're looking to save $30 on something just as speedy as its 512GB sibling. If you can forgo a bit of storage space, it'll certainly blow whatever eMMC SSD the 64GB Deck's touting out of the water.
Read our full Sabrent Rocket 2230 review.
The best NVMe SSD for PS5
Our favorite Silicon Power XS70 SSD config: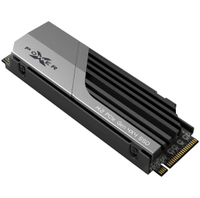 Silicon Power is a brand that probably doesn't get much attention compared to the likes of Samsung or WD, but when you look at its XS70 NVMe SSD with its high-end specifications, it's clear that the brand name isn't everything. Armed with the latest Phison controller and high-performance NAND flash memory, a drive like the Silicon Power XS70 should have no problem competing with the best SSD on the market.

The XS70 is priced well for a high-performance 2TB SSD, but there's fierce competition from other third-party SSD makers in this price range. The Silicon Power XS70 2TB SSD is a 2280 (80mm length) M.2 PCIe NVMe drive. It combines Micron 176-Layer TLC NAND with a Phison PS5018-E18 controller and 2GB of DDR4 RAM. That combination is common to many of the best SSDs, including the highly regarded Seagate FireCuda 530 and Kingston KC3000.
The XS70 is designed with PS5 compatibility in mind so the heatsink isn't as bulky as some others you might come across. It really does look good. Admittedly I'm talking about an SSD here, and its not the kind of thing you'll spend time looking at, but Silicon Power's designers deserve credit.

The Silicon Power XS70 2TB isn't revolutionary, but then nobody expects it to be. It's a highly competitive SSD with great performance, an attractive design and it offers good value for money. It's not perfect, it lacks its own software and hardware encryption but for a PS5 or PC gamer, that won't matter. Load it up with your game library and you'll love it.
The excellent all-around performance on offer from the XS70 makes it a very compelling option and it's easily worth considering if it's price competitive at the time you look to make your purchase.

Read our full Silicon Power 2TB XS70 review.
How to spot the best deals
Where are the best SSD deals?
In the US:
In the UK:
How we test NVMe SSDs
We put every SSD we get in the PC Gamer labs through their paces in various benchmarks made up of a mix of synthetic tests and real-world applications. To ascertain a drives sequential throughput, we use ATTO SSD Benchmark for compressible data (a best-case scenario) and AS SSD for incompressible data (more realistic). We also test random throughput with AS SSD and a combination of CrystalDiskMark 7.0 and Anvil Pro.
When it comes to the real-world tests, we time how long it takes to copy a 30GB game install across the drive and use PCMark10 and Final Fantasy XIV: Shadowbringers, which includes a level load test.
We also check operating temperatures to ensure that the drive isn't getting too hot and throttling. That's becoming more of an issue with faster and faster drives. PCIe 5.0 drives appear to require a lot more cooling than previous generations, which does make you wonder if the extra speed is really worth it yet.
NVMe SSD FAQ
Can I fit an NVMe SSD on my motherboard?
The M.2 socket has been included on motherboards of all kinds for many years now, so the chances are that there's a spare slot sitting inside your existing gaming PC. Check out your motherboard's specs page online before pulling the trigger on an NVMe SSD purchase, though, to be sure. Those harboring a board that's a few years old now, do yourself a favor and make sure it supports booting from an NVMe drive first. Not all older motherboards do, especially if you're going back multiple CPU generations (maybe a full upgrade's due, if so).
What is NVMe, exactly?
The NVMe, or Non-Volatile Memory Express interface, has been designed specifically with solid state drives in mind. In contrast, SATA, the previous interface in charge, was built to cater to most HDDs. The thought is, at the time, that no storage would ever need to exceed its lofty max bandwidth. To the surprise of a few, new storage mediums such as solid state absolutely blaze past SATA's max bandwidth, and so a new protocol in NVMe was born.
That makes NVMe SSDs the perfect storage tech for gaming.
Running on the same basic interface as your graphics card, NVMe SSDs deliver more raw bandwidth and performance than any SATA-based SSD could ever offer. They're also a lot smaller than any other hard drive or SSD too, which all means that the best NVMe SSDs are perfect for either that small form factor build you always wanted or a monstrous high-end gaming PC build.
What PCIe generation should I look for?
Right now, PCIe 4.0 is the go-to PCIe generation. That's because it offers a high speed at a reasonable cost. The newest SSDs on the market offer PCIe 5.0 capability, which doubles the theoretical bandwidth an SSD can run at. However, these are few and far between and awfully expensive. Also the first drives of any PCIe generation tend to end up much slower than what that generation is truly capable of.
Here are the rough speeds for each PCIe generation over x4 lanes:
PCIe 1.0: 1GB/s
PCIe 2.0: 2GB/s
PCIe 3.0: 4GB/s
PCIe 4.0: 8GB/s
PCIe 5.0: 16GB/s
What's so special about NVMe?
The old storage paradigm was built on the idea of spinning disks. When SSDs hit the mainstream consumer market back in 2007, they reset our expectations for storage. Moving from the mechanical world of hard drives to the silicon world of SSDs brought rapid improvements in performance, technology, capacities, and reliability. SSDs quickly saturated the various SATA connections, and so faster alternatives were needed, but the interface was only part of the problem.
The AHCI (Advanced Host Controller Interface) command protocol was designed for much slower media (i.e., spinning magnetic disks). AHCI is inefficient with modern SSDs, so a new standard was developed: NVMHCI (Non-Volatile Memory Host Controller Interface). Combine NVMHCI with a fast PCIe interface, and you have NVMe, Non-Volatile Memory Express. It's a much-improved interface developed around the needs of flash memory rather than spinning disks.
What's NVMe performance like in the real world?
If you're copying a game from one drive to another or validating game files in Steam, faster NVMe drives make a difference. They can also shave off a second or two when it comes time to load a game level, but the more significant difference is against hard drives, where even a slower SATA SSD is much faster. Go beyond a certain point, and all SSDs start to feel similar.
In other words, while the speed freak in me loves what NVMe brings to the table, I recognize that in practice, it's usually not that noticeable. If you're looking to get the most from your money when it comes time to build a gaming PC, good SATA SSDs remain an excellent option, with prices now falling below 10 cents per GB.
NVMe drives are becoming increasingly commonplace, and prices continue to drop. In the past year, I've tested far more NVMe drives than SATA drives, mainly because SATA drives are all starting to look the same. Most hit the same ~550MB/s limit of the SATA interface for sequential IO, though random IO can still be a bit problematic on some models. With budget NVMe prices now matching SATA drives, most new builds should seriously consider whether the extra power and data cables of SATA are necessary.