Black Friday SSD deals
Jump straight to the deals you want...
1. US Internal SSD deals
2. US External SSD deals
3. UK Internal SSD deals
4. UK External SSD deals
These are all the Black Friday SSD deals still live going into the weekend, but we're now switching focus to what's coming up with the Cyber Monday SSD deals. That's where all the latest and greatest discounts will now be curated going forward, so come take a look.
The Black Friday SSD deals started early in the week, and they haven't dropped off now that Friday's come and gone. That's great, because a fast SSD is one of the easiest and most impactful upgrades you can make to your gaming PC. They make load times in games like Elden Ring and God of War breeze by, and will dramatically improve your overall Windows experience, too.

NVMe SSDs are what you want as primary storage inside your desktop (and even your modern gaming console). They are faster, more efficient, and more reliable than an old spinny hard drive, and they feel noticeably faster than older SATA SSDs, too. With DirectStorage coming soon, expect to see load times reduced even more. Just ensure that your motherboard has the requisite M.2 slots for an NVMe SSD—as soon as you find that out, you can take advantage of some of the really stellar Black Friday SSD deals popping up this year (if it was built in the last ~5 years, you're probably covered).

With prices where they are, there's no reason why your gaming PC shouldn't already have a shiny new PCIe Gen 4 solid state drive, the fastest around right now. Trust me: you'll see what the big fuss is once you feel it in action. You can now find top-of-the-line 1TB drives for around $100 / £100 and 2TB of SSD storage for less than $200 / £200. Anything larger than that starts to get expensive and is not worth the click unless you spot a really good deal on it, which is rare even on Black Friday. But we're watching for them.
As far as size is concerned, 1TB is the least amount of storage you want when shopping around for an SSD for your desktop. It might be tempting to go with something smaller because the price is right, but you'd be surprised how fast a 256GB and 512GB can fill up after installing a handful of games. Below are the best deals for internal and external SSDs that'll fit your favorite games and media.
Where are the best Black Friday SSD deals?
In the US:
Amazon - Up to 50% off internal and external SSDs
Walmart - Deals on internal and external SSDs
B&H Photo - Save up to $50 on NVMe SSDs
Best Buy - Great prices on Samsung SSDs
Staples - Save up to 30% on a range of SSDs, USB sticks, and external SSDs
Newegg - Plenty of NVMe SSDs


1TB SSD - Solidigm P41 Plus | $89.99 $59.99 at Amazon (save $30)
1TB SSD - Samsung 980 SSD | $139.99 $79.99 at Amazon (save $60)
2TB SSD - SK Hynix Platinum P41 | $259.99 $169.99 at Amazon (save $90)
In the UK:
Amazon UK - Save on HDDs, SDDs, and external drives
Scan - SATA drives as low as £21
Box - Save up to £82 on Western Digital SN750 NVMe SSDs
Ebuyer - 500GB SSDs starting from £34.98
Overclockers - Save up to £51 on Samsung SSDs
Currys - Save £33.00 on WD Black SN750
Laptops Direct - Save on SSDs for your laptop


1TB SSD - WD_BLACK SN850X | £149.99 £89.99 at Overclockers (save £60)
BLACK FRIDAY INTERNAL SSD DEALS IN THE US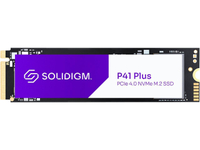 Solidigm P41 Plus | 1TB | PCIe 4.0 | 4,125MB/s reads | 2,950MB/s writes | $89.99 $59.99 at Amazon (save $30)
This is one of the cheapest 1TB NVMe SSDs you can grab right now. It's a QLC drive, so the performance isn't stellar, especially once you go beyond the SLC cache, but it's still faster than a SATA drive. Solidigm is the new consumer brand from SK Hynix, so you know you're in safe hands too.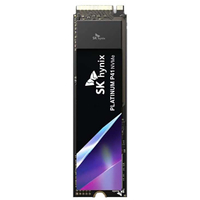 SK hynix Platinum P41 | 2TB | PCIe 4.0 | 7,000MB/s reads | 6,500MB/s writes | $259.99 $169.99 at Amazon (save $90)
This deal on this impressive SK Hynix Platinum P41 might be the cheapest 2TB PCIe 4.0 we've found far. It's a fine SSD with excellent performance. At $169.99, you won't find a faster SSD at this price.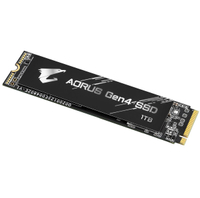 Gigabyte Aorus Gen4 | 1TB | PCIe 4.0 | 5,000MB/s reads | 4,400MB/s writes | $109.99 $79.99 at Newegg (save $30)
So, it's not strictly a deal, but it's another cheap 1TB PCIe 4.0 SSD that's still seriously quick. It's an early PCIe 4.0 SSD, which explains why it lags behind more recent drives, but still, its Phison E16 controller and Toshiba TLC memory make it a quality drive. Especially for the money.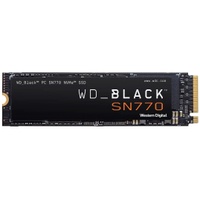 WD Black SN770 | 1TB | PCIe 4.0 | 5,150MB/s reads | 4,900MB/s writes | $129.99 $79.99 at Amazon (save $50)
It may not match the peak performance of the pricier SN850, but this is a great budget option. And a good shout for anyone still stuck on a PCIe 3.0 motherboard but with a yearning for an upgrade soonish. It's a DRAM-less option, but the underlying performance is strong enough for most tasks.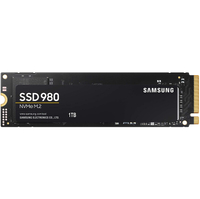 Samsung 980 SSD | 1TB | PCIe 3.0 | 3,500 MB/s reads | 3,000 MB/s writes | $139.99 $79.99 at Amazon (save $60)
For well under $100, you can bag a full 1TB of fast PCIe 3.0 SSD storage. That's plenty of space for a boot drive and a host of your most often-played games. You would have to be a Samsung fan to pick this over the WD Black SN770, but if that goes out of stock, the Samsung 980 is a great backup. Back up. See, SSD deals with humor; we've got it all.