DDR5 has come a long way in the year or so since it was launched. It's now widely available, prices have dropped and early BIOS niggles have been overcome. And then there's the speed. When 12th Gen Alder Lake CPUs launched, DDR5-6400 was about the maximum speed you could get, but forget that: DDR5-8000 kits are now on the market. Not a bad improvement in just over one year!
Here for review I have G.Skill's Trident Z5 RGB DDR5-7200 kit. Its still very fast indeed, but it's not so fast to present trouble for all but the highest spec overclocking boards. Still, it's worth checking the QVL lists to make sure your board can handle it at its XMP setting. As for AMD, you should be looking at an EXPO kit at around the DDR5-6000 mark for maximum compatibility.
Ultimately, this kit can be considered second-generation DDR5. It comes with Hynix A-die chips, which appear to be used by all of the currently available highest spec modules. They operate at higher frequencies than Hynix M-dies which were found in most of the first wave DDR5-6000+ kits.
You'd expect memory at this speed to cost a bundle, and at $299 / £319 / AU$519 it certainly carries a price premium, but actually it's not that bad of a price. At the time of writing, a 6000MHz kit costs from about $150 with 6400MHz kits starting at $190, so the price G.Skill is asking for 7200MHz isn't unreasonable. In fact its a downright bargain compared to the cost of premium DDR5 a year back, where prices of $500 / £500 / AU$1,000 or higher were commonplace.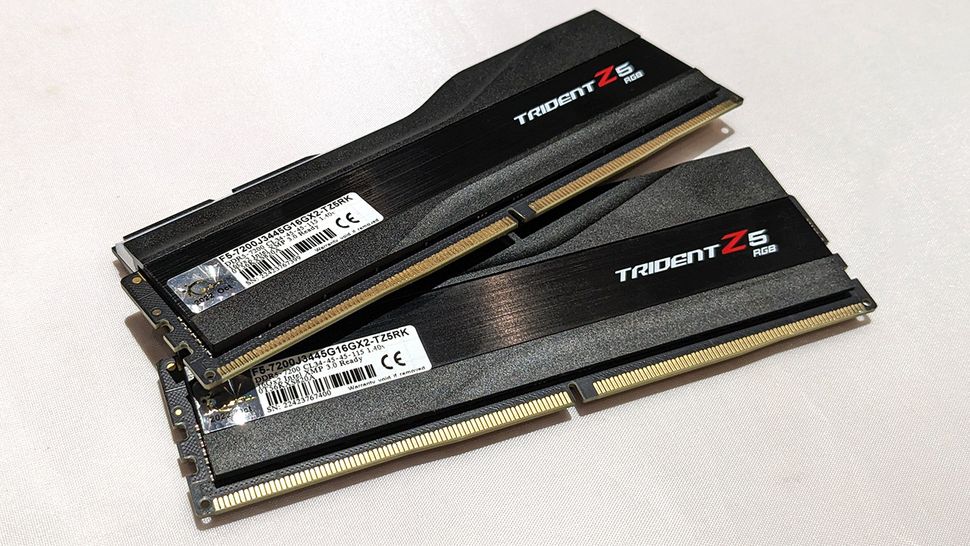 The G.Skill Trident Z5 DDR5-7200 kit has 34-45-45-115 timings. It's nice to see CAS latencies staying relatively low as speeds increase, though secondary timings are certainly a lot higher than those you'll find on slower kits. The best DDR4 kits are still perfectly viable, but the early complaints around the high latency of DDR5 compared to DDR4 are quickly becoming moot.
Trident Z5 specs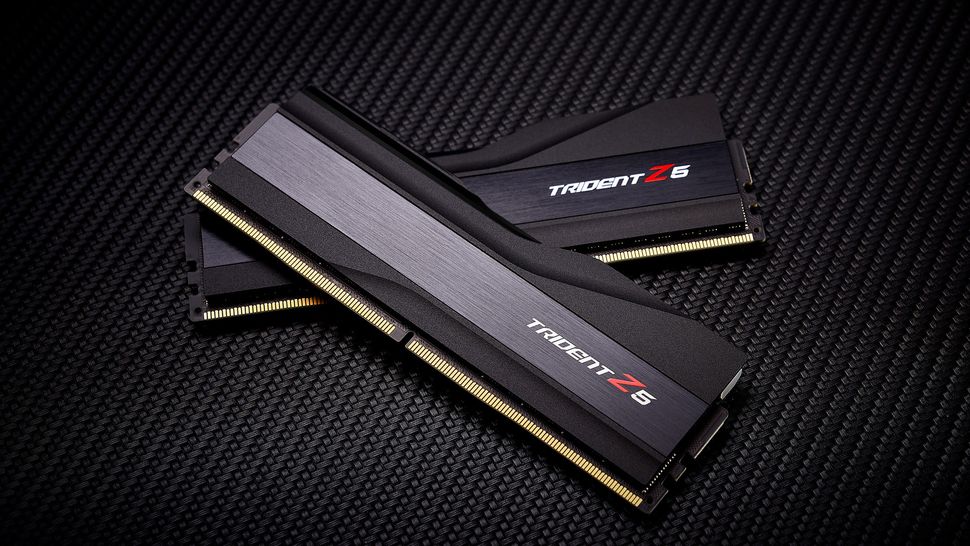 Model Name: G.Skill F5-7200J3445G16GX2-TZ5RK
Memory Type: Unbuffered DDR5
Capacity: 32GB (2x 16GB)
Rated Speed: 7200MHz
Rated Latency: 34-45-45-115
Tested Voltage: 1.40v
Warranty: Limited Lifetime
XMP: Intel XMP 3.0 Ready
Price: $299 | £319 | AU$519
The kit comes in a 2x16GB capacity with XMP 3.0 support and a 1.40V operating voltage. Our review sample is black, though it's also available in silver. The black version will blend into a wider variety of builds if I'm being honest.
G.Skill hasn't altered the look of its Trident Z5 kits, and why would it? It looks great and its RGB implementation looks lovely. It features a more opaque look than many kits giving it a classy and understated appearance. Personally I prefer that over bright, retina-scalding individual LEDs.
The RGB lighting can be controlled by the common motherboard vendor apps, or via G.Skill's own simply named Lighting Control app. It's a simple and lightweight app, weighing in at just 5.7MB. There's no unnecessary bloatware there. Well done G.Skill.
So, how does it perform? Is it worth dropping the money on a top spec memory kit? It's an enduring PC gamer question, and one that's particularly interesting given the dramatic increases in gaming performance on offer from a card like the Nvidia RTX 4090.
Beginning with a look of the system benchmarks, we see the traditionally memory sensitive apps doing well, particularly the file compression and video encoding tests. The AIDA64 results are purely synthetic, however, and are more about comparative testing than actual real world performance.
Test rig
CPU: Intel Core i9 13900K
Motherboard: Gigabyte Z790 Aorus Master
GPU: Nvidia GeForce RTX 4090 Founders Edition
Cooler: Cooler Master PL360 Flux
SSD: Seagate FireCuda 530 2TB
PSU: Corsair AX1000
Gaming is where it gets interesting and this is an area I was personally very curious about given the performance leap offered by the RTX 4090. Honestly, I expected the faster memory to benefit more than it actually did, though there are some clear advantages.
A traditionally CPU limited game such as Far Cry 6 saw a benefit but the bigger surprise was the effect it had on Cyberpunk 2077, which is notable for being very GPU intensive. Average FPS scaled nicely with higher memory speeds. Metro Exodus is another example of a GPU intensive game scaling with memory, though to a lesser degree.
But not all games benefit. Total War: Warhammer III and Ghost Recon: Breakpoint are two that show no real gains, even compared to DDR5-4800.
In summary, the status quo hasn't really changed. Buying top shelf DDR5 only makes sense if you've got an equally high spec system to match. Think a Core i9 13900K and RTX 4080 or above. Otherwise you're better of putting the extra money towards a faster CPU or GPU that will deliver more tangible performance improvements.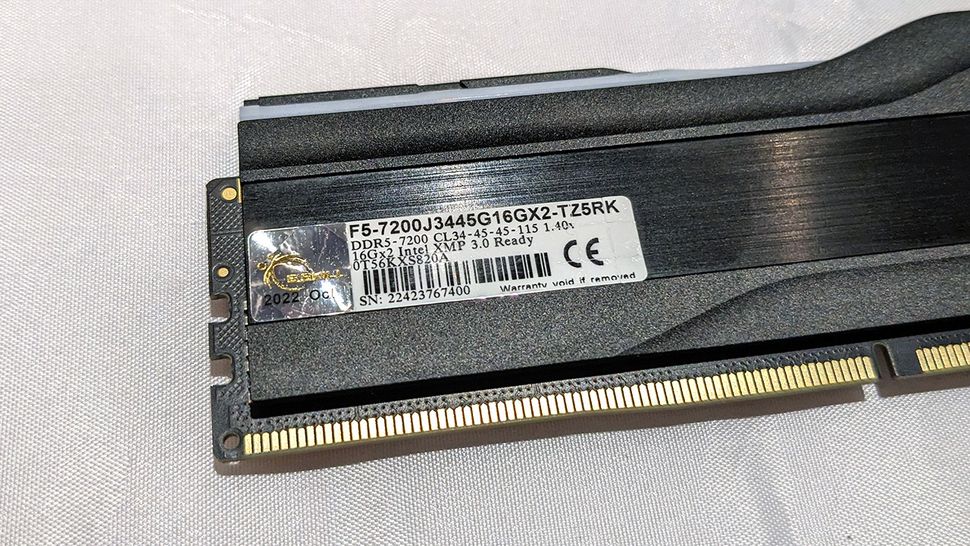 Overclocking proved to be difficult, though that's certainly not because of the memory itself. DDR5-7600 was bootable at 1.45v with our Z790 Aorus Master, but memory voltage increases didn't help, only IMC voltage did. If you're lucky to have a good memory controller, 8000MHz or higher is possible if you don't mind pushing it and playing with the timings on an overclocking-focused motherboard. Make sure you've got a 13th Gen processor and Z790 motherboard otherwise this kind of kit will be a waste.
Relying on XMP at 7000MHz or higher isn't really recommended in case your motherboard struggles or tries to apply a nutty voltage. Tweaking it yourself is definitely the way to go.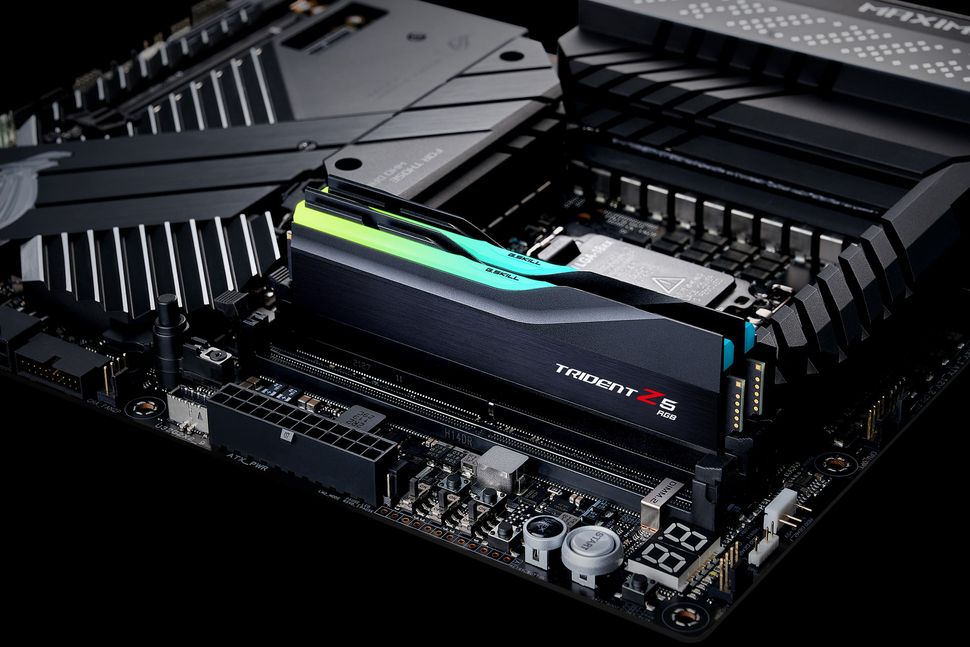 G.Skill rarely disappoints when it comes to high speed memory. If you want fast memory, G.Skill usually sits at the top of the list. The Trident Z5 RGB DDR5-7200 kit is a very desirable one, but as always the case with fast memory, it's not for everyone.
This is a kit for those with high end systems. However, at $299 / £319 / AU$519 it's actually quite good value for money when compared to the cost of the other components of a high-end gaming system. In that case, it's a no brainer. But if your system is a little more worldly and you're just looking for something with a simple set and forget XMP setup, something in the DDR5-6000 range is much more appropriate, both in terms of price and performance.
But the hell with it, I love fast memory kits. It's actually available to buy, it will deliver some performance gains in more than a few gaming situations, it's a great tweakers' kit, it looks good, and it doesn't carry an exorbitant premium. If you buy this kit, you'll get several years of use out of it too.
If you've got an equally high end system to match with a kit of this caliber, I say go for it!