The official launch date for Hogwarts Legacy is Friday, February 10 but, as these things go now, folks who pay extra get to slap that sorting hat on their heads a bit ahead of the class. You can get three days of early access to Hogwarts Legacy if you've bought the deluxe edition, meaning you'll jump in starting on February 7, 2023. Even if you don't, players on Steam can at least begin preloading their game prior to launch.
If you've spotted Hogwarts Legacy gameplay videos popping up across YouTube and social media already, you are not late to the party on some extra special super early access. Hogwarts Legacy partnered with content creators to grant access to the game early for promotional purposes but all the rest of the regular folks out here will be waiting for either February 7 or 10 to play, depending on which version you've bought.
Hogwarts Legacy early access times
Hogwarts Legacy early access begins on Tuesday, February 7 for players who pre-ordered the deluxe edition, 72 hours ahead of its official launch on Friday, February 10. You can find both the normal and deluxe editions on Steam or the Epic Games Store. Portkey Games has confirmed that for PC players that will be the same times as the launch, but three days earlier.
10 am PT, February 7
1 pm ET, February 7
6 pm GMT, February 7
Hogwarts Legacy launch times
For PC players, the Hogwarts Legacy launch time is is 10am PT on February 10. Here's how that breaks down in other time zones:
10 am PT, February 10
1 pm ET
6 pm GMT
For those playing on console, you'll have a global launch at midnight in your local timezone (apart from the North American Pacific timezone which will be 9pm local).
As for preloading, the official Hogwarts Legacy has clarified as of February 6 that PC players can download the game prior to launch. Preloading for players on Steam has now begun.
An additional source of information will be the launch week livestreams that Portkey Games is hosting. There will be an "early release Q&A and launch livestream" on February 7 at 8 am PT (11 am ET and 4 pm GMT) hosted by one of its community managers over on the Hogwarts Legacy YouTube channel and Avalanche Software Twitch channel.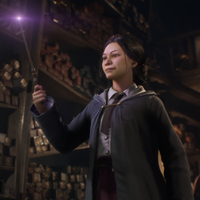 (opens in new tab)