Last night in Japan's popular Akihabara shopping district, two stores opened especially late for the RTX 4060 Ti graphics card release. But rather than being inundated with customers all climbing over each other to grab Nvidia's latest 40-series offering, the stores were met with just one humble customer.
Not one customer per store, one altogether.
Across the whole of Taito City, just one person physically came into Dospara Akihabara Main Store to make their purchase in the evening. Japanese news outlet Hermitage Akihabara posted a photo on its Twitter account about the singular purchase made, and just look how nonchalantly the picture shows this person waiting for their RTX 4060 Ti to be packed up, hands in pockets (via Videocardz).
It's a stark contrast to the scenes from Nvidia's previous launches, such as the RTX 3080 Ti or RTX 3060 Ti launch back in 2020. The scramble we witnessed over the whole of the 30-series was so great we were out here doing live updates on where to buy. We even recommended people go off and create accounts on all major online retailers, pre-emptively.
Around this latest launch, there's just no need. Hours after the fact BestBuy RTX 4060 Ti stock is still booming, and Newegg RTX 4060 Ti stock has yet to run dry either.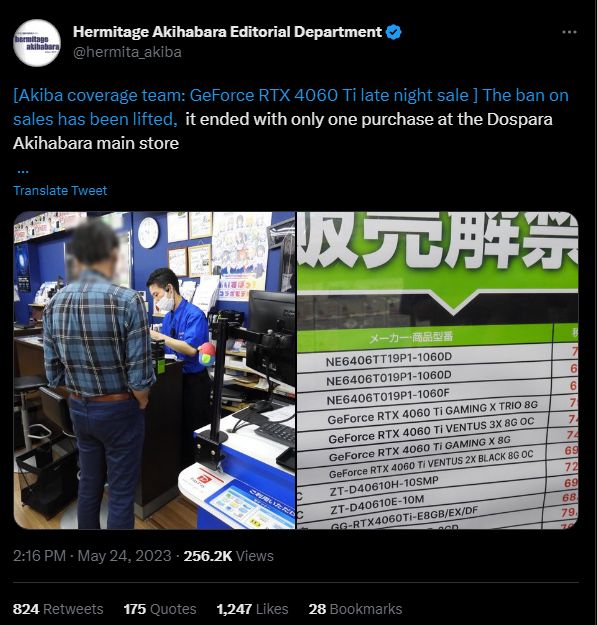 The reactions to the Tweet say it all, with one commenter just posting "Trash" in response. Bit harsh.
Granted the RTX 30-series graphics card did launch in the height of the crypto mining fad, when proof-of-work was the major consensus. But that was also back when mid-range graphics cards were reasonably priced. As our review notes along with the reviews on our sister sites, Nvidia's latest Ada GPU entry isn't exactly the best value for money. Yes, it's the card to buy for $400, but the silicon is lacking in terms of the uptick for last-gen GPU users.
In other words, there was little doubt in our minds that the launch wouldn't go down as well as Nvidia might have hoped. Although saying that, it looks like gaming might be slipping down the green team's priority list, according to a recent earnings call.