Traditionally, if you wanted to nab yourself a box of tricks to help you for streaming and keeping your most used functions within easy reach, you'd buy an Elgato Stream Deck, and that would be the end of that. Well, if you didn't want to shell out on a Stream Deck or want to try something different, the Loupedeck Live S I've got in front of me here might just be for you.
Loupedeck is a company best known for some more of its pro-grade decks designed to help out creative professionals as much as streamers, and the Live S is their cheapest product to date, clocking it at $179/£159/€179. For that, you're getting a box that's a lot dinkier than a Stream Deck, but one that also comes with a pair of knobs you can twiddle, three physical buttons, and 15 touch-sensitive pads, as opposed to buttons. The knobs here are nicely tactile and firm to press, with a solid amount of resistance, while the actual buttons on offer are pleasantly clicky, too. In an age where a lot of tech is becoming touch screens and capacitive pads, the Live S's buttons and knobs are a reminder of the fun of actual physical controls.
Those knobs also house some clever functionality themselves with support for MIDI dial mapping, which allows you to use it with MIDI-enabled instruments such as a keyboard or synthesiser, or use the Live S with a DAW, or digital-audio workstation. As much as this is a device designed possibly for streamers at first glance, Loupedeck's reputation for aiding creative professionals has also been crammed into this tiny deck, too.
The main pads offer similar functionality to a Stream Deck and can allow you to do anything from locking your device to opening programs, and they can be programmed within the Loupedeck software. The software arguably isn't as intuitive as Elgato's, but there is an excellent set of plugins natively supported, with presets for everything from Spotify for media playback to Final Cut Pro for video editing on macOS. There is also support for streaming platforms like Twitch and capture apps such as OBS, too, and that's barely scratching the surface of what the Live S is capable of.
Live S specs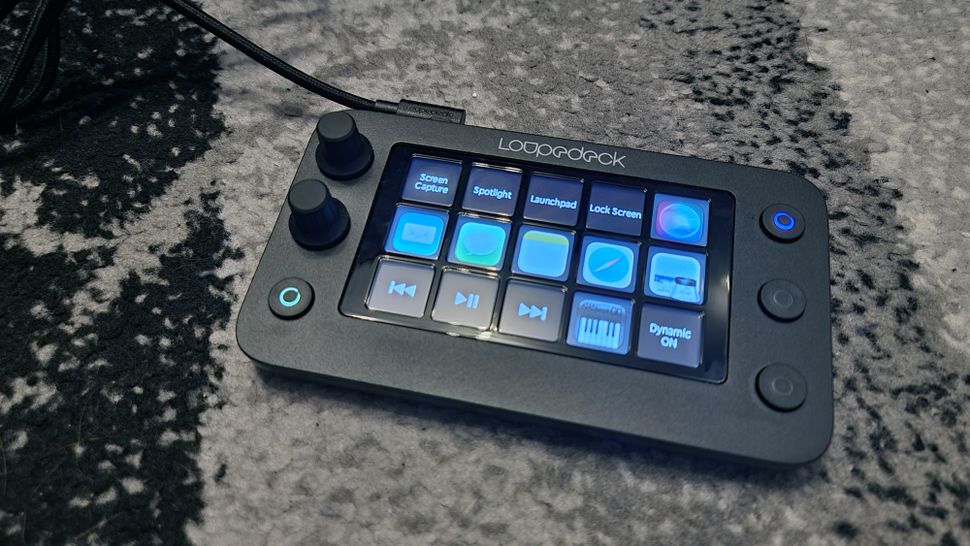 No. of buttons/dials: 4 buttons, 2 dials
Connectivity: USB Type-C
Cable: USB Type-C, detachable
Dimensions: 140 x 138 x 110 mm
Weight: 168g/ 0.37lbs
Price: $179 | £159 | €179
Arguably one of the biggest things here though is native support for Adobe apps such as Photoshop and Premiere Pro, which Elgato's decks don't have, and signals again the idea of the Live S also being a solid product for creatives as much as streamers. It means that if you're a creative and if you want a device that's going to be a solid option to use for all manner of applications that you may well normally use in your daily workflow and give you easy access to functions, then you're going to feel right at home with the Live S.
The Loupedeck suite features its own marketplace, where you can download a nice range of additional plugins and overlays to suit your needs down to a tee. There's a good range of plugins, profiles, stream overlays and icon packs to go with the Live S, some of which are free, and some of which are paid for. It's an intriguing system, similar in some ways to Elgato's software, but one that allows Loupedeck to offer a sort of all in one solution for streamers wanting to get started with the Live S right out of the gate.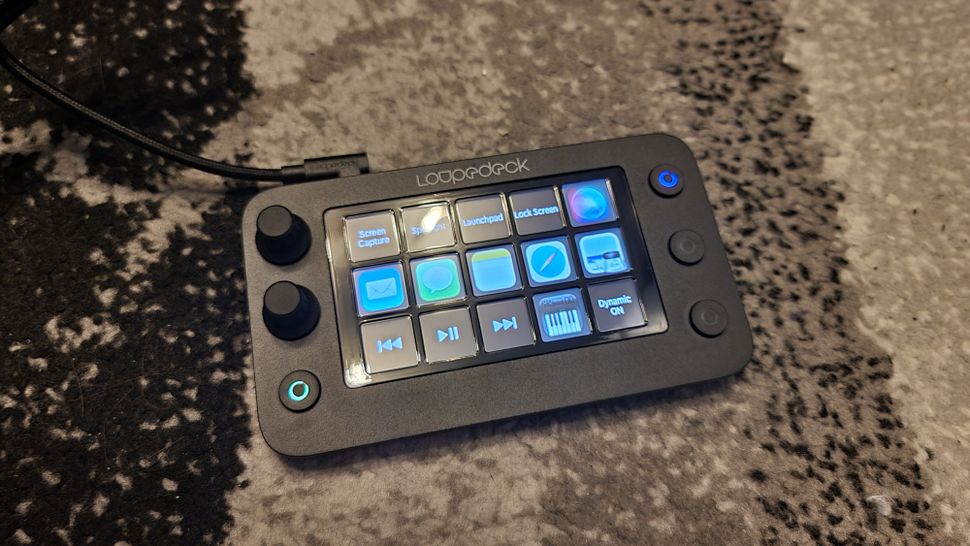 The Live S is also an especially slim device, with a much smaller and arguably sleeker profile than its competitors. It offers more of a minimalistic look that won't be obtrusive in your setup, and also won't take up too much space on your desk, either. Despite its smaller stature, the Live S is an excellent-feeling device when it comes to build quality. The textured plastic frame feels solid, and there's no flex at all, although even with a few days' worth of handling, can get a bit grubby, although maybe that says more about my hands that the Live S's finish. Connectivity is kept nice and simple with a USB Type-C connector, complete with an additional USB Type-A plug for more of a legacy connection—that may seem like a small thing to point out, but if you're using an older system with some legacy apps on it, then it can make such a difference.
My only real issue with the Live S's design is that because it sits so flat, it can be a little difficult to simply glance down and press on the icons to input a function. There is a method of raising it up with the bundled stand that snaps to the bottom of the Live S, but it feels a little flimsy, being comprised of some thin plastics that may break easily. It does at least raise the angle of the Live S to something more akin to the fixed angle of the Stream Deck Plus (opens in new tab) I looked at a couple of weeks back, but beyond that, the stand isn't the best thing in the world.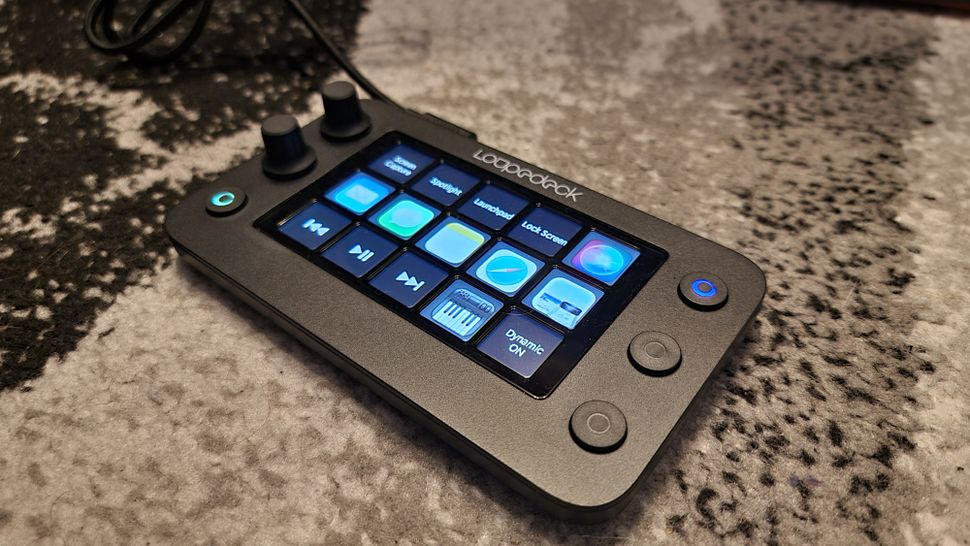 So, can the Loupedeck Live S knock the Elgato Stream Deck off its perch? Well, not exactly, but then again, it's a slightly different device that attacks things from a different angle.
The Loupedeck is primarily designed for those creatives who want a smaller device they can use in apps such as Photoshop and Final Cut, or for musicians who want a box of tricks to control their MIDI-enabled devices. It is likely to be a hoot for streamers though, especially with the fun of the Loupedeck software marketplace and easy access to 15 buttons and additional knobs and buttons for extra functionality. It is an expensive device, but if you're a streamer or creative professional, it may just be worth a pickup.