Tired of a house, and ready for a real Minecraft mansion? Just like all building you'll do in Minecraft, there's an endless field of variety. Whether it's forest mansions, mid-century modern mansions, spooky mansions—or anything else you want, there's a very good chance somebody has built it, and then uploaded a YouTube tutorial to walk you through the process.
Best of Minecraft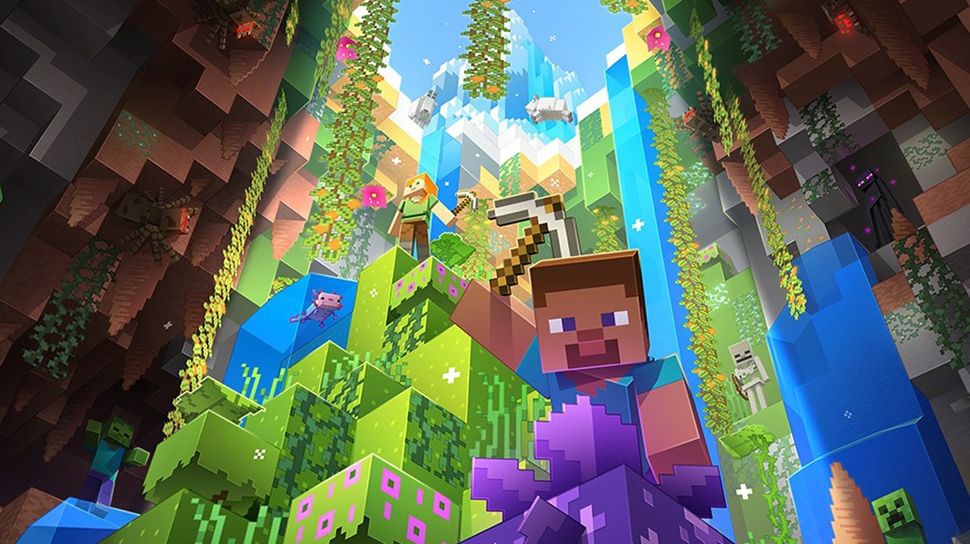 Minecraft update: What's new?
Minecraft skins: New looks
Minecraft mods: Beyond vanilla
Minecraft shaders: Spotlight
Minecraft seeds: Fresh new worlds
Minecraft texture packs: Pixelated
Minecraft servers: Online worlds
Minecraft commands: All cheats
Those kind of options can be overwhelming, especially if you're looking more for inspiration on your own original Minecraft mansion project. But thankfully, many of the Minecraft house and mansion tutorials out there are useful to learn the basic fundamentals of creating your very own complex structures filling them with decoration inside and out. If you're a master of how to build a house in Minecraft, then it's time to get inspired by browsing through the creativity of others.
This list of the best Minecraft mansions has a whole range of build tutorials and aesthetics. Though we have more than one medieval mansion on this list, if that's more your style, the best Minecraft castle ideas may be a better alternative.
Big Tudor-inspired medieval base
Taking inspiration from ye olden Tudor styled homes and medieval structures, NeatCraft brings us this excellent build with deep slate roofs and a ton of spruce and dark oak. If you're a big fan of gables and peaked towers, this is the mansion for you. Plus, it has a perfect footprint for a dark and foreboding basement if you decide you want to expand later into amateur villainy.
Large Oak Survival Base
If a Minecraft survival mansion was built to keep out the elements, this Large Oak Survival Base was built to keep out the apocalypse. It comes with what are essentially four symmetrical houses on each corner, protected by thick oak walls around the outside. In the center, it even has space for a garden. This one has a gorgeous architectural appeal and will keep absolutely everything out with its mighty oak barriers.
Modern Mansion
Akila Gaming's modern Minecraft mansion is a spectacular sight. This tutorial might an hour long, but the results are truly impressive. Not only will you have a gorgeous villa, but an entire interior full of furniture and decorations. It's so plush it's almost overwhelming, but Akila's tutorial is easy to follow with timestamps, blueprints, and a resource list to help you through.
Circular Underground Base
Why settle for a ground level or underground base when you can have both, in massive style? Moby Dick has outdone themselves with a multilevel ring base that sinks into the ground. With a glass layer that lets in light and lets you see all your furniture from above, you can wake up staring at all kinds of night life that just wish they could join you in your cool base.
Contemporary Mansion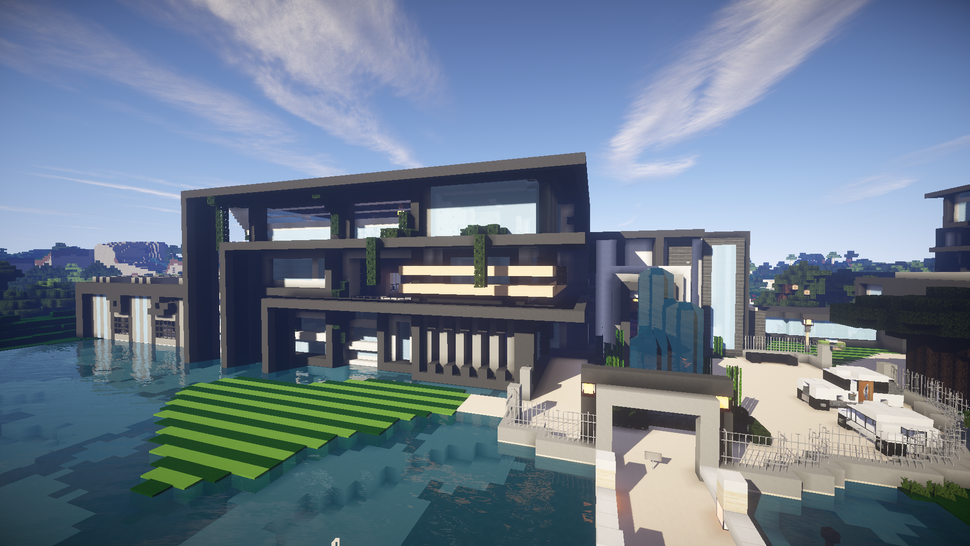 For when living in luxury just gets all too much, this place has a sauna, bowling alley, and an indoor pool so you can take a well-deserved break. In the spacious Contemporary Mansion there are enough rooms to make anybody angry about the state of the housing market. Why can't we all have a place like this? Is that really too much to ask?
Medieval Mansion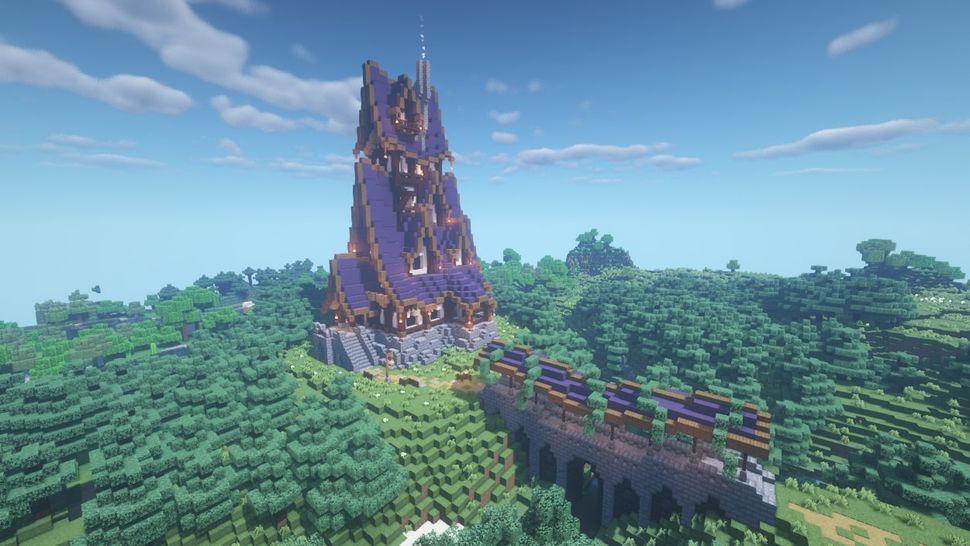 What these mansions have been missing is a Tower of Babel feel. They might all make you comfortable and protect you, but they don't leave you with the feeling of superiority which comes from having a mansion built to the heavens. Enter Medieval Mansion. It stands head and shoulders - or roof and chimney - above its peers, and is a must have for anyone harboring dreams of world domination.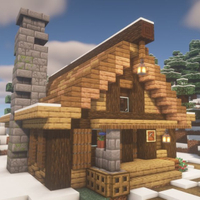 Large Spruce Mansion
This large spruce mansion by YouTuber, Folli, would make the perfect woodland hideout. The tutorial above walks you through the materials, how to build the exterior, and how to give it that cosy cabin feeling with decorations on the inside, too. If you'd prefer something different, Folli has lots of other build tutorials, including a Large Oak Mansion and a cosy little Hobbit hole.
Modern Mansion with greenery
Not to be outdone, A1mostaddicted has constructed a massive modern mansion that would look right at home in south Florida. Unlike a lot of modern builds, this mansion has a lot of dimension and larger roofs, with variety and asymmetry in the different sprawling structures. Plus, you get your very own swimming pool in the shade of numerous palm trees.
Designer Minecraft mansion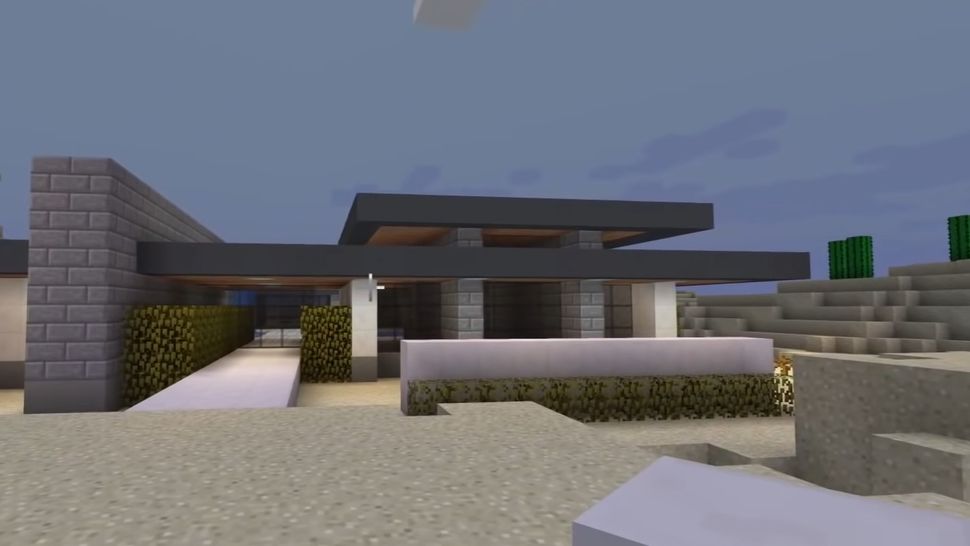 Though slightly different to your usual build tutorial, in this BuzzFeed Multiplayer Professionals Play video, they got an actual mansion architect to spend a couple of hours in Minecraft building his own ideal home. Though it's not as elaborate as a lot of the longer builds, it does offer some useful insights into architecture and how best to lay the foundations for your own mansion.
Modern Mountain House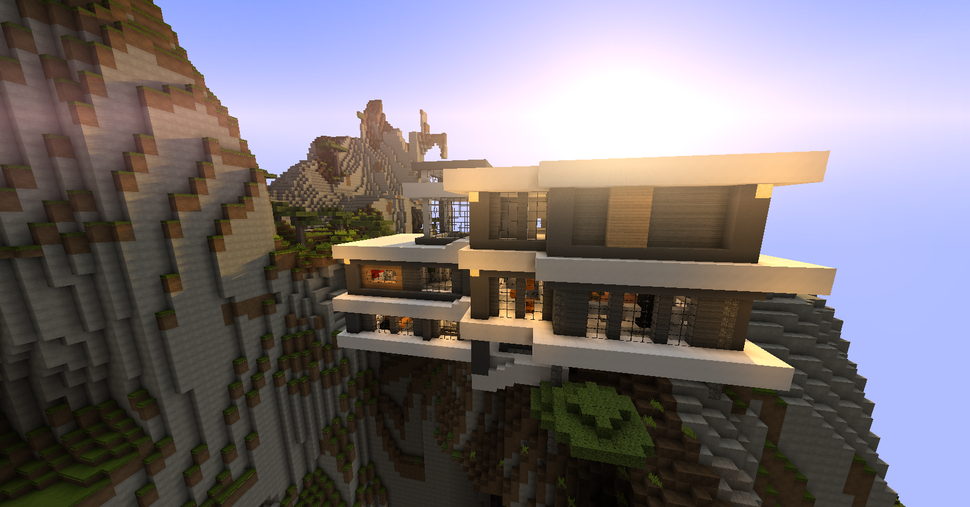 This is probably the most chill of the mansions in Minecraft on this list. Well, chill if you can deal with the mild terror that comes from looking outside from this cliffside dwelling and seeing nothing but the gaping abyss.
Vertigo-induced nausea aside, the design of the Modern Mountain House is wonderfully modern (as you'd expect, given the name), with a trendy spiral staircase and large, airy windows. There's lots of storage and a big kitchen, too, giving you everything you need for a comfortable digital life.
Cliffside Wooden Mansion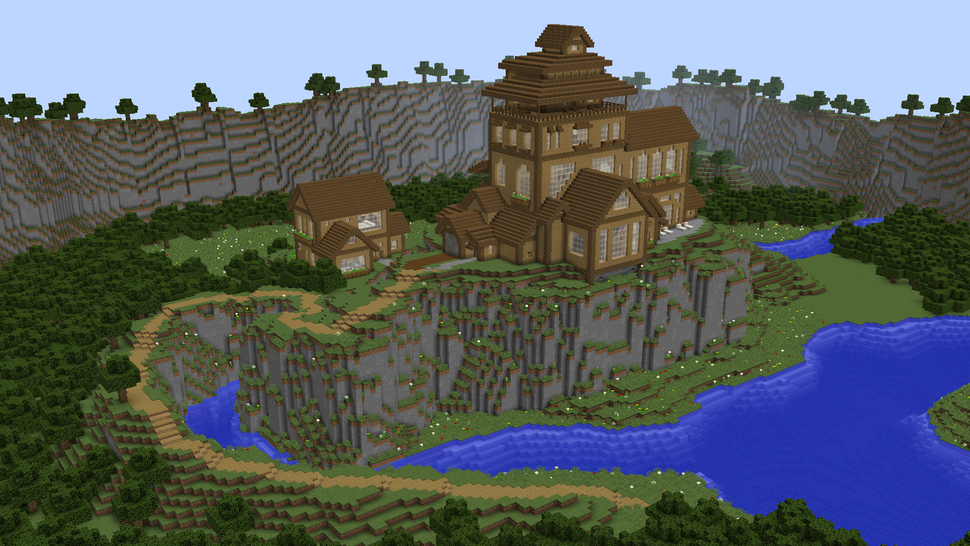 The Cliffside Wooden Mansion not only boasts a great view, but it's also well situated for mountainside mining. The smaller buildings on either side are a great touch, though: there is one right next to the mansion itself, which is great for storage or having guests in your world, but the one on the lake is especially picturesque.