Samsung just announced its monstrous Odyssey Neo G9, which is 57 inches of dual 4K gaming glory that probably won't fit on your desk. More importantly, it's the first dual UHD monitor with DisplayPort 2.1.
If you're feeling a bit of deja vu, it's probably because a while back, I had some time with Samsung's other massive ultrawide, the 49-inch Odyssey OLED G9, at the Samsung offices in New York City. This time, instead of two 2K monitors smashed together, we are dealing with two 32-inch 4K monitors smashed together for a ridiculously 7,680 x 2,160 resolution.
DisplayPort 2.1 allows for 240Hz at 8K, though AMD's high-end RDNA 3 GPUs are currently the only ones with DP 2.1 support, whereas Nvidia RTX 40-series cards only have DP 1.4, so you'd be limited to just 120Hz at maximum resolution.

The result is a rather overwhelming yet occasionally immersive gaming experience. I tried Need for Speed Unbound and got sucked into its world of illegal street racing despite constantly drifting into cop cars. The games that will shine on this thing are anything with a detailed cockpit view, like Forza or Microsoft Flight Simulator.
Again, trying to play a competitive first-person shooter on a monitor this big and wide can be awkward since the FOV tends to be all out of whack. I booted up some Chivalry 2, which was running off a Radeon RX 7900 XTX-powered PC, and I had to bail after a few minutes since doing 360-degree-axe swings made me feel dizzy. Don't get me wrong, it looked great, and there's nothing like seeing heads roll in 8K, but it's not the best way to play that particular game.
Currently, few games support 7,680 x 2,160 resolution, so my demo was somewhat limited. However, I can see myself getting lost in Starfield or Armored Core V for hours if and when both those games support 8K.
The Neo G9 has a more sleek-looking back panel than the OLED G9 and ditched the square-shaped stand for v-shaped legs, which feels more about better weight distribution than aesthetic choice. The size of the desk I was using the monitor on was around 70 inches, and as you can see from the gallery, it takes up a lot of space.
Another big difference over the OLED G9 (aside from the size) is that Neo G9 uses Samsung's Quantum Mini LED instead of OLED. Now, while you lose out on an OLED panel's beautiful picture quality and superspeed, you make it up with a better overall peak brightness of 1,000 nits and don't risk burn-in. Recent gaming OLED gaming monitors have been notorious for lackluster peak brightness, and if you're using this thing for editing work and gaming, the brightness helps.
Screen queens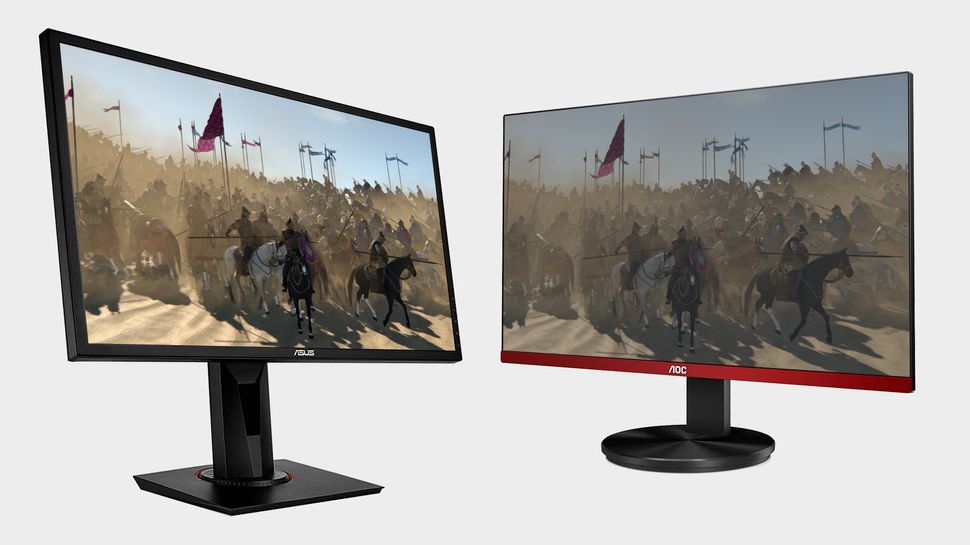 Best gaming monitor: Pixel-perfect panels for your PC
Best high refresh rate monitor: Screaming quick screens
Best 4K monitor for gaming: When only high-res will do
Best 4K TV for gaming: Big-screen 4K PC gaming
Samsung opted out of including its gaming and media hub in this display, which lets you install and run apps on the monitor like one of its Smart TVs as it did with one of the models of the 49-inch Odyssey OLED G9 we reviewed. It also doesn't have speakers, so you'll have to invest in headphones or a nice soundbar. It has HDMI 2.1 ports, so you can plug in your Xbox Series X and PlayStation and play games at 4K 120Hz.
The monitor feels more like future-proofing since you'll need beefy hardware to play anything at 4K/240Hz or 8K/120Hz/60Hz. This could be a very tempting investment for $2500, which is only a few hundred dollars more expensive than the Samsung Odyssey OLED G9.

To that end, VP of Product Management David Phelps told PC Gamer that the Neo G9 "lands where the trends are heading for gaming monitors – larger screens with ultra-high resolution" and that DisplayPort 2.1 connectivity pushes "the limits of gaming and display technology."
The Odyssey Neo G9 retails for $2,500, and pre-orders are open as of now at Samsung. As far as a ship date is concerned, Samsung says that information will be coming soon. We've had one shipped to the office, and you can check out our full review once we've put it through its paces.