If you haven't checked out our review of the AMD Radeon RX 7900 XTX, now would be a good time to do so. In short, the 7900 XTX is very competitive with Nvidia's RTX 4080 in rasterized games but it runs hot and is restricted a little by AMD's desire to keep the reference card to a tight power budget.
Enter the Sapphire Nitro+ Radeon RX 7900 XTX Vapor-X. At $1,199 | £1,299 | AU$2,099 it's an expensive proposition, but at the time of writing it's cheaper than the asking price for high-end RTX 4080s. You do get a lot of card for the money at that price, though the value advantage AMD promotes dries up, meaning the Sapphire Nitro+ will need to impress if it's to justify its asking price.
The Nitro+ with its Vapor-X branding is Sapphire's flagship model, though I wouldn't rule out seeing a higher clocked Toxic model in the future once the underlying technology matures.
Just take one look at it. It's obvious that any semblance of conservatism the reference card embodies is tossed out the window in favour of a big and beautiful design that hopefully allows the full power of the RDNA 3 Navi 31 silicon to be unleashed.
Sapphire Nitro+ RX 7900 XTX Vapor-X specs
Like the reference RX 7900 XTX, the fully enabled Navi 31 package at the heart of the Sapphire Nitro+ has all seven of its chiplets fully unlocked. It comes with the maximum 96 Graphics Compute Die (GCD) compute units enabled. This gives it 6,144 stream processors, 96 Ray Accelerators and 192 AI processors. All six Memory Controller Dies (MCDs) are enabled too.
The card has 24GB of 20Gbps GDDR6 memory over a 384-bit memory interface, providing a total of 960 GB/s of memory bandwidth.
Nitro+ RX 7900 XTX Vapor-X specs
But that's just about all the Sapphire flavored RX 7900 XTX has in common with the reference card. Its boost clock is 2,680MHz, and its TDP is a whopping 420 watts. That's 180MHz and 65W higher than the reference 7900 XTX. It also comes with three 8-pin power connectors. A card that can drink that much power will obviously need a capable cooler to keep temperatures under control. And Sapphire provides. The cooler is effectively a quad slot behemoth. But is it enough to tame the beast?
The Nitro+ features Sapphire's stunning 3.5 slot Pantheon cooling solution. Its matte grey finish is minimalistic but beautiful in look and feel. Among its many features are the Vapor-X vapour chamber, wave fins for reducing noise, a die cast aluminum front plate for VRM cooling and compared to the reference model, - much greater surface area for heat dissipation. This is a cooler that looks like it can go toe to toe with anything on the Nvidia side of the fence.
The card has a full cover backplate with more pads for cooling PCB components, and one of the most spectacular RGB implementations I've ever seen, with full-length light bars along both sides of the card that really add a premium touch. Overall it looks and feels like an excellently engineered card.
The video outputs consist of dual DP 2.1 and dual HDMI 2.1 ports, Sapphire opted to drop the USB Type-C connection of the reference cards.
The card includes dual BIOS, with a third position for a user defined setting, which is controlled via Sapphire's Trixx software. Additionally, the card includes an ARGB output for synchronizing the card's lighting with the rest of the system. There's a 4-pin fan header too which can be used to run an adjacent fan according to GPU temperatures.
The Sapphire Pantheon cooler really deserves another mention. It's hard to compare coolers across different architectures and TDPs, but compared to the reference cooler, the Sapphire is simply miles ahead in both noise levels and temperatures.
The PCB packs in a 17+3 phase design with 70a power stages for both the GPU and memory. If the need takes you, you could pump 1000W+ through your poor graphics card silicon.
Sapphire Nitro+ RX 7900 XTX Vapor-X benchmarks and performance
The fight between the RTX 4080 and the RX 7900 XTX is one that will stay relevant for a long time, as both cards are still early in their life cycles. So, how do they stack up against one another?
Test rig
CPU: Intel Core i9 12900K
Motherboard: Asus ROG Maximus Z690 Apex
RAM: 2x 16GB G.Skill Trident-Z DDR5-6000 C36
Storage: 2TB Seagate FireCuda 530
Cooling: Cooler Master PL360 Flux 360mm AIO
PSU: Corsair AX1000
For such a high power consuming GPU, the highest temperature I saw was a shockingly low 60°C. And the cooler didn't even need to work hard, staying effectively silent at all times. Well done Sapphire! It's the best AMD cooler I have come across to date, though in fairness, it's safe to assume that the likes of the MSI Suprim or Asus Strix coolers will do a stellar job too. They do with the RTX 4080, for sure, though it's a less demanding chip.
Though I was not able to run a reference RX 7900 XTX through my full suite of benchmarks before I had to return it, the temperature results I did get show the Sapphire to be 8°C cooler than the reference model, with much lower noise levels too.
It really is amazing to see just how good the current crop of high end GPU coolers are. 450W TDPs are well within their capabilities, but having said that, they damn well should be given the sheer size of the things!
Synthetic gaming performance
1440p Gaming Performance
4K Gaming Performance
Sapphire Nitro+ RX 7900 XTX Vapor-X analysis
The Sapphire Nitro+ offers excellent performance, though as has been the case over the last three generations, it depends on what games you play, and what value you place on certain features. You probably know where I'm going with this.
RTX 40 cards remain far superior at ray tracing, though it's good to see the RX 7000 series catching up to the RTX 30 series. But if you value RT and the DLSS frame generation capabilities of Nvidia's RTX 40 cards, they'll be the ones to go for. Keep an eye out for AMD's competing FSR 3.0 technology some time in 2023. Will it deliver the voodoo we hope for? Time will tell.
Getting back to the Sapphire, we see it isn't all that far away from the mighty RTX 4090 in some rasterized games, even managing to beat it in Ghost Recon: Breakpoint at 1440p. In some other titles without ray tracing, such as Far Cry 6 and Warhammer III, the Nitro+ pulls ahead of the RTX 4080 by a not insignificant margin, and that 4080 is a Zotac factory overclocked one.
All in all, the high-end GPU status quo hasn't really changed. Nvidia has the fastest and most expensive card in the RTX 4090, as it did with the 3090/Ti, plus it has the fundamentally excellent, though overpriced 4080. AMD's challengers offer better value (though the Sapphire is a pricey option to be sure) while the RX 7900 cards are very competitive in non ray traced games much like the 6800/6900 series was.
Will upcoming drivers be able to extract more from the 7900's chiplet architecture? It's certainly possible. AMD is surely learning where its hardware and software bottlenecks are, and it will be interesting to see where its chiplet journey takes it.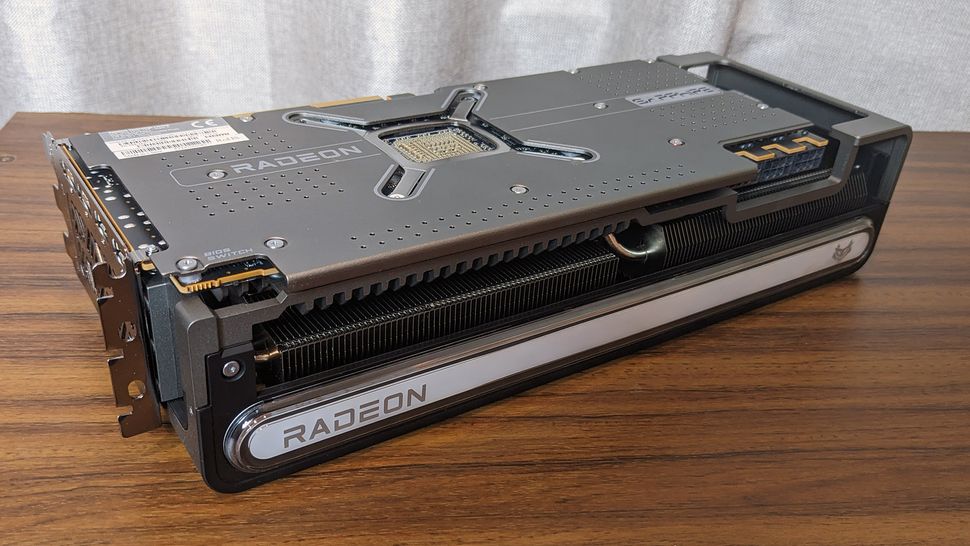 Sapphire Nitro+ RX 7900 XTX Vapor-X verdict
Sapphire has done an amazing job with the tongue twistingly named Sapphire Nitro+ Radeon RX 7900 XTX Vapor-X. It's taken the Navi 31 GPU and unleashed it. It's faster, cooler, quieter and looks better than the reference card. Depending on just how it's priced in your country, I'd say the price premium Sapphire is asking for is worth it.
It looks stunning. Those dual RGB light bars look amazing in a dark tinted tempered glass case, while the seemingly unusually placed light bar at the rear of the card facing the motherboard adds a lovely glow across a black motherboard.
But it's not all bling. The Sapphire Nitro+ is superbly engineered from the ground up, The PCB is more than capable of handling the demanding Navi 31 chiplet GPU, while the cooler does an excellent job, achieving both goals of being cool and quiet.
The primary weakness is its higher power consumption. At 420W, it's a lot higher than the 355W of the reference RX 7900 XTX. If that bothers you, then there are better options, but that also means overclockers are free to push the card without the power and cooling constraints of the reference card, which can prevent it from reaching its maximum potential.
And that's what the Sapphire is all about. It's the RX 7900 XTX unleashed. It might not be the RTX 4090 slayer the market would have welcomed, but if you're a fan of AMD and value raster performance above all else, the Sapphire Nitro+ deserves a spot on your shortlist. It's the fastest AMD card I've ever had my hands on.