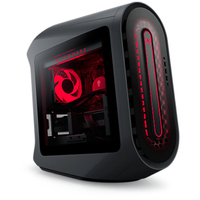 Alienware Aurora R14 Ryzen | AMD Ryzen 5 5600X | AMD Radeon RX 6900 XT | 2TB SSD | 32GB DDR4-3466 | $2,729.99 $1,699.99 at Dell (save $1,030)
It's not often that an Alienware gaming rig will pop up with a lot of tech inside it for a surprisingly competitive price, but here we are. This Ryzen Edition R14 comes with what was once the pinnacle of AMD graphics, the RX 6900 XT. It's an RTX 3080-beating card with 16GB VRAM, though without the latent power of DLSS or the RTX 4070's Frame Generation power. The six-core Ryzen 5000-series CPU is a little weak if you're talking about productivity, but you do get 32GB of speedy DDR4 and a full 2TB SSD.
Dell has an Alienware Aurora Ryzen R14 desktop deal with a Radeon RX 6900 XT for $1,699, $1000 off its regular price. It's often a rarity that we spot a deal on exclusively AMD-powered desktops, so when one comes up, it'll always grab our attention.
This Alienware battle station has an AMD Ryzen 5 5600X CPU and a Radeon RX 6900 XT GPU combo with 32GB of DDR4 RAM. It's a solid PC if you're looking to top out at 1440p on high settings but also want to give 4K gaming a shot.
Radeon RX 6900 XT sits between the RTX 3080 and RTX 3090 in terms of performance but has more power efficiency and easier overclocking. Our biggest problem with the GPU is its mediocre ray tracing performance, which felt overpriced at launch. Thankfully with this big of a discount, that's not really the case anymore.
The Ryzen 5 5600X is on the weaker side as it's the more affordable entry in the Zen 3 lineup. That said, it has good gaming performance and decent overclocking potential. Though if you're looking for a workstation and a gaming desktop, you'll have to spend a little more money on something with a Ryzen 9 5900X.
Much like other Alienware PCs, it's got a 'love it or hate it' case design. I do love that it looks like a space engine powering up, but I hate that the top is rounded, so you can't place anything on top of it, like a controller or, in my case, a drink. But hey, at least you have ten USB ports to plug in all your devices, so there's that. Life is about compromise.
The 2TB NVMe SSD and 32GB of DDR4 RAM is a good memory/storage combo that should serve you well. It should be more than enough storage to digitally house all of your big games like Call of Duty and Diablo 4, but 1TB is a great start for now. Usually, system makers like to cram in a weird SSD/HDD combo, but I'm happy Dell is sticking with just a high-capacity NVMe SSD.
The only other downside with this gaming rig, aside from the CPU, is that the motherboard only seems to support DDR4, so you'll need to upgrade your motherboard if you want to experience the speed of DDR5. Not a deal breaker per se, but having the info before you check out is always good.