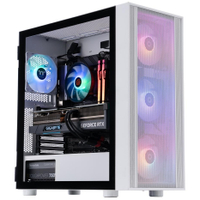 ABS Eurus Aqua | Intel Core i7 13700F | Nvidia RTX 4080 | 16GB DDR5-5600 | 2TB PCIe SSD | $2,559.99 $2,299.99 at Newegg (save $260)
This is a rare great deal for an RTX 4080 gaming PC. There's no compromise here, no last-gen CPU to cut the build price, no half-measure storage option. This is a whole lot of PC for the money. That RTX 4080 is the big one—on its own not our favorite GPU because of its price, but as part of a prebuilt machine there's no arguing with its gaming power.
Newegg has an RTX 4080-powered PC for $2,299, which is one of the best deals on a system with this powerful GPU we've seen since launch. Considering how rare they've been so far, any deal on a 4080 prebuilt is a bit exciting. This beefy ABS Eurus Aqua is currently $260 off its regular price and has a lot of horsepower inside a snow white chassis.
This angelic-looking PC has a 13th Gen Intel i7 13700F CPU and an RTX 4080 GPU with 16GB of DDR5 RAM. If you want to play something like Resident Evil 4 Remake or Star Wars Jedi: Survivor in 4K or at a pretty high frame rate, give this PC a gander.

The RTX 4080 is a powerful but expensive 4K gaming GPU that beats out the RTX 3090 and RTX 3090 Ti in almost every category. Expect to hit some impressive FPS counts thanks to Nvidia's framerate generation tech, DLSS 3, on games that support it. Our biggest issue with the GPU was that it felt slightly overpriced at its $1,200 launch price—the $260 discount for the entire system sort of feels like an offset for the frustrating GPU pricing.

$2,299 isn't cheap, but when you run down the components list, you realize that ABS didn't cut any corners with no-name parts. The CPU is a current-gen Core i7 12700F which is a solid performer for gaming and productivity mounted on a DDR5-supported MSI Z690-A motherboard.
You're dealing with a 2TB NVMe SSD which is pretty unheard of in many of these deals for prebuilt systems, and I hope I start to see more systems like this show on sale. This gives you plenty of storage for even the most greedy of games in your Steam library.
The only downside is that the PSU is 750W, the minimum requirement for an RTX 4080 GPU. We often recommend an 850W or 1000W PSU to be on the safe side, but if you don't plan on overclocking or adding anything too wild to your PC, 750W should be just fine.