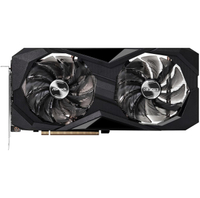 ASRock Challenger D RX 6600 XT | 8GB GDDR6 | 2,048 shaders | 2,593MHz boost | $289.99 $259.99 at Newegg (save $30)
At its original price, the RX 6600 XT made absolutely no sense, but at $120 below MSRP it's a great budget GPU. It will comfortably outperform the RTX 3060 in pretty much any game you throw its way and is far cheaper. I think I'd be inclined towards this rather than the Intel A750 for reliability's sake, even though it's a little more money.
Newegg has an RX 6600 XT GPU on sale for $259.99, the cheapest we've seen it since its launch, and about $120 below than its original MSRP. Not a bad option if you're looking for a budget GPU for an AMD build.
The ASRock Challenger D RX 6600 XT should provide solid 1080p gameplay, slightly passing the RTX 3060 in performance and just a hair under the RTX 3060 Ti, which retails for around $400.

It was initially hard to recommend this RDNA 2 GPU because it was priced too high compared to the RTX 3060 Ti at launch, with its MSRP of $379. At this price, however, the RX 6600 XT is a strong choice for a 1080p GPU to stuff into a budget build, with good cooling and power efficiency.
We also like this graphics card over Intel's affordable A750 GPU, which it beats at 1080p performance and sometimes even at 1440p.
AMD's FSR upscaling tech can give you a nice frame rate boost (sometimes 2.4x, according to AMD) on supported games, too. Like Nvidia's DLSS tech, it helps a lower-end GPU punch above its weight class.
Be sure to bookmark our cheap graphics card deals page, as it's updated weekly with the best deals on GPUs, and this week seems like there are plenty of budget options for less than $300.