My first gaming laptop purchased in 2008 was a Gateway, the P-7811FX. It was one of the first models to punch well above its price, back when gaming laptops were still mostly stupid-expensive. Now more than a decade later, Gateway is doing the same thing, this time with a brand new model equipped with a Core i5 10300H processor and GeForce RTX 2060 GPU, on sale for $849 at Walmart and maybe even less with a Walmart promo code.
That is ridiculously affordable for a laptop pairing a Comet Lake CPU with an RTX 2060 GPU. We often highlight cheap gaming laptop deals, but I don't recall ever seeing this combo going for this cheap.
Cheap is relative, of course. But typically at this price point, you are looking at a GeForce GTX 1650 Ti GPU with no hopes of playing games with ray tracing enabled.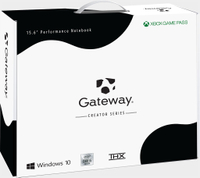 Gateway Creator Series 15.6-Inch Laptop | 120Hz | i5 10300H | RTX 2060 | 8GB RAM | 256GB SSD | $999 $849
Don't adjust your calendar, it's still 2020. However, this Gateway (yes, GATEWAY) deal is really good. It's almost unheard of to get an RTX 2060 at this price, paired with a Comet Lake CPU and a display with a 120Hz refresh rate.

Gateway was a major OEM back in the day, dating back to the mid-1980s. But things went downhill in the early 2000s, and in 2007, Acer acquired the beleaguered company for $710 million. Acer still owns the Gateway brand, and recently resurrected it in the US through an exclusive partnership with Walmart.
So it's a "Gateway" by name only (one of the user reviews claims it is manufactured by Evoo). Call it whatever you want, this is a good deal for the hardware. Some of the bits are also modest, as you would expect at this price point—8GB of RAM and a 256GB SSD, specifically. However, it is apparently easy to open up the laptop and upgrade those components.
It's also nice that the 15.6-inch 1080p display offers a 120Hz refresh rate. As for I/O options, it has a HDMI port, two mini DisplayPort connectors, a GbE LAN port, two USB 3.1 Type-A ports, a USB-C port, and a microSD card slot.