Anyone fancy a supremely detailed, custom-built gaming PC themed around Terra Nil, the environmentally conscious "reverse city builder"?
Well, now's your chance as we partner with publisher Devolver Digital and developer Free Lives—yep, the makers of Genital Jousting—for a gaming PC giveaway worth $4,500.
I'd not heard about the game until now, myself, but as an avid city builder you can bet I had a little snoop. Frankly it's an adorable little solo clicker, and with the sheer intricate craft that PC builder Stefan Ulrich has put into this custom PC design, I've been irreversibly drawn down the terraforming rabbit hole, with all its cute little puzzle moments.
Combine the game's utterly darling aesthetic charm with this PC's spec and the contest winners will not be disappointed. You're looking at a current Gen Intel CPU, the Core i7 13700K and Nvidia RTX 3080 combo that's got no issue surpassing Terra Nil's minimum spec.
In fact, pair that core spec with the 32GB G.Skill Trident Z RAM, Ulrich has popped in there, and a tasty 2TB Samsung 980 Pro and you'll be laughing in the face of any city builder today, even at 4K.
Full specification
CPU: Intel i7 13700K
Motherboard: MSI MAG B760 Tomahawk
GPU: MSI RTX 3080 Ventus 3X 10G OC
Memory: G.Skil Trident Z 32GB
Storage: 2TB Samsung 980 Pro M.2
PSU: Cooler Master V850 SFX Gold
Value: $4,500
But Katie, I hear you say, isn't a gaming PC the least eco-friendly thing we could win?
Well, Ulfric thought of that during the building process, and made sure to create the whole chassis from recyclable bits and bobs.
Most importantly, though, there are tiny mushrooms dotted everywhere on this PC—not live ones, mind—and every eco warrior should know that mushrooms are what's really going to save the planet. Really, they are the most important component to note for Terra Nil lovers.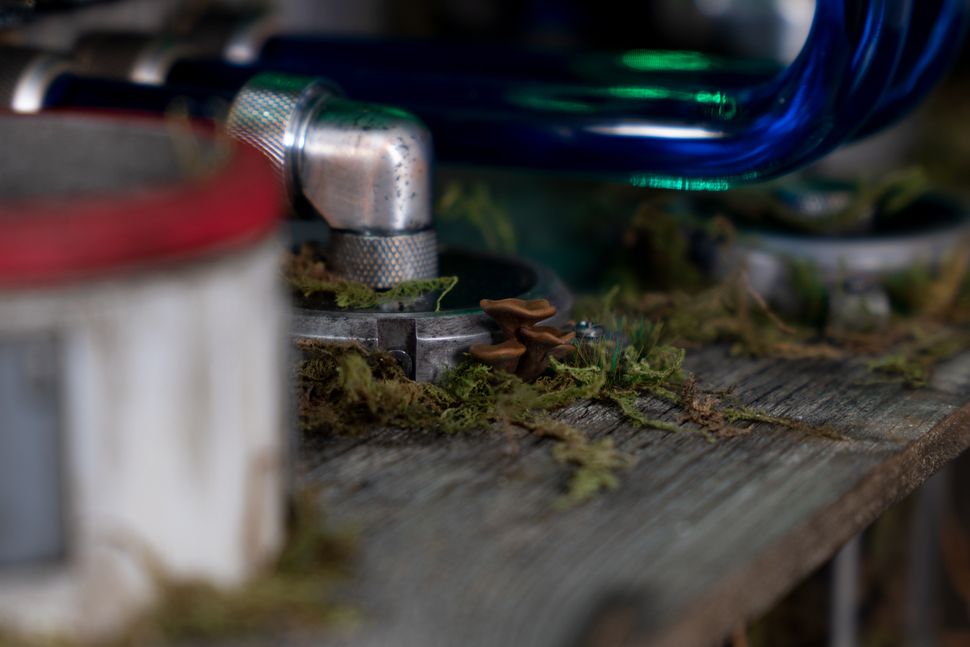 The contest is a USA exclusive, so if you're lucky enough to live in the land of the free, the competition is open from now until 11:59pm April 26, 2023. Simply head to this thread in our forum and follow the instructions, answering this question in the thread:
What renewable energy source would power your ecological paradise?
Once you've responded in the forum thread, click through the giveaway widget to confirm your entry and for your chance to win this eco masterpiece of a gaming PC.
Giveaway on Gleam.io