Quick menu
📺 The list in brief
1. Best overall
2. Best 4K
3. Budget 4K
4. Best 1440p
5. Budget 1440p
6. Budget 1080p
7. Best ultrawide
8. Budget ultrawide
9. Best 42-inch
10. Best 32-inch
11. Also tested
12. How we test
13. Find the deals
14. FAQ
15. Jargon buster
The best gaming monitor is an incredibly important piece of a PC gamer's setup. Why spend so much money on your gaming PC if you're going to play it through a 20-year-old workstation monitor? You probably shouldn't. Instead, there are many great gaming monitors available today, including those offering high-refresh 1080p, high-fidelity 4K and extremely ultrawide panels.
Right now, the best gaming monitor is the Alienware 34 QD-OLED. Specifically, the glossy (and cheaper) option. It uses the same excellent Samsung OLED panel as the leading Alienware OLED monitor and gives it the same glossy, not overly reflective, coating that the also more expensive Philips Evnia 34M2C8600 comes with. And it's absolutely ace.
You want to match your monitor choice with your PC specs to get the most for your money. A 4K monitor with a high refresh rate would be overkill if your rig only packs a GTX 1060. But if you've had the cash to drop on an RTX 40-series or a high-end AMD RX 7900 series GPU then you can take your pick of 4K panels.
For the competitive gamer who values speed above all else, check out our list of high refresh rate monitors running at 165Hz, 240Hz, and even 360Hz. I've constantly been testing gaming monitors throughout my career and have ensured that only the best for each budget has crept into this guide. It's extensive, but there are a whole lotta gaming monitors out there, and plenty deserve your attention.
Curated by
Dave's been testing PC hardware for the best part of 20 years, and has seen every kind of screen imaginable. As such he knows what makes a good gaming monitor and what makes a bad one, too. Whether it's LCD, OLED, mini-LED, or plain ol' CRT, he's had his eyeballs on them all, and has personally checked out the best gaming monitors on this list.
The Quick List
⬇️ Click to load more of the best gaming monitors ⬇️
Recent updates
Updated November 29 to remove Black Friday and Cyber Monday deals, as they've finished for another year.
Best gaming monitor overall
You might've have seen an OLED TV, but this panel technology has finally made it to the world of gaming monitors. Alienware has been leading the charge with some fantastic OLED gaming monitors, too, often beating out Philips and OLED panel maker LG with its impressive screens. Our favorite of the lot: the Alienware 34 AW3423DWF.
What we love about the Alienware 34 AW3423DWF is its glossy panel. I know, that might sound trivial in the grand scheme of things, but this glossy anti-glare coating in place of the OG model's matte coating makes all the difference.
When Alienware wheeled out what was the world's first OLED gaming monitor, the Alienware 34 AW3423DW, it went straight to the top of the table. It was simply stunning. But it wasn't, you know, actually perfect. Now there's another 34-inch ultrawide Alienware OLED monitor, the Alienware 34 AW3423DWF, that looks nearly identical but costs several hundred dollars less. So what, exactly, is going on?
The new Alienware 34 AW3423DWF adds an "F" on the end and loses a few on-paper features in the quest for that lower price point. For starters, the mostly pointless Nvidia G-Sync Ultimate certification and the costly G-Sync chip it requires have been ditched.
In its place you get AMD's Freesync Premium Pro and therefore perfectly adequate adaptive refresh support. Speaking of refresh rates, this new F model steps down from 175Hz to 165Hz. You're never going to feel that difference in-game and it seems like the sort of minor spec tweak designed for product differentiation. You know, to help Alienware justify the price of the more expensive model: it's 10Hz faster!
Whatever, those details aside you're mostly getting the same 34-inch ultrawide and slightly curved proposition as before. The Samsung QD-OLED panel is carried over, which is a very good thing.
This Alienware does have a brightness limiter, but it's far less aggressive than on most LG-equipped monitors and you barely notice it happening. More to the point, this monitor always looks punchy, which you absolutely cannot say of monitors with LG OLED tech.
In fact, it's better than that because the glossy really lets the OLED panel sing. In that regard, it's just like the Philips Evnia 34M2C8600, which is another member of the Samsung QD-OLED gang and also has a glossy anti-glare coating. It does wonders for black levels and contrast. Along with the Philips, this is simply the best HDR gaming experience you can currently get.
Incidentally, the coating is very well judged. It's not over reflective and distracting in that regard. It just ups the contrast and removes that slight greying of darker tones that comes with a matte coating.
This Alienware is cheaper than the Philips Evnia and compared to that monitor is only missing a USB Type-C connection, which in a gaming context isn't a huge loss. Current USB Type-C power delivery is limited to 100W, which isn't enough to keep a gaming laptop juiced, anyways.
As for reservations, well, once again it's the same story as the OG Alienware OLED. For general computing the pixel density ain't great. That doesn't make for terribly crisp fonts in Windows or super sharp image detail. The triangular rather than vertically striped RGB subpixel substructure doesn't help with text clarity, either.
And of course, this is still a very expensive monitor, even at the relative discount. But you can still ink the new Alienware 34 AW3423DWF in as our new favourite gaming panel. Because it's absolutely farking fabulous.
Read our full Alienware 34 AW3423DWF review.
Best 4K gaming monitor
4K gaming is a premium endeavor. You need a colossal amount of rendering power to hit decent frame rates at such a high resolution. But if you're rocking a top-shelf graphics card, like an RTX 4080 or RX 7900 XTX, then this dream can be a reality.

The LG UltraGear is the first 4K, Nano IPS, gaming monitor with 1ms response times, that'll properly show off your superpowered GPU. Coming in with Nvidia G-Sync and AMD's FreeSync adaptive refresh compatibility, this slick slim-bezel design even offers LG's Sphere Lighting 2.0 RGB visual theatrics.
And combined with the crazy-sharp detail that comes with the 4K pixel grid, that buttery smooth 144Hz is pretty special.
While it does suffer from a little characteristic IPS glow, it appears mostly at the screen extremities when you're spying darker game scenes. This isn't an issue most of the time, but the HDR is a little disappointing as, frankly, 16 edge-lit local dimming zones do not a true HDR panel make.
What is most impressive, however, is the Nano IPS tech that offers a wider color gamut and stellar viewing angles. And the color fidelity of the NanoIPS panel is outstanding.
LG's default calibration is virtually faultless, with impeccable detail in both black and white scales. Beyond the strict metrics, it's a seriously vibrant and punchy display in terms of image quality on the Windows desktop.
This screen pops.
Hop in game and it's just as impressive. We'll never tire of the buttery smooth goodness that is 144Hz. But combined with the crazy-sharp detail that comes with the 4K pixel grid, well, it's pretty special.
The LG UltraGear 27GN950-B bags you a terrific panel with exquisite IPS image quality. Despite the lesser HDR capabilities, it also nets beautiful colors and contrast for your games too. G-Sync offers stable pictures and smoothness, and the speedy refresh rate and response times back this up too.
And while the lack of HDMI 2.1 and USB Type-C are a little limiting, especially looking forward, right now it's one of the best monitors going.
Read our full LG Ultragear 27GN950 review.
Best budget 4K gaming monitor
We're finally in an era of gaming where an affordable 4K monitor and a fast 4K monitor are one and the same. You could still buy a lower resolution panel for a whole lot less, and there are less desirable 4K panels out there, but as the Gigabyte M32UC proves you can get a whole lot of screen for what feels like a fair price.
You can find this monitor going for as low as $600, which is an awfully competitive price tag for a speedy 4K gaming monitor at this size. Gigabyte has figured out a heady blend of features for that sort of money too, with two HDMI 2.1 ports, 1ms MPRT, FreeSync Premium Pro, and even a USB 3.2 hub.
The M32UC runs at a perfectly reasonable 144Hz out of the box—and you'll need a powerful graphics card to make the most of that at 4K. However, if you hook this monitor up via DisplayPort 1.4 you can also overclock the panel via the OSD. That bumps the refresh rate up to 160Hz, and while that's probably excessive for most, if you're going big with the rest of your rig (or plan to pick up a powerful next-gen GPU sometime in the future) then it's a decent option to have at the ready.
But something to consider with the M32UC's blend of resolution and refresh rate is that even a high-end GPU won't always make the most of it. That's what makes the M32UC's FreeSync capabilities so crucially important. Keeping this panel in sync with your graphics card when it's under the max refresh rate of the screen, as it is likely going to be at times, prevents a whole lot of screen tearing.
It should come as no surprise that the 32-inch panel running at 4K results in a stunningly crisp image while gaming. I've been playing arguably too much Destiny 2 right now and the M32UC is a stunning way to experience the game. Fine details are well preserved and this panel doesn't struggle with saturation, which makes for a luscious and vibrant image.
The M32U also offers a DisplayHDR 400 rating on the box, though I wouldn't consider it for its HDR capabilities. It's lacking much of what's required of a true HDR monitor, such as a higher brightness and local dimming. You also have to look past what is otherwise a fairly bland outer shell on the Gigabyte.
In terms of value for money, Gigabyte has hit the nail on the head with the M32UC. If you look around for competition with similar specs at around the same price, you'll often only find other Gigabyte models coming close, including a handful of often discounted Aorus models. That makes the M32UC a great choice if you're planning ahead for a next-gen 4K-capable gaming PC or if you already have a high-end GPU but are not yet making the most of it.
Read our full Gigabyte M32UC review.
Best 1440p gaming monitor
The classic 27-inch Dell S2722DGM marries that screen real estate with a 2560 x 1440 native resolution, which gives you a great pixel pitch for fine detail. At 1440p it's also a decent resolution for getting high frame rates without the GPU demands of a 4K display. It's also capable of delivering that resolution at 165Hz, which is appreciated.
At 2ms GtG response, it's just a hair behind the 1ms and 0.5ms ratings of the best IPS panels, so you're covered when it comes to speed. That said, you can find quicker panels if you really want to chase speed. This VA panel does have a high contrast ratio, at least, given the technology's inherent strong contrast.
As for picture quality, the Dell S2722DGM is a reasonably punchy and vibrant monitor considering it's a pure SDR panel. The strong inherent contrast certainly helps with that, ensuring you don't feel short-changed running games like Cyberpunk 2077, which support HDR, in SDR mode.
We'd steer clear of MPRT mode, which hammers the panel's brightness and vibrancy. 'Extreme' mode, which is rated at 2ms, does suffer from a whiff of overshoot, but that's only just visible in-game, while 'Super fast' resolves the overshoot but allows just a little smearing of darker tones.
USB Type-C connectivity doesn't feature. But the dual HDMI and a single DisplayPort connections are just fine, even if the HDMI ports top out at 144Hz rather than 165Hz.
This Dell monitor is most importantly available at a great price. Dell delivers high-quality gaming panels, with all the features you need and a few extraneous ones to bump up the price. And that makes it one of the best gaming monitors for most PC gamers today.
Read our full Dell S2722DGM review.
Best budget 1440p gaming monitor
What are the actually essential ingredients for a good gaming monitor and how much will that cost you?
On paper, the answer might just be $240 with the new Pixio PXC277 Advanced. It's a 27-inch 1440p panel with 165Hz refresh and 1ms claimed response. Oh, and HDR support. That's one heck of a package for the price.
It also meets pretty much all our key metrics. 1440p on a 27-inch panel remains a great all round compromise between size, pixel density, and GPU load. Likewise 165Hz is plenty for all but the most demanding esports addicts. Ditto 1ms response, in theory.
Ostensibly, there's HDR support. But unsurprisingly, the backlight is monolithic. There's no full-array local dimming and the rated brightness tops out at 320 nits, which is modest by today's standards.
As for the actual image quality and gaming experience, well, there are no immediate horrors. Phew. The panel's default calibration is reasonably accurate and there are none of the weird sharpening filters or backlight blotchiness you sometime see on really cheap panels.
Even with the backlight set to maximum, this admittedly isn't the punchiest display. But it's reasonably vibrant and the inherent contrast of the VA panel tech delivers good black levels. The basic desktop experience in SDR mode is pretty pleasing.
Less impressive, predictably, is the panel's HDR performance. It will process an HDR signal and punch out broadly correct colours. But it's not remotely a real HDR experience. The HDR calibration also has some compression at the high end which results in bright details being blown out.
Thankfully, with slim bezels on three sides, plus a bit of a chin, and a crisp metal stand, the PXC277 doesn't actually look like a bargain basement item it might have done. The external power supply does admittedly drag the tone down. It's a generic item with a cheap looking Pixio sticker slapped on the side. And the aforementioned stand is tilt-only.
But you know what? This monitor delivers. At this price point we were willing to make a few excuses. But that's not actually necessary. The Pixio PXC277 Advanced does almost everything pretty well.
Read our full Pixio PXC277 Advanced review.
Best budget 1080p gaming monitor
You can find 1080p screens for cheaper, but there are few genuinely affordable 1080p gaming monitors as good as this. It's especially a good fit for competitive gamers that don't want to break the bank.
In an age of megabucks GPUs, $200 seems like a pitiful amount of money for, well, almost anything. But BenQ is here to tell you it's enough for a pretty darn good gaming monitor, the BenQ Mobiuz EX240, to be precise.
On paper, this 24-inch panel ticks a lot of boxes for entry-level esports. It's a 1080p model—predictable enough—hits 165Hz, and offers IPS panel tech with 1ms response times.
BenQ rates the Mobiuz EX240 at 350 nits brightness and includes HDR10 support. There's no VESA certification or local dimming. So this isn't a remotely serious attempt at an HDR panel, but it will process an HDR signal correctly, which is something.
As for actual image quality, the first out-of-the-box impressions are good. This is a pretty vibrant, punchy panel. The viewing angles are good and the default color calibration betrays no real nasties. There is a little compression at the darker end of the color spectrum. But, generally, this monitor has been fairly well set up well.
Head in-game and the good news continues. BenQ claims 1ms response by the MPRT metric. In broad terms, MPRT response figures tend to be lower than grey-to-grey for a given monitor, putting this panel roughly in the 2ms region for GtG response.
And it feels very much good for 2ms. This is a snappy little panel. In subjective terms, it looks little different to the best 1ms GtG IPS monitors. Sure, you could tease out the differences with high speed photography, but in terms of actual gameplay, motion blur is kept to a thoroughly acceptable minimum.
All told, there's a lot to like here. Granted, this monitor has plenty of limitations. 1080p feels pretty stingy these days as native resolutions go, but on a smallish 24-inch monitor, the pixel density is tolerable and the main benefit is that you don't need to be running a cryptocurrency Ponzi scheme to pay for this monitor.
That you can have a decent IPS gaming panel running at 165Hz with good pixel response, reasonable overall calibration, generally punchy and pleasing image quality, and nice low latency, all stuffed into a good looking chassis, for just $200 is a blessed relief here in inflationary 2023. For that we can only thank BenQ. Nice job.
Read our full BenQ Mobiuz EX240 review.
Best ultrawide gaming monitor
Is there such a thing as too much screen? Obviously, yes. Try plonking, say, a 65-inch HDTV on your desktop as PC monitor and the limitations of size are obvious enough. But the incredible, preposterous new Samsung Odyssey Neo G9 G95NC Dual UHD is no thinly disguised TV. It's a proper PC-optimised panel. And yet this 57-inch uber-wide monster still has us wondering if you can have too much of a good thing.
What you're looking at, in effect, is a pair of 32-inch 240Hz 4K gaming monitors fused into a single 57-inch ultra-curved panel. So, that's no fewer than 7,680 by 2,160 pixels, or just over 16.5 million in total and twice that of 4K.
When we say the best ultrawide, then, we're really talking about a panel of unprecedented proportions.
A single 240Hz 4K monitor would be pretty special. But double that resolution running at such a high refresh rate is genuinely unprecedented. Indeed, it's so novel that only AMD's latest RDNA 3-powered Radeon RX 7000 Series GPU can hit the full 240Hz courtesy of their DisplayPort 2.1 interfaces. Nvidia's RTX 40-series GPUs are limited to DP 1.4 can only do 120Hz.
Of course, you could argue that's usually going to be an academic distinction. Good luck hitting 240Hz at dual 4K in Cyberpunk with all the ray-tracing twangers maxed out, or any other graphically demanding game, even on an RTX 4090. However, it's definitely a bit problematic that this most demanding of PC monitors can't run at full performance with the current world's fastest GPU. If you can afford this monitor's $2,499 sticker price, you can almost certainly afford to go all in on a $1,599 RTX 4090.
Anyway, this display has a few additional metrics and features that are worth noting. For starters, there's DisplayHDR 1000 certification. With that comes full-array local dimming and 2,392 zones, which not surprisingly is double what you get on many 32-inch 4K panels with full-array dimming. Again, it's that dual-4K thing.
The panel itself is VA, which is what you'd expect from Samsung, though the 2,500:1 static contrast rating is a little lower than you might expect, given VA panel tech can now achieve 3,000:1 or even 4,000:1. For the record, pixel response is rated at 1ms and thus on par with most high-performance LCD-based gaming monitors. Oh, and miles off the 0.1ms or even lower response ratings of the latest breed of OLED panels.
Anywho, out of the box this thing is laugh-out-loud large. We're used to Samsung's 49-inch G9s here at PCG Towers, such as the Samsung Odyssey OLED G9 G93SC, but somehow this 57-inch monster is still shocking. It's the combination of the huge panel size, the ridiculous 32:9 aspect ratio and extreme 1000R curvature. You feel like you're getting your money's worth that's for sure. Styling and ergonomics-wise, it's the usual Samsung Odyssey fare complete with that signature Stormtrooper glossy white plastic.
What really marks this display out is the elevated pixel density on an epic scale. The 140DPI is exactly the same as a 32-inch 4K monitor, it's just you've never seen this kind of pixel density on such a large panel before. It really is remarkable to experience this kind of image detail across such a huge monitor.
For pure gaming, then, there are probably better optimised options. But as an all-round, ultra-luxury, money-no-object PC monitor, this is as good as it currently gets, flaws and all.
Read our full Samsung Odyssey Neo G9 G95NC review.
Best budget ultrawide gaming monitor
Does less than $400 buy you a premium gaming panel? That kind of money barely touches the sides when it comes to graphics cards these days. But the new ASRock Phantom PG34WQ15R2B gives you a 34-inch ultrawide experience, with 165Hz refresh, 1ms response and even HDR support, all for just under $370.
What more do you really need? The catch, of course, it that mere specifications rarely tell the whole story with gaming monitors. We've seen several $2,000 screens with outrageous on-paper capabilities recently that thoroughly disappointed. What are the odds that ASRock has delivered at well under $400?
Beyond those headline figures, the PG34WQ15R2B certainly is promising. Predictably, it's based on VA rather than IPS panel tech given the appealing pricing. That typically means compromising on pixel response performance, but not necessarily by a huge amount.
Brightness is rated at a punch 550 nits, which is impressive at this price point, and you get DisplayHDR 400 certification, which is entry level stuff but better than nothing. Given the punchy backlight and the fact that the VA panel offers 3,000:1 native contrast, it actually all bodes pretty well for a half decent entry-level HDR experience.
What about response? ASRock claims 1ms MPRT, but VA panel tech generally lags behind the best IPS panels. Unfortunately, the ASRock's fast MPRT mode crushes brightness so badly, it's hard to imagine anyone actually using it.
As good as the best 1ms GtG IPS screens? Not quite, but at this price point, the response is good enough. The same goes for the 165Hz refresh and overall input latency. If extreme esports are your thing, you'll be better off with a higher refresh 1080p panel. But For everyone else, the PG34WQ15R2B is going to be quick enough, it really is.
So, yeah, this really is a surprisingly nice screen for the money. 34-inch ultrawide remains a really nice form factor for immersive gaming, you get a nice, contrasty VA panel, plenty of backlight punch provided you run the screen in HDR mode (in which setting SDR content in any case looks better), reasonable pixel response and high enough refresh for most gamer's purposes.
That you can have all that for $370 really is fantastic. That this is ASRock's first stab at a gaming screen is even more impressive.
Read our full ASRock Phantom PG34WQ15R2B review.
Best 42-inch gaming monitor
High speed OLED gaming monitors are finally legit. That's thanks in no small part to Alienware's impressive AW324DW QD-OLED, with plenty of other brands following suit. Among them, Asus has unleashed the ROG Swift PG42UQ OLED, a 41.5-inch behemoth that legitimately could be the only monitor you'll ever need for the foreseeable future of gaming. Leveraging the same panel from the LG C2 OLED TV, the Swift PG42UQ adds on higher refresh rate, an anti-glare coating, DisplayPort 1.4 and more gaming monitor accoutrements.
The result is one of the best 4K gaming monitors around.
The main question is whether it's worth the $1,399 price tag. At that price it's more expensive than LG's 42-inch C2, but it does a few things better for the premium. Firstly, it works like a proper monitor and not a smart TV. One huge irritant with Smart TVs is they can't wake and sleep in tandem with your PC, necessitating manual control. Not so with the Swift PG42UQ which works just like any monitor and even has USB upstream. In conjunction with its four USB downstream ports can make plugging in your peripherals so much easier. Take that C2!
Very importantly though, it comes in with a 138Hz refresh, over the C2's 120Hz. It's only a small improvement, but will be appreciated for anyone packing one of the best graphics cards out there right now. Throw in 0.1ms (2ms GTG) response time, as well as G-Sync compatibility, and Asus is onto a winner.
One thing to note is that nowhere in the official spec does it say FreeSync, though in order to be G-Sync compatible we assume the VRR works for the red team.
Out of the box, colors are already amazing, with rich saturation, vibrance and contrast. There are several color profiles to pick from the OSD including dedicated DCI and sRGB modes. Dive into the OSD and you can easily calibrate the monitor to your liking. SDR brightness peaks out about 450 nits and up to 750 nits in HDR. Not the brightest but with perfect blacks, who needs more brightness?
The OSD controls sit on a large tab (or chin?) at the base of the monitor in the center. It's donned with an angry red ROG logo and navigating is done via a touch sensitive joystick and buttons. Menus are clear and straightforward, so no chance of confusion, and there's even a dedicated Gaming section for overclocking, black equalizer and all the usual gaming enhancers. It also has some tricks to prevent the dreaded burn-in, including periodic pixel shift and refresh, as well as an automatic brightness limiter. Only time will tell, of course but I think if you're mindful of the basics, burn-in shouldn't be a problem.
The Asus ROG Swift PG42UQ absolutely slaps and I've thoroughly enjoyed using it. The main drawback is how expensive it is, though. With LG's C2 42 coming in $300 cheaper, and offering a lot of the same experience, it's difficult to recommend the Swift for simply your average movie watcher. However, the standard C2 is not (and will never be) a gaming monitor.
The Swift brings all the best parts of the C2 into the gaming space, improving it in a host of ways that gamers will be better pleased with. Sure the adjustments are limited, but the ROG Swift PG42UQ is a gamers bestie where it matters, and certainly another champion for the OLED cause.
Read our full Asus ROG Swift PG42UQ review.
Best 32-inch gaming monitor
We'd all love to have a thousand bucks burning a hole in our back pockets to blow on a new gaming monitor. But back in the real world, the Dell S3222DGM wants a crack at the kind of budget most of us actually have.
It's a 32-inch beast with a VA panel running at up to 165Hz and delivering 2,560 by 1,440 pixels. Yup, the tried and tested 1440p resolution, the sweet spot for real-world gaming according to many, the perfect balance between performance and visual detail. The catch is all that normally applies to 27-inch models. 32 inches? That makes for a pretty big panel for 1440p in terms of pixel density.
To put an actual number on it, you're looking at just 93 pixels per inch.
Where the low pixel density hurts most is actually in Windows. If you like crisp fonts and lots of desktop real estate, this isn't the monitor for you. For everyone else, well, it comes down to the value proposition. There are faster monitors. There are monitors with superior IPS-powered image quality. There are monitors with all kinds of HDR support not found here. And others with far more pixels or more dramatic aspect ratios.
What the Dell does is offer a balance of all those important things within one well-priced gaming monitor.
This is a gaming-centric monitor without any HDR support but based on VA panel technology. So, the peak brightness is 350 nits, static contrast is about as good as it gets at 3,000:1, and there's official AMD FreeSync Premium certification.
Rounding out the basics is a gentle 1800R panel curve. It's a slightly odd, though not actually unique, feature for this class of display. Curvature is a more obvious and natural fit for ultrawide displays. On a conventional 16:9 panel? We still need a little convincing.
Dell quotes 8ms gray-to-gray in 'fast' mode, 4ms gray-to-gray in 'super fast', 2ms gray-to-gray in 'extreme', and finally, and somewhat confusingly, 1ms gray-to-gray in 'MPRT' mode. The 'MPRT' setting is, for us, a non-starter since it crushes brightness so comprehensively. 'Super fast' it is, then, and the result is good but not absolutely great response with no overshoot. Pretty much what you'd expect given the 4ms rating for 'super fast'.
But add in the 165Hz refresh and you have a pretty convincing monitor for response-critical online shooters. To be sure, if that is your number one priority, you'd be better off with a higher-refresh 1080p IPS monitor with faster response. If you want a larger panel like this, 4K isn't an all-around win. It comes with a huge additional GPU load and that in turn requires mega-investment levels in a good graphics card
It's worth remembering that pricing for this class of display—a 32-inch 165Hz 1440p panel—extends all the way up to $800 in the Corsair Xeneon 32QHD165. So, while the Dell S3222DGM isn't all that exciting from a technical point of view, for the money, it's pretty convincing.
Read our full Dell S3222DGM review.
PC Gamer gaming monitor reviews
The MAG 274UPF is a good, safe 4K gaming monitor that doesn't break the bank but it also doesn't do anything we haven't seen before.
PC Gamer score: 85%
For
Excellent gaming performance
Good color reproduction
Surprisingly decent HDR
Support for FreeSync and G-Sync
Against
Ultimately doesn't do anything new
Small for 4K
Samsung has just raised the bar for gaming monitors. The new Samsung Odyssey OLED G9 G93SC takes its already outstanding QD-OLED panel tech and stretches it out to epic 49-inch, 32:9 aspect proportions. The results are suitably stupendous. But we'd probably still prefer the more mainstream 21:9 alternatives.
PC Gamer score: 90%
For
Outrageous 32:9 OLED panel
HDR the way it's meant to be
Mostly gorgeous design and build
Against
Not exactly cheap
32:9 aspect isn't for everyone
Mediocre pixel density
If Alienware's very similar 34-inch model was the OLED monitor we've been waiting for, Philips has just bested it. Thanks to a glossy panel coating, the OLED tech really sings. HDR games? They positively sizzle. A few minor OLED limitations remain. But this is as good as gaming monitors currently get.

PC Gamer score: 95%
For
Glossy panel lets OLED tech sing
Super speedy performance
Fewer OLED downsides than the competition
Against
Very expensive
Pixel density is nothing special
Some brightness limitations remain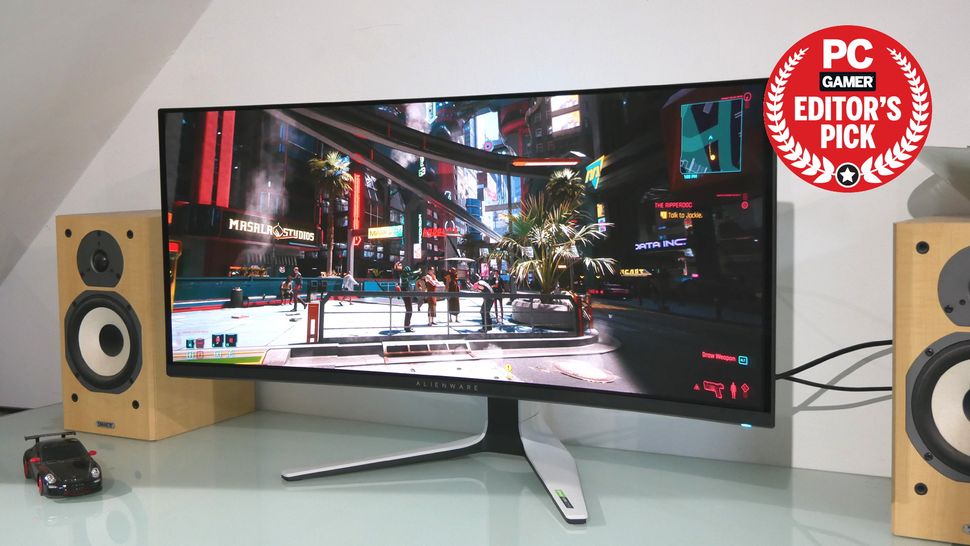 Alienware 34 QD-OLED (AW3423DW) gaming monitor review
It's been an incredibly long time coming. But OLED awesomeness has finally come to the PC. LCD technology still has the edge for latency, but this quantum dot-enhanced OLED screen is incredible when it comes to contrast, HDR performance, and response. Net result? Simply one of, if not the, best gaming monitors ever.

PC Gamer score: 95%
For
Fabulous contrast and colours
Stupendous pixel response
Genuine HDR capability
Against
Not a great all-purpose panel
Latency isn't a strong point
No HDMI 2.1
Corsair's take on the 27-inch 1440p OLED is beautifully engineered and all the usual LG-powered OLED upsides appear, including warp-speed responses and lovely per-pixel lighting. But so does the inconsistent brightness. And that's a little tricky to accept at this lofty price point.
PC Gamer score: 80%
For
Outrageous pixel response
Per-pixel OLED lighting
Nicely engineered
Against
Inconsistent brightness
Very expensive for a 27-inch panel
When it comes to image detail, pixel density counts and the 32-inch 4K Lenovo Legion Y32p-30 undoubtedly delivers on that front. Factor in a 144Hz refresh rate and great response, and the upshot is a proper high-DPI gaming experience. The problem is the price and the knowledge that OLED gaming can be had for not much more money.

PC Gamer score: 84%
For
Sweet 4K IPS panel
Zippy response and latency
Nice build quality
Against
Limited HDR support
Expensive
With the new G7, Samsung has buried the idea that VA panels can't be quick. But the extreme panel curve and mediocre HDR implementation complicate the proposition.

PC Gamer score: 85%
For
Stellar VA panel with great response
Buttery-smooth refresh
Great design and quality
Against
HDR implementation is disappointing
Curve is very extreme
Painfully pricey for a 27-inch panel
Waiting for the big-screen monitor that really delivers on the promise of OLED tech? This isn't it. The Corsair Xeneon Flex 45WQHD240 suffers from all-too-apparent brightness limitations, while the resolution and pixel density are a very hard sell at this price point.

PC Gamer score: 68%
For
Ultra-fast response time
Pretty much perfect black levels
Good connectivity
Against
Disappointing full-screen brightness
Feels fragile when flexing
Relatively low resolution
A 42-inch 4K OLED gaming TV is half the price
The cheaper of two superficially similar monitor models, the BenQ Mobiuz EX240N looses a little too much in the transition from IPS to VA panel tech. The pixel response can be problematic, the HDR support is woeful and there's an overall lack of vibrancy and punch. Then there's the slightly fuzzy font rendering and maddening OSD menu. 165Hz refresh is undoubtedly impressive at this price point, but we'd spend that little but more on the non-"N" model.

PC Gamer score: 70%
For
Very low price
165 refresh and good latency
Doesn't look cheap
Against
Mediocre response
Not very bright
Silly OSD menu and options
All in, the Inzone M9 is a hell of a gaming monitor, especially for Sony's first foray into PC gaming. I'm just as surprised as you are that the M9 easily competes with some of the best 4K monitors out there right now. It's loaded with a ton of gaming features and most importantly costs less than $1,000.

PC Gamer score: 87%
For
Excellent contrast
Exclusive PS5 features
Great look
Against
Limited mobility
2W speakers are weak
PS5 features should be on PC too
As a content creator and designer, I can appreciate the benefit of a monitor that I can also use for professional work but also get lost in the glorious world of Elden Ring. The Predator X32 FP makes a compelling case for Mini LED gaming monitors but it does so at a truly hefty price.

PC Gamer score: 79%
For
Stunning HDR Gaming
Four HDMI 2.1 with VRR
Plenty of USB ports with KVM
90W USB Type-C PD
FreeSync Premium Pro
Against
So expensive
Still some blooming
Few local dimming zones
The MAG 274UPF is a good, safe 4K gaming monitor that doesn't break the bank but it also doesn't do anything we haven't seen before.
For
Excellent gaming performance
Good color reproduction
Surprisingly decent HDR
Support for FreeSync and G-Sync
Against
Ultimately doesn't do anything new
Small for 4K
Best computer speakers | Best gaming headset | Best gaming laptop | Best wireless gaming headset | Best PC controller | Best capture card
How we test gaming monitors
How does PC Gamer test gaming monitors?
Like everything else we test, we live with a gaming monitor in the same way you would at home. We make sure to use it for day-to-day monitor-y tasks on your windows desktop—because your PC likely isn't just for gaming—and we, of course test it while gaming.
The Windows desktop will highlight any failings in factory calibration, and show up any issues with font scaling, too. It is also a good way to test the vagaries of whatever backlighting tech a panel is employing. Using a dark background and a light browser or Explorer window (or the other way around) is great for highlighting what a screen's backlight will do as the level of brightness is demanded by what's on the display.
It's a good way to check out any auto brightness limiting (ABL) functions on a modern OLED display, too.
Using fast-paced shooters is a great way to test out the response of a given gaming monitor, and then the neon-dripping world of Cyberpunk 2077 makes for an excellent HDR tester.
We also go through a series of experiential tests to highlight any ghosting, backlighting issues, or general smeariness or blurring of images. We find it too easy to get lost in the weeds of specific panel benchmarks and miss more obvious problems that might crop up during day-to-day gaming use.
So, we put more weight on what it's like to actually use a gaming monitor than what the specs might say.
Where to buy a gaming monitor
Where are best gaming monitor deals?
In the US:
In the UK:
Best gaming monitor FAQ
Should I go for an IPS, TN or VA panel?
We would always recommend an IPS panel over TN. The clarity of image, viewing angle, and color reproduction are far superior to the cheaper technology, but you'll often find a faster TN for cheaper. The other alternative, less expensive than IPS and better than TN, is VA tech. The colors aren't quite so hot, but the contrast performance is impressive.
Should I go for a FreeSync or G-Sync monitor?
In general, FreeSync monitors will be cheaper. It used to be the case that they would only work in combination with an AMD GPU. The same went for G-Sync monitors and Nvidia GPUs. Nowadays, though, it is possible to find G-Sync compatible FreeSync monitors if you're intent on spending less.
Should I buy a HDR monitor?
With a High Dynamic Range monitor, you can take advantage of the ever-growing list of games and apps that feature HDR support. It offers more vibrant colors and greater contrast but is going to drive up the price a little. Windows' native HDR function also leaves a lot to be desired, and you may find you have to fiddle in the settings to get HDR looking like it should.
What aspect ratio should I go for?
Today's movies and games are best enjoyed in a widescreen format at a 16:9 aspect ratio or above. In 4:3, those cinematic moments will look stunted with black strips along the top and bottom. There are a host of minute variations on each ratio, but at the end of the day choosing between these depends entirely on your personal preference.
And the very far-out option, if you have a little extra cash to blow, is ultra-wide aspect ratios like 21:9 and 32:9 and their variants. These will provide a much more immersive, encompassing experience. Or literally, encompass yourself with a curved monitor, up to you.
Jargon buster - gaming monitor terminology
Refresh Rate (Hz)
The speed at which the screen refreshes. For example, 144Hz means the display refreshes 144 times a second. The higher the number, the smoother the screen will appear when you play games.
V-Sync
Graphics tech synchronizes a game's framerate with your monitor's refresh rate to help prevent screen tearing by syncing your GPU frame rate to the display's maximum refresh rate. Turn V-Sync on in your games for a smoother experience, but you'll lose information, so turn it off for fast-paced shooters (and live with the tearing). Useful if you have an older model display that can't keep up with a new GPU.

G-Sync
Nvidia's frame synching tech that works with Nvidia GPUs. It basically allows the monitor to sync up with the GPU. It does this by showing a new frame as soon as the GPU has one ready.
FreeSync
AMD's take on frame synching uses a similar technique as G-Sync, with the biggest difference being that it uses DisplayPort's Adaptive-Sync technology which doesn't cost monitor manufacturers anything.
Ghosting
When movement on your display leaves behind a trail of pixels when watching a movie or playing a game, this is often a result of a monitor having slow response times.
Response Time
The amount of time it takes a pixel to transition to a new color and back. Often referenced as G2G or Grey-to-Grey. Slow response times can lead to ghosting. A suitable range for a gaming monitor is between 1-4 milliseconds.
TN Panels
Twisted-nematic is the most common (and cheapest) gaming panel. TN panels tend to have poorer viewing angles and color reproduction but have higher refresh rates and response times.
IPS
In-plane switching, panels offer the best contrast and color despite having weaker blacks. IPS panels tend to be more expensive and have higher response times.
VA
Vertical Alignment panels provide good viewing angles and have better contrast than even IPS but are still slower than TN panels. They are often a compromise between a TN and IPS panel.
Curved Panels
Curved panels can make games feel more immersive and the amount of curvature is given by a number such as 1500R or 1800R. The smaller the number, the more tightly curved the screen will be.
HDR
High Dynamic Range. HDR provides a wider color range than normal SDR panels and offers increased brightness. The result is more vivid colors, deeper blacks, and a brighter picture.
Peak Brightness
This refers to the maximum brightness of a monitor or television and is measured in nits.
Ultrawide
Shorthand for monitors with aspect wider aspect ratios like 32:9 or 21:9
Resolution
The number of pixels that make up a monitor's display, measured by height and width. For example: 1920 x 1080 (aka 1080p), 2560 x 1440 (2K or 1440p), and 3840 x 2160 (4K).