What makes an NUC, an NUC? The acronym stands for Next Unit of Computing, and it was created as an attempt by Intel to completely reinvent what a computer is at its core. Mostly NUCs were about squeezing a whole PC's worth of components into a tiny, compact chassis. But that's not strictly true of the new Intel NUC 13 Extreme. It's comparatively massive compared to the NUCs we've seen before.
The NUC 13 Extreme is about as big as some weak-hearted enterprise PCs—think of your run-of-the-mill HP office unit. That means it's definitely smaller than your average gaming PC but a big size creep on the small form factor Hades Canyon NUC I've tried out in the past. That Hades Canyon NUC really was a beautiful piece of kit, but it wasn't half as powerful as the NUC 13 Extreme.
The NUC 13 Extreme is extremely well-provisioned for something of a small form factor PC. That's partially due to its cleverly routed case, which offers ample room for a high-end graphics card, a 750W PSU, and the Compute Element.
The Compute Element within the NUC 13 Extreme is the more NUC-like piece of the NUC 13 Extreme. It encompasses an Intel Core i9 13900K CPU, custom motherboard, 32GB DDR5 SO-DIMM RAM, Wi-Fi card, 1TB SSD, and I/O provided by the Z690 chipset. That's all on a single, removable board, and is basically what comprises any other NUC in its entirety, but the NUC 13 Extreme also sees Intel jam a whole RTX 3080 Ti inside for serious gaming performance.
NUC 13 Extreme specs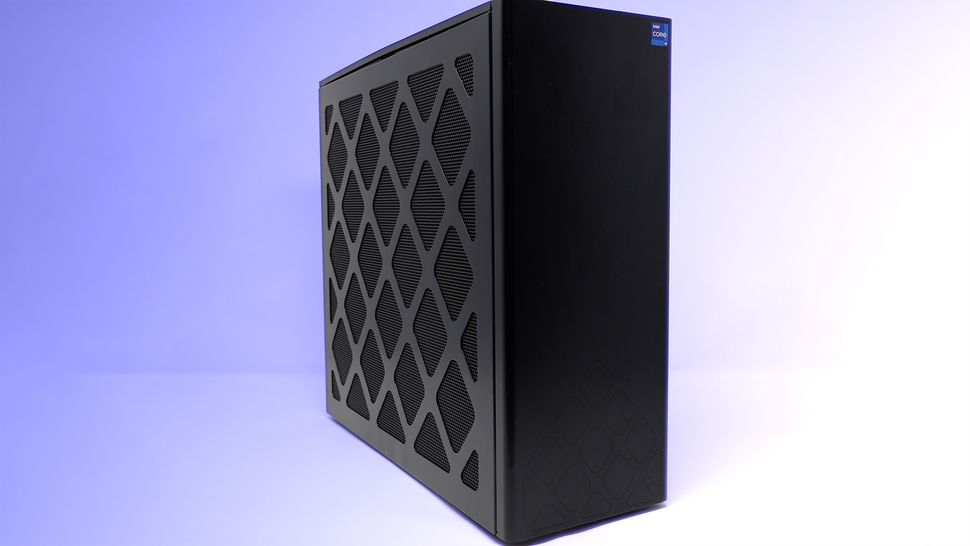 CPU: Intel Core i9 13900K
GPU: Nvidia RTX 3080 Ti
RAM: 32GB DDR5-4800 Kingston SO-DIMM
SSD: 1TB Kingston FURY Renegade PCIe 4.0
Connectivity: 2x Thunderbolt 4/USB4 Type-C ports | 6x USB 3.2 Gen2 Type-A (rear) | 2x USB 3.2 Gen1 Type-A (front) | 1x USB Gen2x2 Type-C (front) | Wi-Fi 6E | 3.5mm jack
Price: $1,698 for barebones kit (no GPU, SSD, Memory, or OS) / $3,368 for RTX 4070 Ti version
That's what you get with the NUC 13 Extreme: beefy gaming performance. This NUC offers up a slot for a discrete graphics card, up to a length of 313mm, a triple-slot, and 450W power demand. That means you can feasibly fit pretty much any modern graphics card in the NUC 13 Extreme, even an RTX 4080 Founders Edition, which I may have installed for entertainment purposes. It even has a 12VHPWR connector should that be of any use for your choice of GPU.
Intel's provisioned the particular NUC I have for testing with an RTX 3080 Ti. It's no slouch. That card is a bit of a menace when it comes to 4K gaming, delivering 1440p easily in excess of a 144Hz refresh rate for the most part, and more than playable 4K frame rates. I love the NUC 13 Extreme for its unassuming and diminutive design but how it also rips through most games you throw at it.
I can't find many ways to fault the NUC 13's design. The graphics card is mounted outwards on the other side to warm your feet while you game, but generally runs pretty cool. It definitely benefits from being a very compartmentalised PC—the graphics card isn't choking for air—though admittedly there is no case fan actually blowing over the graphics card, which can make it run a little hotter with increased ambient temperature.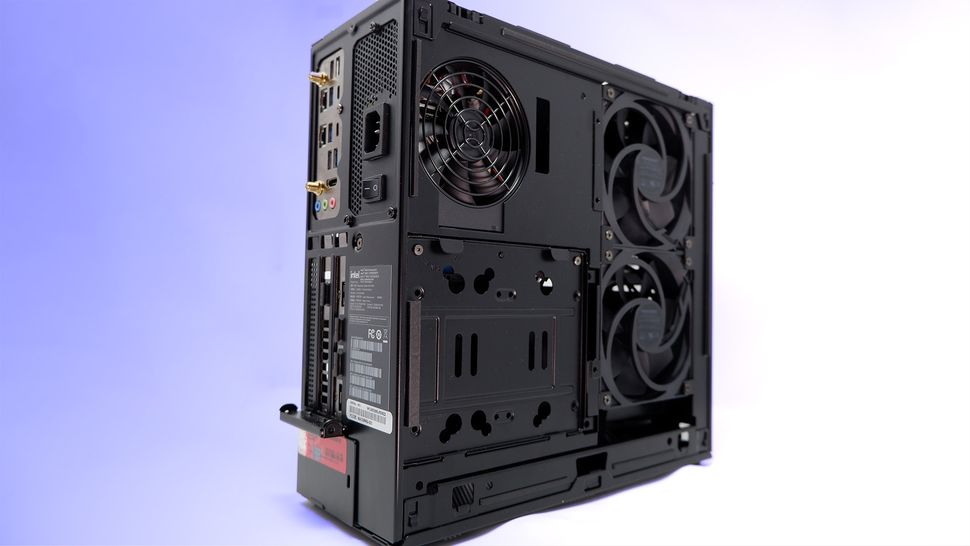 There are also two 120mm fans exhausting out one side, alongside the PSU exhaust, to keep the Compute Element relatively cool. Though this is where I can find one fault on the NUC 13 Extreme: the Core i9 13900K at the heart of it runs pretty hot. The whole CPU package will usually heat up to around the 92–98°C mark under load, sometimes 100°C, and while that isn't necessarily running it out of spec, it is hotter than I'm comfortable with day-to-day.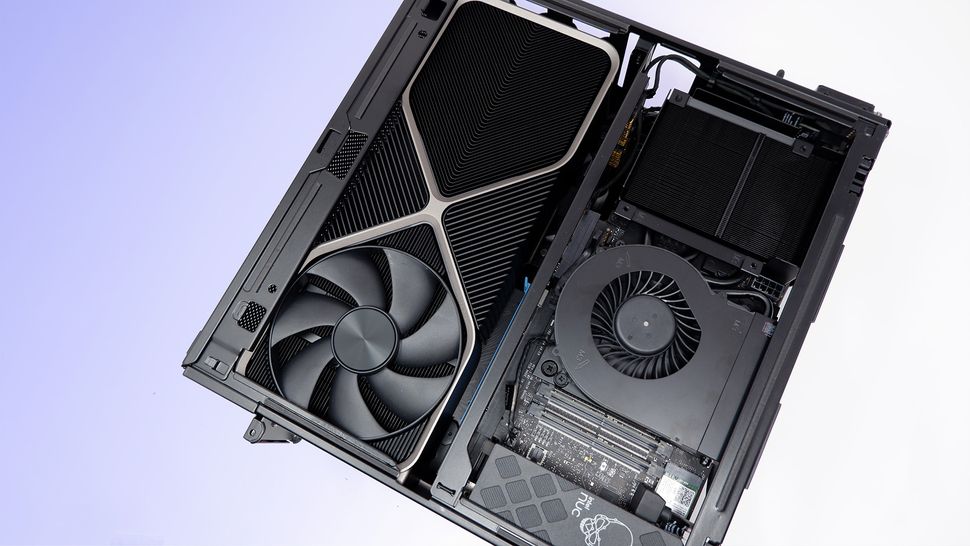 Those high temps are causing the CPU to throttle performance, too. Not only does HWinfo note that the chip is thermal throttling, you can see the throttling for yourself in the benchmark results. Versus our Core i9 13900K results from our open test bench—which has no case fans but does use a large AiO cooler—the multithreaded score of the NUC 13 Extreme is quite a bit off the pace. Similarly, the NUC's X264 fps is lower.
It's reminiscent of the temperatures I ran into with Corsair's mini PC, the Corsair One a200. That AMD-powered machine also struggled to manage CPU temps, which were often in excess of 90°C under load. The a200 did, however, manage GPU temps just fine. That's also something we saw when testing the new Razer Blade 16. Its CPU temps were sometimes off the charts while the GPU remained relatively cool. Which all confirms the CPU is the real troublemaker in confined spaces—bear that in mind if you're building your own small form factor PC.
Admittedly I don't hear the NUC 13 too much in operation. No more so than most high-end graphics cards whirring to life in any tower case. Perhaps that goes some way to explaining those CPU temps. Its noise level under load is actually much quieter than my fan-laden PC tower next to it at idle, so that's saying something. This will depend on which graphics card you drop into the NUC 13 Extreme, however. The Asus TUF's triple-fan design keeps volume to a minimum.
The NUC 13 Extreme does have a lot going for it. A compact chassis that's surprisingly easy to access and with support for an extremely high-end GPU is hard to come by, it's just a shame those CPU temps couldn't be better kept under control.
And then there's the price. For the Intel NUC 13 Extreme barebones kit—that's sans graphics card, SSD, memory or OS—you're looking at around $1,698. That means you're spending a lot before you drop more money on the other important components to go in it. You wouldn't necessarily buy an RTX 3080 Ti to go in this anymore, but inclusive of a newer RTX 4080 the build shoots up to around the $3,000 mark. Likely beyond with 32GB of DDR5 and a decently sized SSD.
That's not a totally absurd asking price for an RTX 4080 gaming PC but it's not the sort of moderately-priced machine we're really looking for right now. And if you want this machine to arrive at your house fully-assembled, SimplyNUC have a similarly provisioned version of the NUC 13 Extreme with an RTX 4070 Ti inside it for $3,368, which really is a premium on other prebuilt gaming PCs.
With that in mind, the Intel NUC 13 Extreme becomes a more niche option.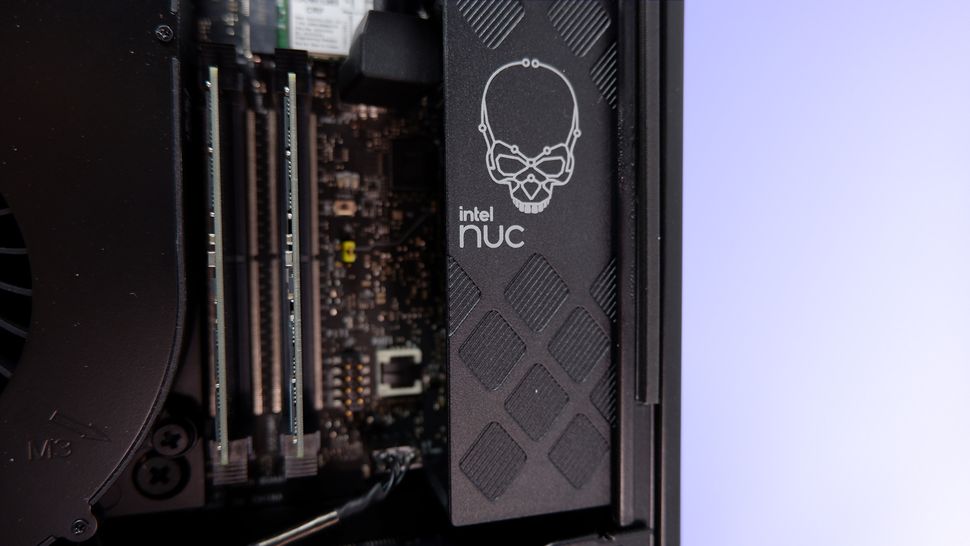 Yet a PC as well-designed as this, in such a small frame, is hard to come by without pouring in hours of research into building one for yourself. For that sort of ease of access, I'm sure it will find its adoring fans. I think I could be one of them provided the Core i7 13700K/Core i5 13600K option runs a little more sensibly under load.
This little NUC is a glimpse of what PC gaming could be like if everything just sort of… clicked. It's neat, understated, and clever. Maybe that's what NUC actually stands for. See what I did there?
Now if Intel can jam all that high-end hardware in this thing and not run up against a thermal wall. I'll be even more onboard with the entire concept.