Giant statues broadcasting a mysterious code, monks telling me to open my throat chakra, an ominous symbol added to The Witcher 3: Wild Hunt, and now: a laptop displaying ancient Slavic text dropped into a middle of a landfill and a Johnny Silverhand-themed Wolfenstein 3D clone that unlocks a secret server farm. This is a side of Cyberpunk 2077 I never knew existed, FF:06:B5.
The FF:06:B5 subreddit and Kotaku both have in-depth breakdowns of this saga, but the basic facts from before Cyberpunk's big 2.0 update are as follows: there's a handful of large, stylized statues scattered across Cyberpunk 2077's world map, some of whom have a readout with the code FF:06:B5 on their base. Monks near one of the statues warn that players' "throat chakra is blocked," and that they should "activate the meridians on the roof of [their] mouth."
Disconcerting stuff, and it's spawned years of investigation and theory crafting by fans. CDPR's only added more fuel to the fire, like the inclusion of mini versions of the offending statue (complete with code) in some of the 1.5 update's new player apartments. In response to a question about FF:06:B5 from his Twitch chat in 2021, Cyberpunk 2077 quest director Paweł Sasko stated: "Of course there's a meaning [to the code]... Some things need to be difficult to uncover."
Over on the nearly 23k-member FF:06:B5 subreddit, digital gumshoes turned to everything from numerology to Cyberpunk lore to reading coded messages from characters tapping their fingers to try and make sense of it all. If it isn't apparent already, for every legit FF:06:B5 clue, there's been a ton of Pepe Silvia-style conspiracy digressions, and that's all part of the charm.
On the legit side, last year Witcher 3-focused YouTuber xLetalis discovered an FF:06:B5 easter egg added to the game in its next gen update. Behind a portal in a remote bastion, the YouTuber found an ouroboros symbol with the equivalent to the letters FF, VQ, and B2 written across the top in Glagolitic script, the oldest known Slavic alphabet, and the main one used by CDPR for the Witcher series' in-game text.
Below is an in-game screenshot of the symbol taken by FaultyDrive on the FF:06:B5 subreddit. Lest that seem like a tenuous connection, FF:06:B5 is a hex code for a vibrant magenta color similar to (if not exactly the one used in) the triangle at the center of the symbol. Mother of god.
FF:06:B5:2.0
This post from Til_W on the FF:06:B5 subreddit outlines all the new clues found in update 2.0 so far. Players can now find a number of in-game messages between "TyRo/\/\aNtA" and "Polyhistor" regarding the code and what it means, marking the second explicit in-game appearance of the code aside from the statues.
One of Tyro's last messages mentions striking out with just his laptop, which is presumably the one added in 2.0 that you can now find in Night City's eastern landfill. The laptop shows off that same ouroboros symbol from The Witcher 3, as well as a grid of Glagolitic script, possibly a key or otherwise related to the symbol in The Witcher 3.
Fellow traveler Tyro mentions being floored by a vision of the FF:06:B5 code in a videogame "over 60 years old." While likely partially a sly reference to The Witcher 3 (whose 2015 release is over 60 years in the past from 2077), it actually seems to be referring to Arasaka Tower 3D, a new arcade cabinet secretly added by the 2.0 update. It lets you play a Wolfenstein 3D-style demake of Johnny Silverhand's assault on Arasaka Tower depicted in the original game, and can only be found at an abandoned church in the farthest reaches of 2077's game world.
The church seems to be Polyhistor's hideout, judging by his personal computer with messages to Tyro and other hackers being located there, and it also contains a collection of ominous, giant server towers. Arasaka Tower 3D itself not only contains another one of those damn statues hidden in its third level, it also has a secret "-10" maze level, completion of which unlocks keypads on the server mainframes back in the church. Oh, and the lowest score on the game's leaderboard, held by Polyhistor? FF06B5. God damn it.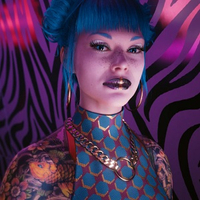 And that's as far as anyone's gotten with legitimate means. A group of players seems to have datamined the codes to the servers and proceeded to a next step in the quest, but the story is still far from over. The lead moderator of the FF:06:B5 subreddit, leprotravel, claims to be in contact with CDPR developers who disapprove of these methods: "[The video] could not escape the eyes of the CDPR devs. Today we had long negotiations about the possibility of posting a detailed guide dedicated to the methods used by dataminers…
"...However, we received a refusal from the CDPR team. But in a very friendly way, since they appreciate the diligence of players in discovering secrets in their games, regardless of the methods they use."
The video with the datamined solution can be found on the main Cyberpunk subreddit, but in addition to the developer disavowal, it doesn't exactly tie a bow on everything just yet (though what they find is very cool and weird, if cryptic). The full purpose and use of the Glagolitic laptop is yet to be discovered, and there are likely even more secrets to be found in Phantom Liberty when it releases tomorrow. We're fully in schoolyard Triforce rumor, NieR Automata secret church territory here, and I can't wait to see how it all shakes out.