Image quality or speed. Pick one, peeps, because you can't have both when it comes to gaming monitors. At least, that used to be the dilemma gamers faced. If you wanted really high refresh rates of 240Hz and above, your only option was a 1080p panel. And only recently could you get away from a TN panel. Yuck.
That might be okay for all-out esports, but 1080p for all-round gaming? No so much. The good news is that you can now combine 1440p with 240Hz and beyond. Give it up for the Alienware AW2723DF, a 27-inch 1440p panel with 240Hz refresh.
Actually, it's good for 280Hz, the final 40Hz accessed via an "overclocking" option in the OSD, which is essentially a gimmick. It's not as if you can have a crack at 500Hz and . The 280Hz is just the highest of the available refresh rates. Overclocking? Whatever.
That minor gripe aside, what of the AW2723DF's broader vitals? Alienware has, unsurprisingly, opted for an IPS panel which is rated at 1ms for the most extreme of the monitor's three overdrive settings. As for HDR support, you get DisplayHDR 600 certification with local dimming.
Alienware AW2723DF specs
Screen size: 27-inch
Resolution: 2560 x 1440
Brightness: 600 nits peak
Response time: 1ms
Refresh rate: 280Hz
Viewing angle: 178° H&V
Contrast ratio: 1000:1
Features: IPS panel, 95% DCI-P3, Freesync Premium Pro, NVIDIA G-SYNC Compatible, 1x DisplayPort 1.4, 2x HDMI 2.0, USB hub, AlienFX RGB lighting
Price: $599 | £540
If that sounds decent, we're talking 16 edge-lit zones, which is the lowest form of local dimming and has always been an essentially pointless checkbox feature that does little to improve HDR performance. 16 zones isn't even nearly enough resolution to adjust the backlighting in any meaningful way.
Color coverage, meanwhile, comes in at 95% of the DCI-P3 gamut and for connectivity you get DisplayPort 1.4 and a pair of HDMI ports. The two HDMI ports are limited to 144Hz, so it's only the DisplayPort interface that delivers the full 280Hz.
There's also a four-port USB 3.2 A hub, with two sockets on the lower bezel and two on the back panel, but no USB-C connectivity. Alienware's AlienFX RGB lighting also features and adaptive sync support takes the form of AMD FreeSync Premium Pro and Nvidia G-Sync compatibility.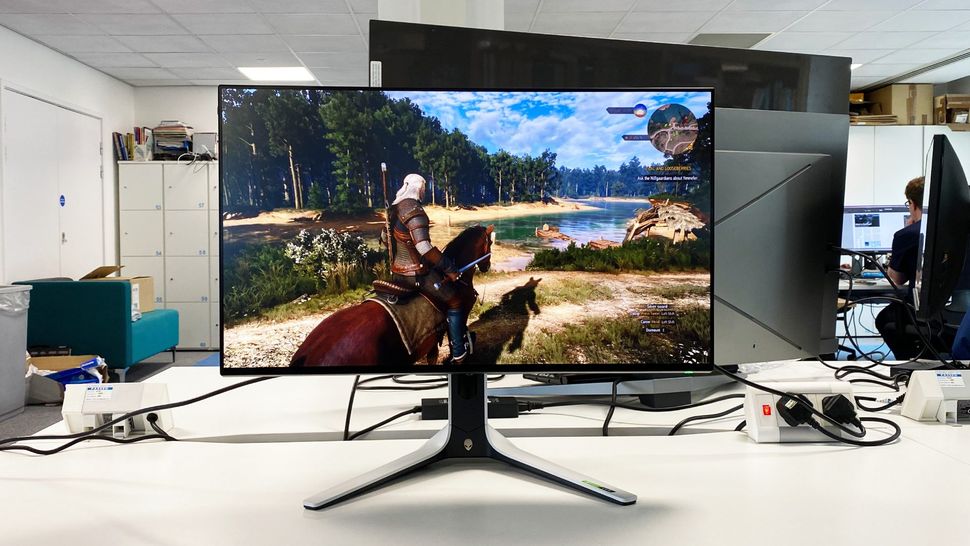 Design-wise, it's the usual Alienware fare with a mix of black and off-white plastics, a characteristically "Portal-ish" sci-fi vibe and also a contemporary slim-bezel look. It's definitely a slick, expensive feeling monitor.
That's just as well given the fairly hefty $600 price in the US and £540 in the UK. It is on sale at the moment for $550 at Amazon though, which takes some of the edge off. That said, 1440p 144Hz monitors can be had for under $300 these days. Gigabyte will do you a 240Hz 1440p panel for about $100 less, too, albeit with HDR 400 rather than HDR 600 certification. Likewise, at this price point you also have the option of a 144Hz 4K monitor.
All of which means, you really would have to value the additional refresh pretty highly, even if LG's 27-inch 1440p 240Hz OLED monitor runs around $1,000. It's pricey, then, and yet far from the most expensive 1440p panel around.
But is it actually any good? It's certainly a high quality example of the 1440p IPS breed. Capable of 600 nits, it's punchy right out of the box running in default SDR mode, with nicely calibrated colors and good viewing angles. For just browsing the web and getting stuff done, it's a nice panel.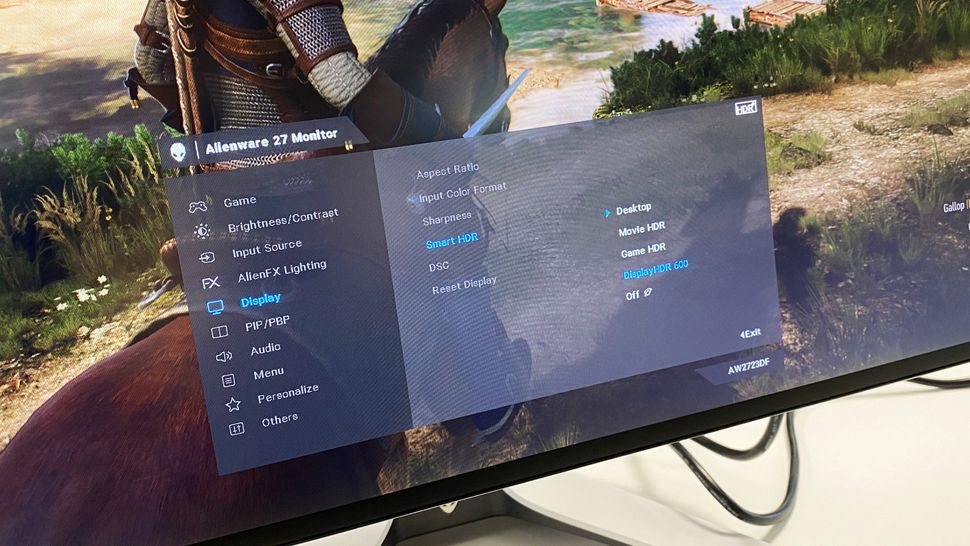 Enable HDR and the good news is that SDR content still looks great. So, you don't need, for example, to routinely switch between SDR and HDR modes for video or games and then switch back for web browsing.
The actual HDR experience, meanwhile, is about as good as you can reasonably expect for this class of display. Which is to say it's not a true HDR experience, but there is a touch more visual punch and pop than an SDR monitor with a strong backlight.
The problem with that punch and pop is that it doesn't make for great contrast or black levels. Darker tones are pretty washed out and shadow detail is lost compared to an OLED monitor running in HDR mode. The matte anti-glare coating doesn't help with that, either.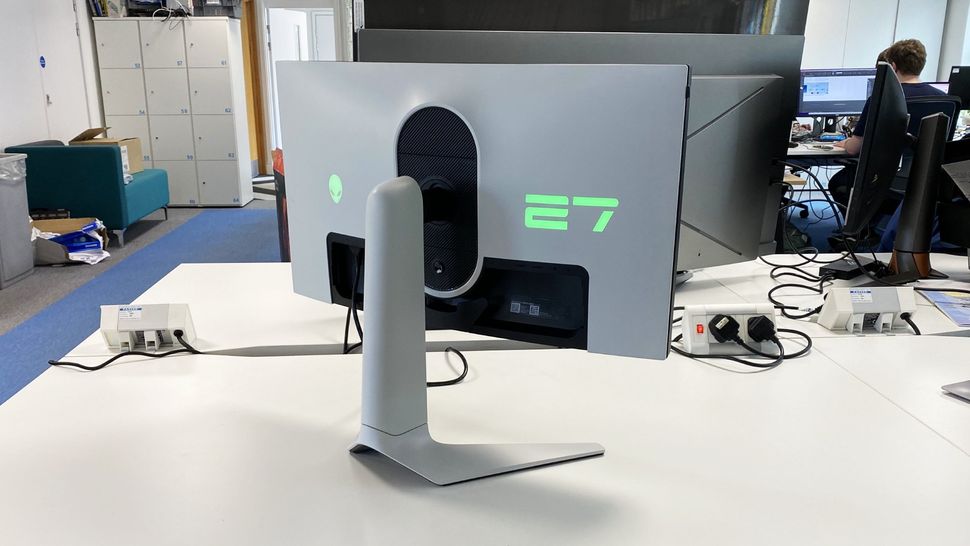 Bottom line, the black levels are what you'd expect for a bright IPS panel that lacks true local dimming. They're not great. Part of the problem is that we've been spoiled of late by Philips' new OLED panel—the Philips Evnia 34M2C8600—and its fabulous HDR performance. It's more than twice the money, but it does underline the obvious limitations of this Alienware's HDR experience. It isn't even in the same zip code by comparison.
On the other hand, this is still a really nice 27-inch 1440p panel, that makes for a pretty sweet look in a wide variety of games. There's lots of visual detail thanks to the 1440p native res and gorgeous IPS colors.
The same applies to pixel response. Again, context matters. It's nowhere near as fast as a $1,000 OLED panel. But among IPS gaming monitors, this thing flies, we've never seen anything faster. Indeed, the fastest of the three user-configurable overdrive modes is actually usable, with little by way of overshoot or inverse ghosting.
That's actually pretty unusual. The most aggressive overdrive option in many monitor OSD menus is often a bit of a mess. Of course, to that zippy (for an IPS panel) response, you can also add nice low latency thanks to the 280Hz refresh.
Put all those pieces together, the high quality IPS image quality, the punchy backlight, the good response (again, qualified for the IPS context) and the buttery smooth 280Hz refresh and you have a pretty outstanding gaming panel that's also decent for general computing duties thanks to the 1440p resolution.
So, it all comes down to how much value you put on the increased refresh compared to a cheaper 144Hz 1440p option. You could save at least $200 settling for 144Hz. But what this monitor offers is the ability to both play CS:GO at 280Hz and also deliver decent 1440p eye candy in Cyberpunk 2077. That's a pretty compelling all-round gaming proposition, even if it does come at quite the price.