The best PC case is the place your hardware calls home. It's the platform for your ultimate gaming rig and a showpiece at the same time. Besides looks, a PC case needs to have the room for modern components and make upgrading or maintenance on it easy. There are a ton of options at different prices; some keep the look modest and others make it scream with loads of RGB lights.
Your choice of PC case will also dicate what can go inside. If you want multi-loop liquid cooling, and the biggest GPUs on the planet, then you're best bet is a full-tower chassis (opens in new tab). But if you're looking for a small scale build then the best mini-ITX cases (opens in new tab) will be what you covet.
The best PC case will make the building process a simple one, while a bad case is one that limits your expandability options, or makes it super difficult to build your machine into. If building a PC seems a little out of your comfort zone in general, you can always go with a prebuilt gaming PC (opens in new tab), and skip the stress of building your own.
Before you fork out on the best PC case ever, there are a couple of things you should consider first. How big is your graphics card? What motherboard are you going with? How many drive bays do you need? Figure out what's going into the case before you buy it, so you're sure everything will fit. Here are the best cases we've tested this year, after building them up and down and, of course, checking them for fire hazards (opens in new tab).
The original Cooler Master Cosmos chassis is a classic of PC case design, and has seen many revisions over the years. The latest, the Cosmos C700M is the pinnacle of that design, taking over from the C700P, a chassis which held firm as one of our favorite full-tower cases for years.
Bigger even than the C700P, the C700M is one of Cooler Master's largest enclosures and comes with an equally hefty price tag. The premium case maintains the same handlebar design as the calssic Cosmos design, but adds a few modern touches that make it one of the most beautiful cases we've seen.
It's also dialled back the heavy tint on the side panel to more readily reveal the shiny components you've paid good money to house inside it.
We were already impressed with the tasteful RGB lighting from its predecessor but the C700M really kicks it up a notch. The lightning now features individually addressable RGB strips that form a continuous line from the back of the top panel all the way through the bottom of the case. Metallic contacts allow you to easily remove the front panel without having to worry about wires. A fresh matte design on the case's signature handlebars allow the understated lighting to really accent its curves.
The company's signature logo is noticeably absent from the case. Instead, all that remains is a familiar hexagonal shape used as a power button. We've already seen this shift with some of Cooler Master's other cases and liquid coolers, but the C700M really seals the deal with its sleek lines and artfully crafted top ventilation.
One of the favorite things we experienced while building in the case is the fact that we were able to remove the motherboard tray and assemble a majority of our system outside of the case. Built in cable routing, cable management clips and a modular cable cover system also makes it easy to create a very clean system.
The ability to switch between a conventional layout and an inverted one is not uncommon for a high end full tower. What really sets the C700P and C700M apart from the competition is the ability to rotate the motherboard 90 degrees into what Cooler Master calls its chimney layout. This type of layout allows hot air to follow its natural trajectory and efficiently exhaust from the top of the case.
Our only complaint about these alternative motherboard configurations is the fact that it becomes quite a hassle to access the rear I/O. Depending on your desk size, you might even need extension cables for your peripherals. Regardless, the modularity and freedom to customize the C700M is totally in line with Cooler Master's "Make It Yours" philosophy that enthusiasts have come to love.
That and you'll have to buy one of Cooler Master's PCIe 4.0 riser cables as the bundled one is last-gen.
Despite the price, the exceptional build quality and premium materials definitely go a long way towards justifying the price. If money isn't an issue and you aren't interested in the behemoth that is Corsair's 1000D, Cooler Master's C700M is the ultimate high-end full tower.
Read our full Cooler Master Cosmos C700M review (opens in new tab).
One of Corsair's best cases, the Carbide 275R, might be the ultimate minimalist's case. Aside from a small "sail" logo on the front panel, the 275R ditches additional branding for the sake of a clean design for the style-obsessed. While the design may be minimal, the functionality isn't.
Unlike NZXT's similarly minimal S340, the Carbide 275R can support a 360mm radiator in the front and up to six 120mm fans. With a modest $80 price tag, the 275R is a good case for beginners and advanced users looking to create a sleek custom loop.
It's the chassis we've picked for our own mainstream testing rig, and is a delight to build into; giving you a lot of space to create a gaming machine without being a burden on your budget.
For a more budget-focused chassis, however, it's still a good-looking one. The tempered glass side panel and smart cable tidying, and PSU shroud, all give it the feel of a PC case of far greater expense. The rounded frontage gives is a softer look compared to the more angular, super-boxy cheaper alternatives, and it won't look like you've skimped on your system.
And, with white and black options, as well as cheaper options with acrylic side panels, the Carbide 275R gives a price-conscious PC builder a lot of choice.
While it's not the sort of throwaway money you might spend on a PC case if all you want is the cheapest chassis to allow you to spend every last cent on your component list, the Carbide 275R is the most well-featured, well-built, good-looking PC case that doesn't cost the earth.
I was a big fan of the original NZXT H1 mini-ITX chassis when it first came out. But then, mine never caught fire, which is a good thing because I've been using it as the basis for my office work machine ever since. My boss would not have been pleased if I'd burned down the PC Gamer offices because of a faulty PCIe riser cable.
Aside from that specific riser problem, the H1 was a fantastic package to build a wee peecee into. And so is this recently updated version, too. On the face of it, this H1 V2 looks identical and you'd be forgiven for thinking it was just a new release of the same case with an even more non-burn-y PCIe riser cable for your GPU. But NZXT has actually done a lot to improve the overall design, even though it does make for a more expensive, slightly larger and heavier mini-ITX case.
The real beauty of the H1 is that it includes both a powerful PSU and a liquid CPU cooler, so the really awkward bits of a mini-ITX build are taken care of. If you've ever built a small form factor PC you will understand the pain of trying to route a million, unnecessarily long PSU cables around the motherboard, graphics card, and everything else. Then trying to mount a capable-enough cooler into the limited confines of a mini-ITX case… well, that's a task in itself.
A note of warning, however, and that is the clearance between the radiator fan and the top of your memory isn't huge. It is another 1mm higher than the original, but with just 46mm as your maximum memory height some DIMMs are simply going to be too big. Our Corsair Dominator DDR5 (opens in new tab) sticks we've used in our Alder Lake test rig, and the mini-ITX B660, proved just too tall to close the case.
NZXT helps the build process with clear labelling within and without the chassis. I had issues actually getting into the tool-less design of the first H1, but it ships with labelling on the outside explaining how to gain access. And inside there are tags and stickers indicating what goes where, and how to shift things around to gain access to the motherboard tray, for example.
In all, NZXT has made many welcome improvements to what was already a very good mini-ITX chassis design—well-documented riser issues aside. I get that the $400 price tag will sting for a lot of people, but 750W SFX power supplies don't come cheap, and nor do AIO coolers that would squeeze into something so relatively small.
Read our full NZXT H1 V2 review (opens in new tab).
Phanteks has made some incredible cases over the years, but the Evolv X stands out as an excellent chassis for anyone looking to build a mid-tower PC with a little something extra. That extra being the ability to slide two systems into its pleasing form—there's room for an ITX system in the top to go above the main ATX system. It's a bit of a squeeze for sure, but it is possible.
If your demands aren't quite so 'out there', then you'll find it roomy to build in, and there are enough neat little touches and funky design choices to cover almost any build you have in mind. There's space for all-in-one liquid coolers in the top (up to 360mm) and front (up to 420mm); it comes with a universal fan hub, three Phanteks Premium 120mm fans, and has cable-hiding flaps in the rear so that it looks good whichever side you look at. You can slide a frankly ridiculous amount of storage into it as well.
Best CPU for gaming (opens in new tab) | Best graphics card (opens in new tab) | Best gaming motherboards (opens in new tab)
Best SSD for gaming (opens in new tab) | Best DDR4 RAM (opens in new tab) | Best gaming monitors (opens in new tab)
This PC case runs the risk of pulling the attention away from your precious components. You might have the flashiest GPU going, or even RAM sticks emblazoned with gems, but the first thing anyone is going to look at when they see your PC is all that RGB lighting.
There are tons of LED RGBs in the Corsair 5000T, the company's loaded more of them into this one case than any before. There are six RGB strips around the exterior of the case, and the three LL120 fans will light up all colors of the rainbow if you so wish. All of which is controlled via the Commander Core XT and the iCUE software.
For my testing, I settled for a triple-fan radiator in a pull configuration up top and the three included LL120 fans located in the front, as they were out of the box. To keep that airflow whizzing past my PC components, I also opted for a 120mm fan on the rear. That's actually one of the few setbacks with this case: there's no rear fan included. It's no big deal if you're swapping over your build from another, as I was, but since I was sent the white model, the black rear fan from an old NZXT build isn't quite as in keeping with the aesthetic as I'd like.
Though this cooling configuration is really effective. A triple-fan all-in-one was always going to keep my AMD Ryzen 7 5800X in good check, but the RX 6900 XT loaded into this PC can get a little toasty without some help. The three LL120 fans on the balanced preset provide plenty of that.
A 30-minute run of the Heaven benchmark offers a good idea of what sort of cooling potential we're looking at here under gaming conditions. The results are a pretty level 81°C under load for the duration of the test, which is a comfortable baseline for temperature in my books.
Corsair's default fan curve via the Commander Core XT is pretty aggressive. My CPU can fairly regularly bounce up to 60°C or more, and with the default fan curve set that would see the fans regularly spring to action at rather mundane times during the day. To fix this, and lessen the din these fans produce, I had to hop into iCUE to create a custom fan curve.
If you're not a fan of iCUE or don't want to use any such software on your machine, the 5000T probably isn't the case for you. This is a case that's pretty much dependent on its software. The RGB LED strips, fan lighting, and fan speeds are all adjusted via the Commander Core XT, and that's plugged right into the iCUE software as first port of call.
Still, thing is beautifully crafted from steel, plastic, and tempered glass, and while that means it's pretty heavy, it's a real statement PC case for a high-end PC build. You could definitely go more compact for your PC, but you'll not find many as well-made as this.
Read our full Corsair iCUE 5000T RGB review (opens in new tab).
If you're the type of gamer that requires total concentration, a quiet PC case can be critical. Once your PC starts heating up and fans begin blowing at full force, your once-silent PC can quickly turn into something that resembles a roaring jet engine. It's times like these when a silent PC case can come in handy, and nothing does the job quite like Cooler Master's Silencio series.
The Silencio S600 mid tower looks simple on the outside, but the interior is filled with intelligent engineering and high-quality sound dampening materials to help drown any unnecessary noise. Usually, this comes with a severe compromise for airflow, but the S600 does a pretty decent job of moving air and keeping things cool despite its silent properties.
Speaking of roomy builds, the Corsair Obsidian Series 1000D is a behemoth of a PC case ready to house the biggest and baddest systems. Standing tall at a staggering 27.3-inches, this "super-tower" features enough space to house 18 fans and up to four massive radiators installed simultaneously.
The 1000D features a unique triple-chamber design with convenient french-door-styled storage compartments and telescoping radiator trays for easy installation in addition to the stellar cooling support. Because it is 2022, of course, there is also an RGB lit front panel I/O with built-in smart lighting and fan control courtesy of Corsair's integrated Commander Pro controller. The Obsidian 900D has long been a top choice for massive, over-the-top builds, and it only fits that the 1000D was designed to knock it off its throne.
Initially known for its silent power supplies and fans, be quiet! entered the case market with a big splash and has done quite well in a short period since its first case launch in 2014. One of its more recent cases, the Dark Base Pro 900, remains one of our highly recommended full towers thanks to its sleek design and enthusiast-friendly interior.
The Dark Base Pro 900 is large enough to support the biggest motherboards and radiators up to 420mm in size. The case also features total modularity with options for an inverted motherboard layout and even some nifty features like wireless Qi charging and preinstalled LED lighting.
Your next upgrade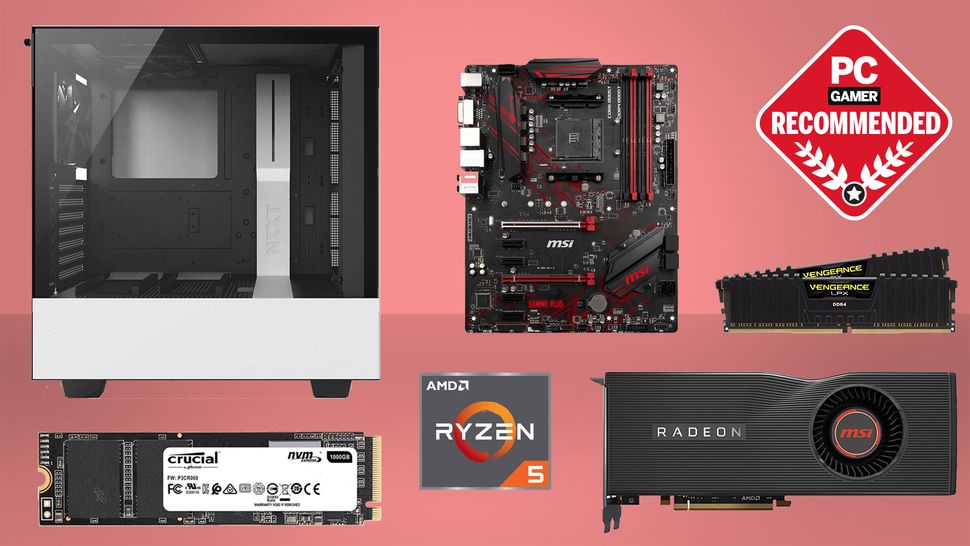 Best CPU for gaming (opens in new tab): the top chips from Intel and AMD
Best graphics card (opens in new tab): your perfect pixel-pusher awaits
Best SSD for gaming (opens in new tab): get into the game ahead of the rest
The worst thing about the Lian-Li PC-011 Dynamic is that its instruction manual is incomprehensible. However, if you already know how to build a PC, piecing it together shouldn't prove too difficult.
For the most part, it's a standard tempered glass mid-tower case with a few bells and whistles to make it all worth the enduring trial and error of the PC building experience. For one, it has three removable panels—one on the front and one on each side. Naturally, this makes for an easy installation. Incorporating a liquid cooler in its exposed ceiling area is an effortless undertaking.
The best PC case FAQ
Why you can trust PC Gamer Our expert reviewers spend hours testing and comparing products and services so you can choose the best for you. Find out more about how we test.
Will a micro-ATX motherboard fit inside a mid tower case?
It certainly will. The spacing of the mounting holes on an micro-ATX board match those found on an ATX board, there are just fewer of them. Mounting a micro-ATX into a mid tower case in place of an ATX is totally doable.
How do I know what size computer case I need?
The key question here is, how big is your motherboard? A full-size PC case supports the giant E-ATX boards but will take up a ton of space under or on your desk. Small form factor cases like the NZXT H200i can only accommodate Mini-ITX boards and are restrictive for other big GPUs components. Mid-tower PC cases are a more common choice that supports all ATX and a handful of E-ATX boards. Size does indeed matter, after all.
Once you've decided on the case size, the fun part happens next. You can consider dozens of features and options like I/O ports, cooling configurations, windows, airflow, and lighting, and that's to get started.