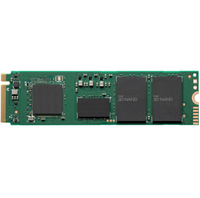 Intel 670p Series| 2TB | NVMe | 3,500MB/s read | 2,700MB/s write | $99.99 $75.99 at Newegg (save $24)
Your eyes aren't deceiving you; this is a 2TB NVMe SSD for only $76. This Intel 670p may not be the fastest SSD out there, but it's a nice secondary drive for storing your precious games at a low price.
You've got until the end of the day to scoop up this delicious deal on a 2TB Intel 670p Series SSD for just $76 at Newegg. Not only is this the lowest price of this particular model, but it's the cheapest 2TB NMVe SSD we've seen in a long while.
There's no such thing as too much storage as game sizes get bigger and bigger (looking at Star Wars Jedi: Survivor's 155GB file size here). Investing in a secondary storage option doesn't hurt, and this 2TB Intel 670p Series is a perfect candidate for that. It may not be the fastest drive in the land, but it's too good value to pass up.
It's got a modest 3,500MB/s read speed and 2,700MB/s write speed, which is okay if you're dealing with smaller file transfers. It's PCIe 3.0, so it won't make for the best boot or primary storage drive. On the other hand, if you need a solid secondary drive to store your game libraries or media, those speeds are less important.
If you need something smaller, Newegg has 1TB and 512GB versions of the same SSD for $46 and $32, respectively. If you're doing the math, it's still cheaper to pick up the 2TB Intel 670p instead of two 1TB drives.
Remember that this is a QLC NAND drive, so the slower it will run once it fills up. It might also run a little slow if you're transferring a particularly large file. Again, it's not so important if you mostly use it for your game library.
Anyone searching for a speedy boot drive, consult our best SDDs for gaming, which includes a lot of our favorites of 2023, if you are okay with spending a little extra cash.

This might be your last chance to own an Intel storage drive since the company sold off its SSD and memory business to SK Hynix for a cool $9 billion back in 2020. So it's not surprising that we finally see retailers like Amazon and B&H also clearing stock on these Intel drives.