Prism+ is a company that might not be on the shortlists of Aussie monitor buyers. It doesn't have the name recognition of a Samsung or LG, but many of its products come with competitive pricing and good specs. If you have those two things at the core of your product, then you're off to a good start.
The Prism PG270 Ultra certainly has an excellent spec, though at AU$999 it faces tough competition in an increasingly crowded market. Pricing is volatile though, and Prism is known to hold sales with some big discounts. If you're in the market for a gaming screen, but not today, it's well worth keeping an eye out for a discount.
At its AU$999 price, is the PG270 Ultra worth considering? On paper it looks like a highly competent gaming option with an impressive spec.
It's a 27-inch flat IPS monitor with a 3840x2160, or 4K resolution. A 144Hz refresh rate and a 1ms GTG response time are key characteristics that will appeal to a gamer. You get Adaptive Sync support, though G-Sync is absent. It features a very high pixel density and excellent image clarity thanks to 163 pixels per inch (ppi). And, you'll get better color accuracy than TN and most VA panels.
The PG270 Ultra's display connectivity options are excellent. You get dual HDMI 2.1, DP 1.4, and USB 3.1 type-C. If you don't use the USB as a video input, it can be used to deliver up to 65W of charging capability to an external device. There's a 3.5mm line-out, but note there are no speakers.
The stand is simple and very sturdy. It offers tilt, swivel and height adjustment with a hole for cable management. Assembly is simple. You attach the rear of the stand to the base with a single thick screw and then attach it to the rear of the monitor itself. There's support for 75x75 VESA mounting if you're looking to mount it to a third party stand.
PG270 Ultra specs
Panel size: 27-inch
Native resolution: 3840 x 2160
Refresh rate: 144Hz
Response time: 1ms GTG
Panel type: IPS
Peak brightness: 320 cd/m² typical
Sync tech: FreeSync
Inputs: 1x DisplayPort 1.4, 2x HDMI 2.1, 1x USB Type-C (65W), 3.5mm audio
Price: AU$999 (opens in new tab)
Power is supplied by an external brick. That's a little surprising but it does help with cable routing and it reduces the weight of the screen slightly, which tips the scales at 5.5kg without the stand.
It's a gaming monitor, so unsurprisingly it comes with a splash of RGB lighting, though it's all around the back where it can't be seen. RGB lighting on monitors is one of those things that confuses me. I'm not sure why anyone would want to be distracted from what's happening on the screen, at least in my opinion. Yours may be different.
The control system is much like you'd find on most other screens. It takes a few minutes to get the hang of navigating it. You'll find a comprehensive set of configuration options, including colour profiles with three user configurable slots, picture in picture, crosshair options and a low blue light option, which I always enable.
As you'd expect on a panel with a high pixel density, the image is very sharp, though unless you sit really close to the screen—as in 50cm or so—or have very good eyes, you'll likely have to set your OS scaling to 150%.
The IPS panel delivers a high-quality image, with well contrasted colors and minimal backlight bleeding. The brightness is particularly high out of the box, but dropping it a bit lower is a trivial matter. There's limited HDR support (HDR400) though full HDR is something that's generally limited to flagship monitors costing a lot more.
Firing up Tiny Tina's Wonderlands for some shotgun silliness showed off the PG270 Ultra at its best. The game features a stunning colour array and the cell shaded graphics look as crisp and colorful as I've seen. With its 144Hz refresh rate and 1ms response time, the PG270 Ultra was a clear step up from my 34-in Ultrawide VA screen in terms of responsiveness, picture clarity and colour reproduction. There's a lot to be said for gaming at such a high pixel density, though as always with 4K gaming at high refresh rates, you need a beefy GPU to get the best out of it, not to mention a good DP cable!
The PG270 Ultra is first and foremost a gaming screen. 4K at 27-inches is overkill for a productivity or general use monitor. For that kind of use case, moving up to 32 inches makes more sense.
Screen queens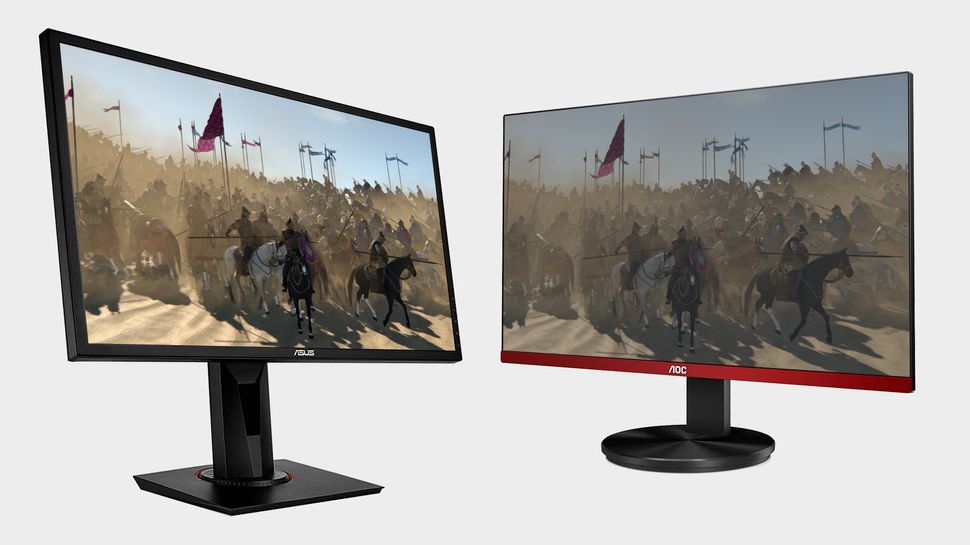 Best gaming monitor (opens in new tab): Pixel-perfect panels for your PC
Best high refresh rate monitor (opens in new tab): Screaming quick screens
Best 4K monitor for gaming (opens in new tab): When only high-res will do
Best 4K TV for gaming (opens in new tab): Big-screen 4K PC gaming
The PG270 Ultra's gaming prowess is its strength. Its responsiveness, combined with Its 163 ppi density delivers smooth gameplay with outstanding clarity and sharpness. Prism claims it has 130% sRGB coverage and with the color reproduction characteristics of IPS panels, its hard to find much fault with it. Though the contrast and backlighting could be better, stepping up means a jump in price to premium FALD or OLED models. It delivers better color accuracy than a typical VA screen, though a good VA panel is still optimal for deeper blacks and contrast ratios,
However, it doesn't exist in a vacuum. The competition is tough in this price range. At the time of writing, the PG270 Ultra was selling for AU$999 at Prism's site (opens in new tab) and at Amazon (opens in new tab) (for AU$999 once it's in your cart). That's more expensive than similarly spec'd MSI MAG281URF and one of our favourite 4K'ers, the Gigabyte M28U (opens in new tab). Note that Prism often run sales, so there's every possibility that you'll be able to find it cheaper in the months leading up to Christmas.
If you can get one for a discount, you'll be rewarded with a fast, clear and color accurate screen with an excellent stand and a three-year warranty. Prism is a brand that you should keep an eye out for, particularly as we move into sales season.