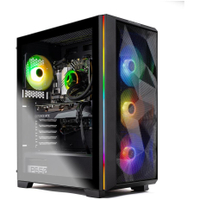 Skytech Chronos Gaming PC | Intel Core i7 12700F | Nvidia RTX 4070 Ti | 1TB SSD | 16GB RAM | $1,999.99 $1,799.99 at Newegg (save $200)
Behold, an actual deal on a RTX 40-series-powered PC. And they said it couldn't be done. This PC comes with Nvidia's RTX 4070 Ti, which is a mighty 4K beast powered by the Ada Lovelace architecture. It's ultimately a pricey card, deal or no deal, and that's reflected in the price tag before you today, but for the performance, we can just about make peace with $1,800.
Trust me, I'm just as surprised as you are that there are already deals on RTX 40-series-powered PCs circulating. In our daily roundup of the best PC gaming deals, one that caught my eye was this Skytech Chronos gaming PC with an RTX 4070 Ti for $1,799 at Newegg, $200 off its usual price.
Powering this titan is an Intel Core 7 12700F CPU and an RTX 4070 Ti GPU combo with 16GB of DDR4 RAM. Together these components should provide some beastly 4K performance. Adding Nvidia's framerate generation tech, DLSS 3, to the mix gives you an impressive gaming rig.

The RTX 4070 Ti is a good choice for 4K gaming and gives AMD's RDNA 3 GPUs a run for their money. You get RTX 3090-level performance with a better cooler, efficiency, and value.
If you're not dipping your toes into the 4K pool, expect to see some pretty big frame rates at 1080p or 1440p on high settings on many of your favorite games. A PC like this would be a good candidate to pair with a speedy OLED gaming monitor to take full advantage of those triple-digit frames.
The 1TB SSD NVMe storage is a good starting spot though I'd probably pop in an additional 1TB with the money you save. It's also good to see a 240mm AIO cooler since many of these prebuilt I spot for deals tend not to have the best cooling options.
The only downside is that the motherboard is a bit older and only supports DDR4. So if you plan on upgrading to DDR5 in the future, you'll have to replace the motherboard. While certainly not a deal-breaker, you'll be limited in memory should you look to maximize the performance of this machine.