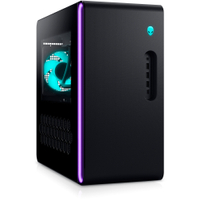 Alienware Aurora R16 | Intel Core i7 13700F | Nvidia RTX 4080 | 1TB SSD | 16GB DDR5-5600 | $2,499.99 $1,949.99 at Dell (save $550)
Alienware has ditched its iconic rounded look and is going for a more, well, Dell approach to its gaming PCs. They're black rectangles in the classic Dell style, but this system still comes in at a decent price, with some good components backing up that RTX 4080 GPU.
Minus a few Alienware-specific drawbacks, this Aurora R16 might be one of the cheapest RTX 4080 gaming PC deals you'll find this month.
The RTX 4080 is not our recommended graphics card. We like the 4090 (better performance, and a little more expensive) and the 4070 (weaker performance, better price to performance ratio) more at their price points. But if you're set on the middle ground between the two, you won't find a cheaper prebuilt gaming PC than the Alienware.
This is a compelling value for the $2K range. The Aurora R16 slides in at just under $2,000 ($1,949.99) actually, and it doesn't make the sort of compromises you'd expect for a gaming PC touting an RTX 4080, which normally runs around $1,200 by itself in 2023. In this build you get 1TB of SSD storage, 16GB of DDR5 RAM (dual channel), and an Intel Core i7 13700F. For a prebuilt PC with a GPU that sells for around half of the PC's price on its own, that's a solid package.
Now for those drawbacks: Alienware gaming PCs are a pain to upgrade if you think you'll replace anything in the future. Its PCs use proprietary parts for their motherboards and other components that severely limit what you can slot in there. Most people shouldn't need to upgrade anything for several years, but it's worth considering before you anchor yourself to a new rig.
Otherwise, the discounted price on the Aurora R16 is the lowest we've seen for a prebuilt that comes with an RTX 4080. You can push games pretty far with the 16-core CPU and the 4080, wringing 80-100 frames on average out of most games at 1440p. You might struggle with stuff like Microsoft Flight Simulator, or if you're trying to run games at 4K (expect 60-70 fps for most recent games)—which we don't recommend unless you know what you're getting into.
The RAM situation might look a little lacking with only 16GB instead of 32GB, but that's easy enough to upgrade if you want more headroom. We recommend 32GB RAM in 2023. And the storage situation is a solid start with nearly a terabyte to work with. That's four of five whole Call of Duty: Modern Warfare 3s you could fit on there.
Pair this PC with one of the best gaming monitors and you'll be equipped to lose hours in Baldur's Gate 3 or blazing through dungeons in Diablo 4 season 2. It may not be our favorite card for its ridiculous price, but the RTX 4080 has the power to run these games well over 60 fps on a 1080p monitor. And you can always use DLSS 3, Nvidia's AI-powered tech, to boost your fps even more.