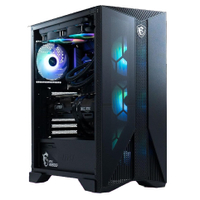 MSI Aegis R | Core i5 12400F | Nvidia RTX 4060 | 16GB DDR5 | 1TB SSD | $949 $799.99 at Amazon (save $149.01)
This is the best-value RTX 4060 gaming PC we've found this Black Friday season, in fact it's the best we've found all year. And it's from MSI. Go figure. Not normally known for its budget systems, this Aegis R has got a lot of PC inside it. For a start you'd normally be looking at DDR4 memory at this price, but the MSI has gone for the most latest RAM technology and paired it with a 1TB SSD. That Core i5 CPU is still a good gaming chip, and will happily keep an RTX 4060 fed with data.
Price check: Newegg (Core i7) $999.99
If your current rig is starting to show its age, it might be time to look out for a Black Friday gaming PC deal, and it just so happens that I have one in mind. The MSI Aegis R gaming desktop is just shy of $800 on Amazon, that's a saving of around $150 which is the cheapest we've seen this particular tower. It doesn't scrimp on the storage either, so you won't need to set extra aside to allow for a bigger SSD.
So what do you get for your money? Most importantly, the MSI Aegis R has an RTX 4060 GPU, launching you well and truly into the current GeForce generation, and the Intel Alder Lake i5 12400F processor means it won't struggle to handle most tasks you throw at it. Thankfully, it also comes with 16GB RAM, which puts you comfortably within the minimum memory requirement: that is assuming you're planning on running multiple resource-hogging programs alongside your games.
As mentioned above, this PC also boasts a reasonable amount of storage, which is pretty surprising considering that's the first thing that usually gets sacrificed with regard to discounted gaming PCs. The Aegis R, however, comes with a generous 1TB SSD to house your favourite games. And if you need it, the Windows 11 operating system is also included, so there's no need to fork out for an OS.
If the 1TB SSD isn't enough for you, take a look at these Black Friday SSD deals for some other options. Alternatively, if you've decided to take the plunge and want to upgrade your display to take full advantage of your shiny new gaming rig, our Black Friday gaming monitor deals should have something to suit your budget.